The general rule when out and about is to maintain 6 feet of separation from others.
It's the minimum distance the federal Centers for Disease Control and Prevention recommends, and it's a distance most people have been led to believe is safe if a person infected with the novel coronavirus is coughing nearby.
But is 6 feet really enough?
Not always, according to a study being conducted by a group of researchers at Oklahoma State University. Through the use of computational lung aerosol dynamics simulations, a team of engineers in the university's College of Engineering, Architecture and Technology has discovered that a safe social distance can depend on different factors, including the situation and environment.
The goal, according to OSU chemical engineering professor and aerosol dynamics specialist Yu Feng, is to provide more information on how coronavirus aerosol transmission occurs while educating people on how to protect themselves more sufficiently.
"Our motivation is that we believe people may still lack information about why we need to keep social distance from each other in order to slow the spread of this virus," Feng said. "So we've taken part in a study to generate more visualizations for the public to make sure we can disseminate and understand why certain separation distances are safer than others."
Feng and his lab colleagues have simulated different environmental conditions, with and without ambient wind, to test different social distances and their sufficiency in preventing airborne transmission of the virus.
"We first simulate a cough from a virtual human with poly-dispersed droplets of different sizes, and this is realistic from the experimental measurements," Feng said. "So we try to simulate this real cough event with and without ambient wind. With aerodynamics, it is with minimum assumptions and simplification. So it is very close the reality."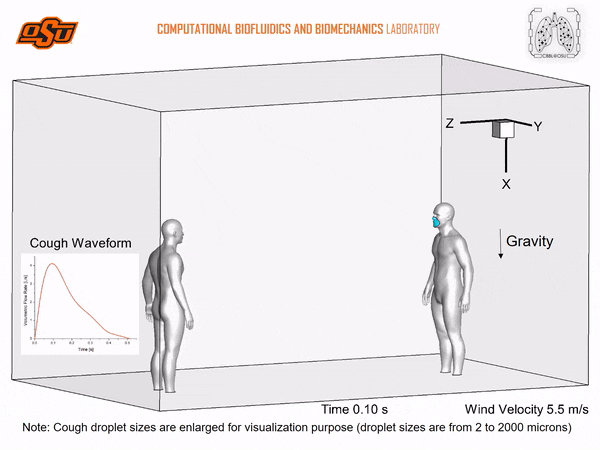 The research team has found that 6 feet of separation is sufficient if air is static. But in the case of a gentle breeze (about 2 mph), airborne droplets from a cough can carry beyond 10 feet. The team also simulated coughs in situations where masks were being worn.
"We found that masks significantly reduce the amount of airborne droplets," Feng said. "So even with 6 feet of separation, masks can greatly reduce the risk of droplets being transferred from one person to the other."
Exposure risk can also depend on the activity two or more people are doing together. For runners who are pacing together in a single file and 6 feet apart, a trailing runner would be exposed to droplets if they were moving at a 10-minute mile pace or faster.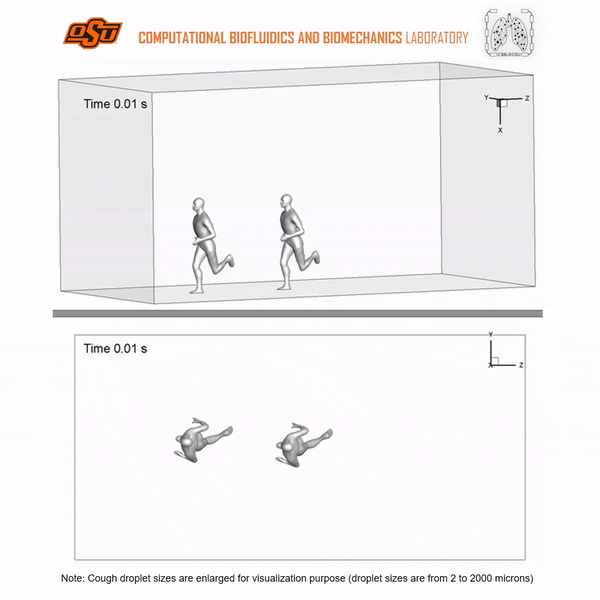 Feng said the lab is studying the effects that air humidity has on airborne transmission of the virus.
"We simulated two different relative humidity conditions," Feng said. "One is pretty dry and comfortable, and the relative humidity is like 40%. The other is very humid and nearly saturated with 99.5% relative humidity. The high humidity can make the cough droplets grow in size. So they get larger and don't carry as far. In the low-humidity simulation, the droplets will be typically normal in size, stay in the air longer and carry further."
Feng stressed the importance of people taking the virus seriously and hopes his research helps people understand why self-quarantining, social distancing and protective equipment is needed to slow the spread of the disease.
"Slowing the spread of the virus will be very critical for the elderly and people with underlying health conditions," he said. "Plus, it's also critical for us to reduce the workload for our doctors and nurses. That's the reason we're trying to tell the public that when they try to do outdoor exercise or talk to each other, they should be a little bit cautious of their decisions. People should be responsible to each other and not only themselves."