Prior to her enrollment at Missouri Southern State University, Gracie Smith wanted to shadow someone in the medical field to determine if that would be the right career path.
But that fell through, and she ended up shadowing the director of the new Gipson Center for Healthcare Leadership on campus — and loving it.
"I've always loved business, and I've always loved medicine, and now there's a program that brings both of them together," the freshman from Carl Junction said.
The Gipson Center for Healthcare Leadership, founded last year, on Tuesday celebrated its first semester of operation with an open house for the campus community. The center, inside the Julio Leon Health Sciences Center, will graduate its first students with a bachelor's degree in health care administration in May 2021.
"There's not (a degree program) like this in our region," said Melinda Brown, director of the Gipson Center. "A bachelor's degree in health care administration is not a common degree, but it's so needed because the health care field is growing."
Brown said the program is essentially a business degree with a non-clinical health care emphasis. Graduates are prepared for careers in hospital and health systems management, health information technology firms, care management organizations, government organizations, health care marketing firms and pharmaceutical or biotechnology companies.
More than 50 students are enrolled in classes through the Gipson Center this semester; the original goal for the semester was 25 students, Brown said. Three more courses will be added in the spring, with up to 150 students enrolled in the program by January 2021, she said.
Richard Schooler, dean of the School of Health Sciences and a former administrator for Freeman Health System, said the program offers training to students in an undergraduate setting. Its upper-level courses will be taught by adjunct faculty who themselves are currently in management positions for local health care providers, he said.
"We want to blend real-world expertise with academia," he said. "It's really a community effort."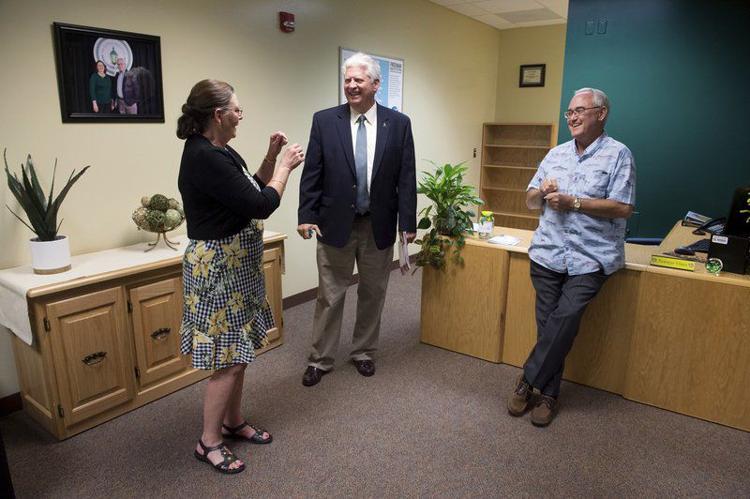 'Just magnificent'
The center was founded thanks to a $1 million gift last year from Bill and Tracy Gipson, both Missouri Southern graduates and longtime supporters of the university. The Gipsons were among those who toured the facility on Tuesday, taking a peek at the faculty office space, small and large conference rooms and two classrooms.
"I was a dental hygiene student back in the late '70s, and we were in the old clinic," Tracy Gipson said. "This whole facility is just magnificent."
She and her husband, who currently serves as chairman of the university's Board of Governors, were "happy to help" create Schooler's vision of a health care administration program for the campus, she said.
"This ties health and business together," she said. "As our population ages, we're going to see more health care facilities, and we're going to need the business side of health care."
Mikali Cutbirth, a freshman from Carthage, said she took a certified nursing assistant course as a high school student, but she felt like she couldn't quite manage the clinical aspects of the job.
When she heard about the Gipson Center from a family member who works at Missouri Southern, she believed that a degree in health care administration would suit her better. She is enrolled this semester in its Introduction to Health Professions course.
"I wanted to be in the health care field, but I didn't want to be on the clinical side," she said. "It was hard for me physically, and I thought that the business side was better for me because I like working with numbers."