Four local Lebanese families have raised more than $18,000 in disaster relief aid for those affected by an Aug. 4 explosion in Beirut.
With the help of their families, Carole Maksoud, Denise Howayek, Nicole Sleiman and Vera Joseph have been selling authentic Lebanese food and painted, lighted bottles to raise money for their native country. By Thursday, the group had collected $18,015 in proceeds to be donated to the Society of St. Vincent de Paul in Lebanon through the Eparchy of Our Lady of Lebanon of Los Angeles.
The women said they have received nothing but support from the Joplin area.
"This community is very generous, loving and willing to help," Maksoud said. "Again, it brought us all together. I think pain can make great things happen. We were all aching, which is the reason we're doing this."
The group is selling Lights of Hope bottles for $20 apiece at the Brace Place, 1701 W. 26th St., Suite C, in Joplin. At the end of August, they also sold 275 meal kits that included baklava, hummus and meat pies.
The bottles also will continue to be on display and sold at the Local Color Art Gallery & Studio, 1027 S. Main St. in Joplin.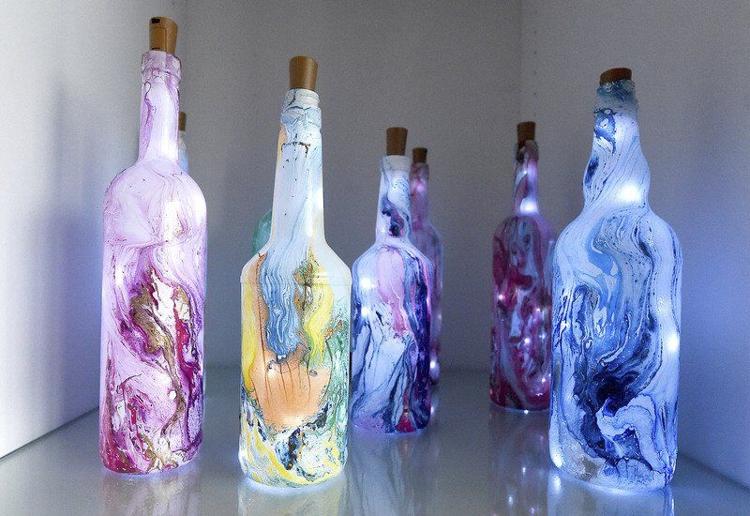 "We hope to raise a little bit more money where we'll be collecting donations until Monday, Sept. 21," Joseph said. "After that, we'll just wrap it up. Anyone can still donate. I know we're not giving them a million dollars, but whatever we have, it can do something."
Beirut explosion, fires
A massive blast of nearly 3,000 tons of ammonium nitrate at the port of Beirut in August killed at least 190 people, wounded nearly 6,500 and caused widespread damage to several neighborhoods. Seven people remain missing. The blast resulted in an estimated $10 billion to $15 billion in property damage and left 300,000 people homeless.
"There's been no support from government officials," Sleiman said. "There was not one official on the ground, no FEMA trailers, no stimulus check or anything. The next day, everyone was under a curfew because of the coronavirus. We have these big charity organizations like the Lebanese Red Cross and on the ground, they do help, but they were more concerned with food and water. Right now, what's really needed is reconstruction. There hasn't been any reconstruction work started yet. It's very slow."
Fires broke out at Beirut's port last week, raising new panic among residents still struggling with the traumatic effects of the catastrophic explosion at the same site.
It wasn't clear what caused the Thursday fire, which covered the city with dark smoke and toxic fumes for hours as firefighters and army helicopters struggled to bring it under control. Thursday's fire was the second mysterious blaze there in a week, following a small fire on Tuesday that also caused some panic but was quickly extinguished.
Fabrizio Carboni, regional director for the International Red Cross, tweeted that the warehouse on fire is where his organization stores thousands of food parcels and oil, risking the serious disruption of humanitarian operations.
More than a month after the blast, Beirut residents are still working to pick up the pieces of their capital.
"Things are moving very slow," Joseph said. "You're having all of these NGOs on the ground collecting information. They're waiting on funding to come from different countries, and there's just no organization."
Making a difference
The port explosion is still under investigation, and negligence and mismanagement appear to be a main reason. Corruption is widespread in Lebanon, where the ruling class made up of sectarian groups has been running the country with impunity since the end of the 15-year civil war in 1990.
"The fire at the port of Beirut cannot be justified, no matter what. Accountability is a main condition that such painful incidents are not repeated," Prime Minister-designate Mustapha Adib wrote in a tweet Friday.
Near the wreckage of Beirut's port, a commemoration was held last week for the victims of the blast in the presence of some of their relatives. Soldiers fired a salute, then laid a white rose for each of the 191 victims at a memorial. The crowd fell silent at 6:08 p.m., the moment of the explosion.
The Joplin-area women said they hope the community's donations will help those who are trying to piece their lives back together in Beirut.
"We're going to send the money and just hope and pray it's going to make a difference in some people's lives," Joseph said.
The Associated Press contributed to this report.