The lives of 41 Southwest Missouri residents ended through suicide in 2018. Statewide, suicide numbers reached 1,230 that year, ranking Missouri 12th among the 50 states.
It's why Ozark Center officials on Thursday launched 41 blue and yellow lifeboats on a pond at the center's operation at 32nd Street and Duquesne Road in Joplin, memorializing those who took their lives and remembering the grieving loved ones left in their wake.
"That's 41 too many," said Debbie Fitzgerald, who serves as director of crisis services with Ozark Center, an affiliate of Freeman Health System.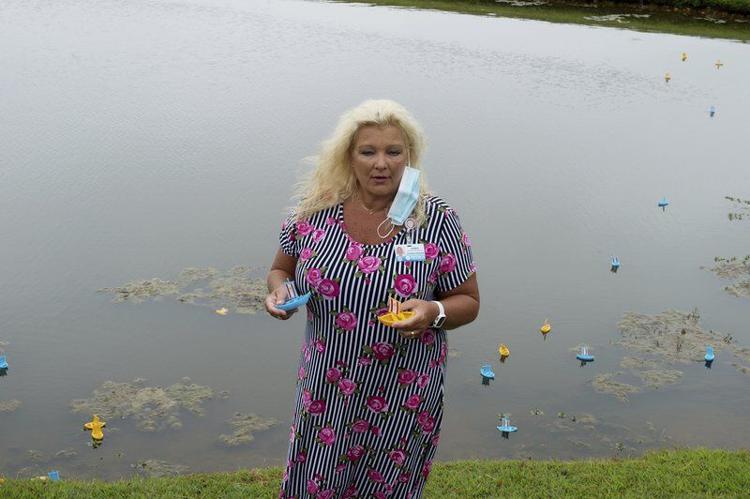 Suicide, she said, "is one of the top leading causes of death in the U.S., but it's also the most preventable leading causes of death. … There is hope out there."
Thursday was World Suicide Prevention Day, while Sunday is the last day of the annual National Youth Suicide Prevention Week. A suicide prevention Zoom-based event — "Be Someone's Lifeboat" — was recorded Thursday by Ozark Center staff and will be uploaded today to the center's Facebook page. People are encouraged to tune in and take notes. Training, a question-and-answer session with center staff, and free online depression screenings are all a part of what will be offered.
"The more we can educate people about these difficult suicide struggles, and what they need to look for and how to respond using layman's terms," the more they'll realize "that anyone can be a lifeboat for someone having a crisis," Fitzgerald said. And because the teaching method is virtual because of the pandemic, "we're hoping to reach a new audience."
The bulk of the training centers on "QPR" — question, persuade and refer — she said. "Any one person in the community, age 14 and up, can do this. You learn how to question someone if they are suicidal, how to persuade them to seek help and where to refer them to get (professional) treatment."
Think of QPR as similar to CPR, Fitzgerald said. And just like cardiopulmonary resuscitation, QPR can just as easily and effectively save a life.
"All of us can help someone; you don't have to be a professional — you can be a lifeboat for anyone," she said. "We can be a suicide-safe community and come together and partner and support one another. We can be a safer community. … We can do that. We overcame a lot — the tornado, flooding, now the pandemic. We can do this."
On the positive side, suicide rates in Southwest Missouri — primarily Jasper, Newton, Barton and McDonald counties — have seen a "significant drop" from 2017 to 2018 — 54 to 41, she said.
Despite COVID-19's negative effect on the lives of about everyone since early March, she has not seen a local increase in suicide deaths. What she has seen are increases in the number of people seeking professional support and help, whether it's people using the telephone service, walking in without appointments hoping to talk to someone or speaking to a member of the center's Show-Me Hope Missouri pandemic team. Overall, staff members have seen increased cases of stress, anxiety, sleep problems and eating disturbances.
"What we also know is, whether it's a natural disaster or a manmade disaster, research has shown that the emotional ripple or aftermath sometimes gets delayed, so I think this is good news — we should be positive and optimistic," Fitzgerald said, "but … because we don't now how long the pandemic will go on, as stressors pile up, we need to be cautious."
Cautious, but available to offer help at all times.
"I think it's good that people are seeking help, and that's the message we want to say, that we do not need to let life's stressors turn into a suicide crisis," she said. "We know what to do to help."