The food in Michael Castor's shopping cart last week took quite a journey to end up there.
Whatever its origins, it almost certainly passed through Ozarks Food Harvest, a Springfield-based food bank that serves thousands of food insecure families in nearly 30 Southwest Missouri counties. After being sorted and processed there, it would have been driven 75 miles down Interstate 44 to Joplin and delivered to Crosslines Ministries, where Castor plucked it from a shelf last week.
Since its launch in 1983, the Springfield food bank has become a hub for ensuring that food, especially perfectly good items that might otherwise be destined for a trash can or a landfill, is routed instead to those in the community who need it most. The agency last year distributed 21 million pounds of food to people in Southwest Missouri, said Bart Brown, president and CEO.
"We've been able to grow the amount of food we distribute to people living in poverty," he said. "It's made the number of hungry people go from 4 in 1 to 5 in 1."
Moving through Springfield
Food such as the kind with which Castor filled his shopping cart last week arrives at Ozarks Food Harvest primarily as donated inventory, Brown said.
Some donations are from major retailers in the area — Walmart or Sam's Club, for example, and retailers that are clearing out their own stock — and others are from food manufacturers such as General Mills, Gilster-Mary Lee, Tyson Foods or Kraft. Opal Foods, a Neosho-based company, famously donates hundreds of thousands of eggs to Ozarks Food Harvest each spring in recognition of Easter.
Donations account for approximately 70% of the agency's inventory; the rest is purchased or comes from U.S. Department of Agriculture programs. Those donations helped the agency last year save 700 truckloads of food from being thrown away and going into local landfills, Brown said.
"It's a huge environmental impact that leads to great social impacts as well," he said.
The donations arrive at Ozarks Food Harvest's current location, 2810 N. Cedarbrook Ave. in Springfield, which the agency has occupied ever since it outgrew its former building in 2009. And growth is ongoing — officials last fall opened a new 56,000-square-foot addition that was built through a $2 million fundraising campaign to better serve their continually growing operations, Brown said.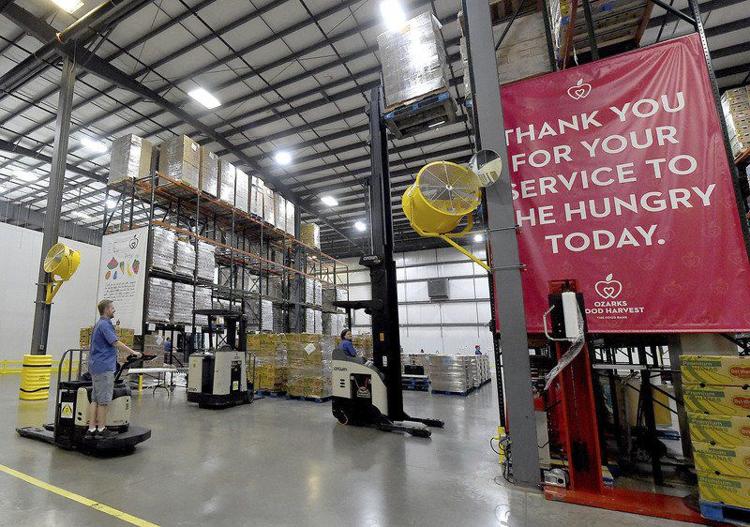 Food items — boxed, canned, fresh and frozen — are stored until they can be inspected, sorted and packed for delivery to or pickup from one of the agency's numerous partners in Southwest Missouri. That work is done by the 63 employees on the Ozarks Food Harvest roster and, importantly, by thousands of volunteers.
The agency last year brought in about 3,500 volunteers who amassed a total of 35,000 hours — the equivalent of approximately 17 full-time employees, Brown said.
They're vital, he said, to Ozarks Food Harvest's mission. They sort food, pack boxes to be delivered to area pantries and other nonprofits, and put together backpacks full of snacks to be distributed among local schoolchildren on the weekends, he said. They also work in the agency's demonstration garden near Rogersville and help get residents signed up for the Supplemental Nutrition Assistance Program, also known as food stamps.
Lona Wait, of rural Springfield, has logged more than 1,000 volunteer hours with Ozarks Food Harvest since her retirement in 2011.
"I just felt like it was time to give back," she said recently as she worked with a small group of volunteers to sort frozen foods. "I believe that we need to help other people, and this seems to be doing that with the feeding program."
From Springfield onward
Donations move out of Ozarks Food Harvest within a maximum of 30 days, Brown said. Some items, mostly perishables such as fresh produce, are processed, sorted and on the road for delivery in as little as 24 hours.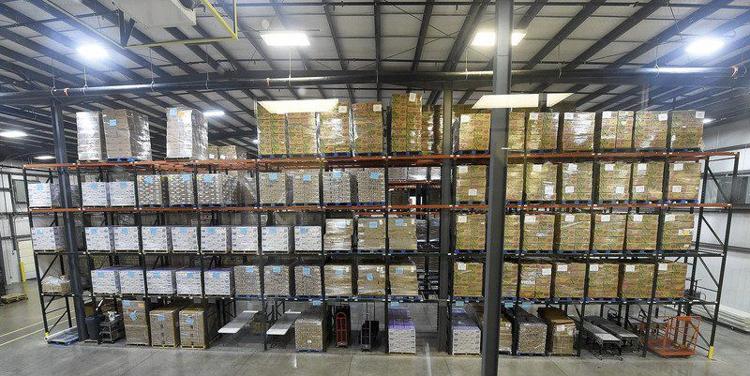 Most of the food winds up on trucks destined for one of 270 local nonprofits in a 28-county, 20,000-square-mile area stretching as far west and south as the Oklahoma and Arkansas borders, east to West Plains and north near Clinton. To qualify for partnership with Ozarks Food Harvest, these nonprofits must serve needy populations — although not necessarily strictly food insecure populations — and must keep regular hours of operation throughout the year, Brown said.
More than 1 million people live in that service area, and of that number, approximately 200,000 are food insecure, meaning they lack sufficient access to quality, nutritious food.
"There are a lot of hungry people in our service area, but they're really spread out," Brown said.
Families served by Ozarks Food Harvest and its network have an annual average income of $10,000, and two-thirds of those families say they frequently must choose between paying for food or paying for utilities, according to information from the agency.
More locally, the agency estimates that roughly 13.3% of the population in Jasper County is food insecure; that jumps to 18.1% when looking specifically at children. In Newton County, those rates are estimated to be 12% and 16.4%, respectively.
Ozarks Food Harvest delivered the equivalent of 1.6 million meals to Jasper County and 472,000 meals to Newton County in fiscal year 2018. The two counties also received nearly $20,000 collectively in cash grants from the agency.
Reaching Joplin tables
One of the many local nonprofits served by Ozarks Food Harvest is Crosslines Ministries, which offers an emergency food pantry to families in Joplin, Webb City and Carl Junction. The nonprofit, 320 S. School Ave., serves approximately 1,900 people per month, and 80% of those come from a household in which at least one person is employed, executive director Rodney Rambo said.
"We serve the working poor in our community," he said. "They need a hand up when things are hard."
Eligible clients can access all sorts of groceries through the Crosslines pantry, from staples such as meat and dairy products to fresh produce grown in Crosslines' backyard garden. Rambo estimates that up to 75% of the pantry's food inventory comes from Ozarks Food Harvest, including items that Crosslines purchases directly from the Springfield agency and items that are coordinated by the agency for donation straight from local retailers and companies.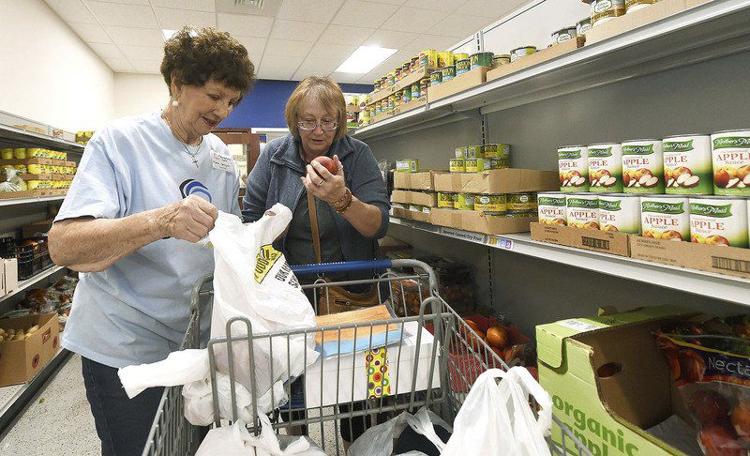 "It's incredibly important," he said of Crosslines' partnership with Ozarks Food Harvest. "We wouldn't be able to serve as many people without them."
Castor, of Joplin, was a regular visitor to Crosslines years ago when he was homeless. Now a truck driver whose wife travels with him on jobs that take him as far as the East Coast, Castor finds himself relying on Crosslines once again to help make ends meet.
"We come home (from a trucking job) and pay rent, and I have a couple of cars to pay on," he said last week as he and his wife, Allie, filled up their shopping cart. "They (Crosslines) just help with the extra food costs."
Some of the items that the Castors took with them last week will wind up back on the road — not to be delivered somewhere else, but to feed the couple while Castor is working. And some items they'll use to pay it forward to others who need just as much help as he once did.
"We have a cookout every time I'm home off the road for homeless people," he said.