After a year's hiatus because of the COVID-19 pandemic, one of Joplin's oldest celebrations returned to Ewert Park this weekend.
The Park Days Freedom Festival, Joplin's celebration of the end of slavery in 1865, concludes Sunday with Church in the Park, a community gathering hosted by area churches, at 9 a.m. and the 14th annual Park Days car show from noon to 4 p.m.
The event began on Friday with gospel music and rhythm and blues music as well as a kids' movie night in the park and continued with more than 12 hours of fun, play, food and history events on Saturday.
Event organizers say they have newspaper accounts of this event being held annually going back at least 95 years to 1927 in Ewert Park, and other newspaper accounts of a celebration going back further in time.
Emancipation refers to the federal government freeing the slaves at the end of the American Civil War in 1865. On Sept. 22, 1862, President Abraham Lincoln signed the Emancipation Proclamation, freeing slaves in areas of the Confederate States of America occupied by the Union Army after Jan. 1, 1863.
As the war ended in 1865, freedom was extended to slaves throughout the South, but slaves in different parts of the South heard about it at different times. Juneteenth became a federal holiday on June 17 of this year, celebrating the day Union soldiers marched into Galveston, Texas, and brought word of emancipation to a last group of slaves.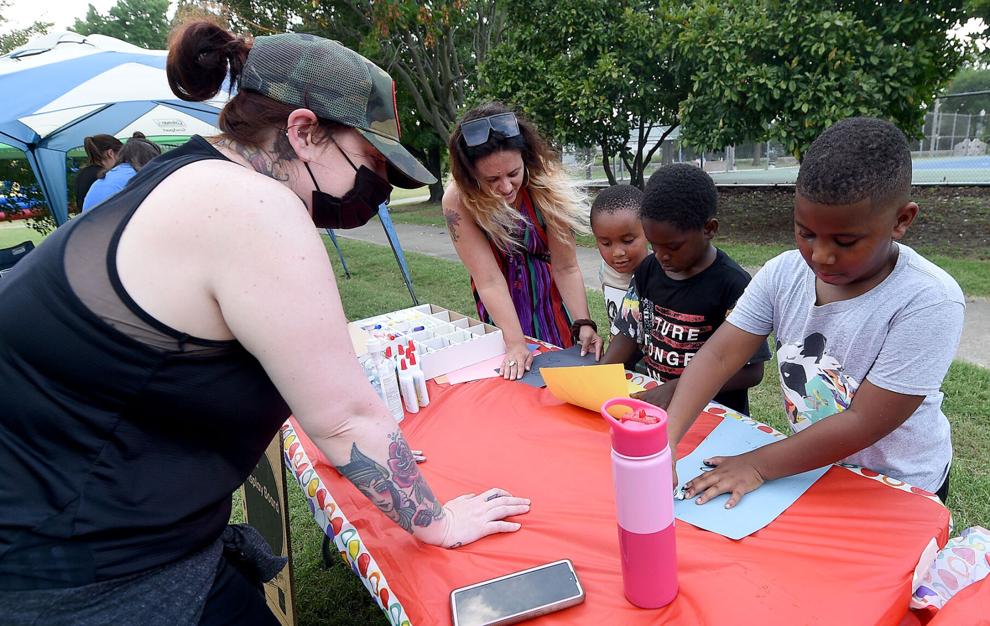 Chalise Cooper, chairwoman of the Joplin Emancipation Committee, said local history in Jasper County has word of emancipation coming to this area on Aug. 4, although the exact year is lost to history. Local Black residents have celebrated around that date since the early 1900s.
"It's special because this is basically our Juneteenth, this is Emancipation Day, we're celebrating freedom and the freeing of the slaves," Cooper said. "It's very special. We want to get the word out there this is what we're celebrating, and we teach about African American culture, heritage, achievement, and we do that with the food, the music and a lot of educating about the history of African American culture."
Cooper said the COVID-19 pandemic forced the cancellation of Park Days in 2020, so being able to come back this year was very special.
"We wanted to keep everyone safe," she said. "We have a lot of the elders in the community that come out and we wanted to protect them along with children. ...We offered COVID testing at our health and safety fair on Saturday, and we had vaccines available. We're just happy the event is able to be held outside so we're out in the open; people can social distance. We do have masks and sanitizer for people who want it, so we're trying to do the best we can to try to protect everyone."
Family reunion
The 2021 Park Days event has a carnival atmosphere to it, with singing under a big tent, a movie for kids on a large inflatable screen in the park's tennis courts, and bounce houses, vendors and food trucks throughout the park.
Longtime attendees say the event has been much like a large community family reunion and picnic.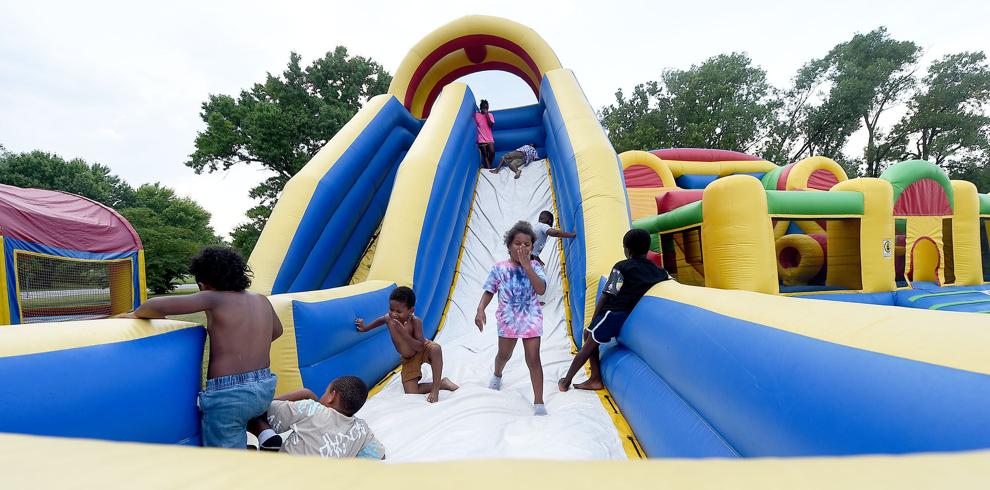 "People have kept it going over the years," said Tracey Thompson, a member of the Emancipation Celebration Committee. "You have folks from the community, you have families coming here. Families did this for years until they started the Emancipation Committee. Before that, it was just everyone came to Ewert Park and took part in games and celebrations.
"Everyone knew people would be here; it was a big picnic, all sorts of stands, barbecue, frying fish, making hamburgers. Then they'd have music. Back in the day, right where one of these parking lots is, they used to have the Newburger Community House, and it was also Carver Nursery School. That's where we used to have parties, dances, sometimes community events."
Melissa Swindell, of Joplin, said when she was a kid, she saw cousins and other relatives at Park Days that she wouldn't see for years on end otherwise.
"You met your cousins down here and relatives came from out of town, and we came out here or they would be at your house, and that was the one time of year that you would see your cousin that you didn't see any other time of the year," Swindell said.
Kim Weathers, of Joplin, said she's tried to explain to her grown daughter and two grandchildren how Park Days was when she was younger.
"I try to tell them the history of this and the reason we have it and how important it is," Weathers said. "A lot of these younger generations, they don't really know what it's like. They'll ask, 'Are you going to the park this weekend?' But back when I was young, there wasn't a question of, 'Are you going?' The question was, 'What time will you be there?'
"It was a really big deal for us. I like the music and gathering with friends. People come from out of town that you may only see this time of year. Some don't come every year, so you might not have seen them for several years, so it's like a reunion."