PITTSBURG, Kan. — Nearly four dozen people in Pittsburg joined protesters across the country Tuesday to demand that the U.S. government close its detention centers for migrants at the southern border.
The #CloseTheCamps protests were organized nationally by groups such as MoveOn, United We Dream, American Friends Service Committee and Families Belong Together. The objective, organizers said, was to demand that the U.S. shutter its detention centers, which have come under scrutiny for the poor conditions in which migrants are being held, and to demand that Congress refuse to authorize more money for deportations and family detentions.
"I feel morally obligated to draw attention to the suffering of people at the hands of our government," said Megan Johnson, a Pittsburg resident and secretary of the Progressive Democrats of the 13th Senate District. "These detention centers have been described as torture centers by doctors."
U.S. government auditors who visited centers in South Texas where migrant adults and children are processed and detained said in a Tuesday report that some migrants don't have access to hot meals, showers, blankets or necessities such as toothpaste and soap. Several U.S. lawmakers who visited facilities earlier this week have described squalid conditions in which migrants are being held.
"It's disgusting," said Johnson, the organizer of the Pittsburg protest. "I'm a mother. I would not allow that treatment of my own child. How could I allow that treatment of another child?"
During a 40-minute protest on North Broadway Street, the Pittsburg group had harsh words for U.S. Sen. Jerry Moran, accusing him of playing politics with people's lives and reneging on pledges for immigration reform measures. Like other protesters around the country, the group met at the local office of their U.S. senator while he was away from Washington, D.C., for the July 4 holiday.
Ximena Ibarra, of Pittsburg, kicked off the protest by reading the names of migrant children who have died in custody of U.S. government officials. She called for the closure of the detention centers and asked Congress to increase its oversight of U.S. Immigration and Customs Enforcement and to reallocate border money to refugee resettlement.
"It's very tragic, what's happening at our southern border," she said. "It's heart-wrenching. Seeking asylum is not a crime, and the Trump administration is criminalizing it. I'd like Sen. Moran to know his constituents are paying attention to what he does and doesn't do."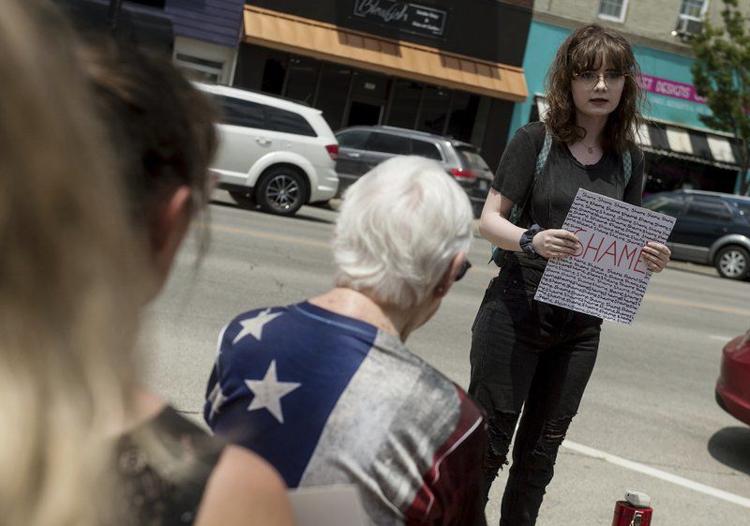 Moran's response
In a statement emailed to the Globe, Moran, a Republican, noted that President Donald Trump on Monday signed a bipartisan $4.6 billion measure to care for migrant refugees detained at the southern border. The legislation contains more than $1 billion to shelter and feed migrants detained by the border patrol and almost $3 billion to care for unaccompanied migrant children who are turned over the Department of Health and Human Services.
"The emergency supplemental funding package protects our border and ports of entry by supporting our Customs and Border Protection agents, improves our existing border facilities and creates more space to process the influx of migrants in an orderly and humane manner," the senator said in his statement. "We must treat all migrants, especially young children at our border, with respect and dignity, and this supplemental funding will help provide these children with basic necessities that will improve their conditions. I will continue working with my colleagues and the president to secure our borders and address the humanitarian crisis."
Lynn Grant, of Frontenac, attended the protest because she felt like it was something she had to do in order to stand up for others. She said the conditions of the detention centers and the separation of families at the border are "overwhelmingly disgusting."
"I think it's the epitome of meanness," she said.
Murray Fields, of rural Pittsburg, said he felt spurred to action after seeing "disturbing images" of the camps on the country's southern border. He hoped Tuesday's nationwide protests would put some pressure on U.S. officials to speed up their process of reuniting families that have been separated.
"Obviously, the (Trump) administration isn't doing it, so somebody's going to have to find the wherewithal to do it," he said. "It's something that needs to be done."
The Associated Press contributed to this report.