CARTHAGE, Mo. — It's a small block of Carthage marble, limestone to most geologists.
But it tells a story of a life cut short and a family's grief in a community rebuilding from war.
That block of stone, which originally was placed in 1871 in the old Pioneer Cemetery on Airport Drive in Carthage to remember year-old Earnest Haines, was returned to what remains of that cemetery in a small ceremony on Thursday, hosted by the Jasper County Cemeteries Preservation Committee and Bill Joslen, from Quality Memorials.
Clyde Hood, of Carthage, a founding member of the committee, said all the remaining stones were removed from the ground sometime between 1986, when an article and photos in The Carthage Press described volunteers clearing brush from the cemetery, and 1997.
"According to what I found in the 1883 History of Jasper County, this (property) was purchased in 1869 and it was supposed to have been a 40-acre tract," Hood said. "All that exists is 1.6 acres right here. Whatever happened to the cemetery happened after the Deerfield Village Apartments were built. I went to the assessor's office, and the apartments were built in 1979, and old pictures show me the trees and everything were still here, so it wasn't cleared for the construction of the apartments."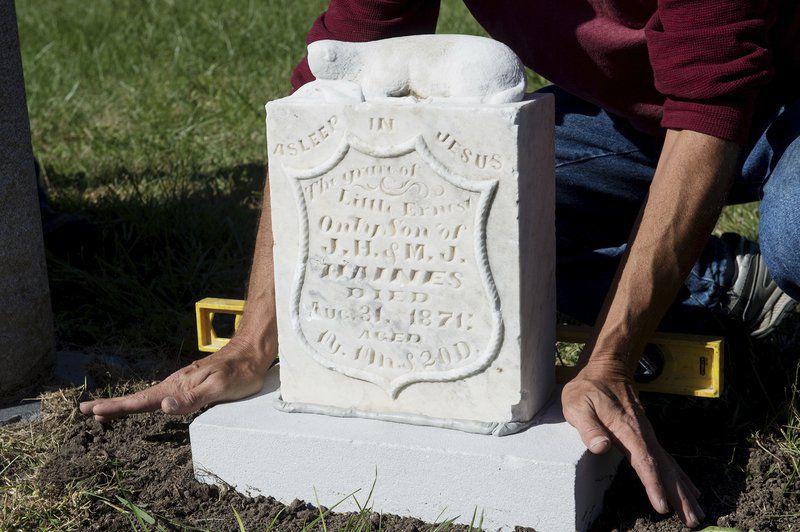 Cemetery created, forgotten
Hood said the history of Pioneer Cemetery stretches back to 1869 when people were returning to Jasper County and rebuilding Carthage and other communities that had been devastated by the Civil War.
Before the Civil War, the land now known as Central Park in Carthage, at the corner of Garrison Avenue and Chestnut Avenue, was a cemetery on the edge of town.
Hood said that in 1869, city leaders decided to do something different with the land that became Central Park, and in 1870, they obtained the land on what is now Airport Drive and many of the people buried in Central Park were exhumed and moved to Pioneer Cemetery.
"According to that 1883 History of Jasper County, there were a few people who they said friends requested their remains stay there in Central Park," Hood said. "The soldiers who died during the war, their remains were taken to the National Cemetery in Springfield. Almost everyone else in Central Park ended up here."
By the early 20th century, Pioneer Cemetery had become overgrown and was all but abandoned.
Hood said photos from the 1930s show that the cemetery had become overgrown.
The 1986 photos in The Carthage Press showed volunteers attempting to restore some of the cemetery, but what happened next is a mystery.
"Sometime between then and 1997, the cemetery was leveled with no stones remaining," Hood said. "I got the 1997 date by looking at a picture of the cemetery. ... Sometime after the cemetery was leveled, a large memorial stone was put up in Pioneer Cemetery with the known names and dates of the persons who had been buried in the cemetery on the back. It would be interesting to find out when that stone was put up, who put it up and paid for it, and where did the information for the names and dates come from."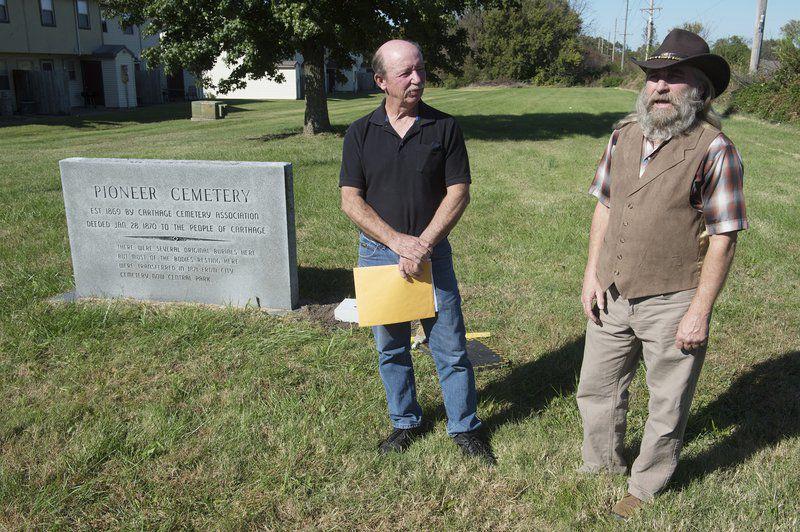 A child remembered
Hood said Earnest Haines was only a year and a half old when he died and was buried in Pioneer Cemetery.
Even the spelling of his last name is something of a mystery.
"Little Earnest Haines, he's was at the time the only child of James and Mary Haines," Hood said. "There's a question on the spelling of his last name because the way it's spelled on the stone is not the way his parents spell it on their gravestone. They spell it Haynes.
"He would have been buried here in Pioneer Cemetery. He was not part of the exhumations that occurred in Central Park. He died about a year after that occurred. His parents remained in Carthage for just a short period of time, then moved to Texas, had more children, then eventually moved to the Denver area, where they passed away."
Hood said Carl Ward, from Haysville, Kansas, contacted him in 2018 after finding the stone in a neighbor's backyard and connecting it to the Pioneer Cemetery through the website www.findagrave.com.
Ward contacted Bill Joslen, at Quality Memorials, who connected him with Hood.
Hood said Ward told him the neighbor had bought the stone at a garage sale in Andover, Kansas, a suburb of Wichita, and used it for years as part of the Halloween decorations around his home.
Hood said Ward had no idea how the stone had gotten to Andover but that he went to Kansas and retrieved the stone in September 2018.
History restored
Marjorie Bull, former Jasper County clerk and another founding member of the Jasper County Cemeteries Preservation Committee, said removing all the headstones from Pioneer Cemetery was "a shameful thing," but she was glad to see a small part of that cemetery come home.
"I think this is the most wonderful thing that could happen," Bull said. "To think (that) we could rededicate a stone that originally came from this cemetery is a wonderful thing. I am excited."
Bull said she and Hood have walked nearly all of the more than 100 cemeteries in Jasper County as they worked to catalog them and see how they could be preserved.
"I think we're getting somewhere with people recognizing old abandoned cemeteries and maybe getting people involved in preserving and restoring them," Bull said. "There are some cemeteries that have been adopted that are absolutely beautiful. There are several, at least 55 or more, cemeteries that have been abandoned and have not had anything done to them in years."
Carthage Mayor Dan Rife attended the ceremony to represent the city.
"This is the history of the city and just to be able to put a little bit of it back is a neat thing, it's important," Rife said. "I think it's neat that the stone was located and brought back. It could very easily have never been located and been lost to history and no one would have known any better. That these folks found it and thought it was important enough to have it restored and give it back to Carthage is a great thing."