CHEROKEE, Kan. — Students from Pittsburg State University are building a greenhouse and aquaponics system for Southeast High School.
The objective, they say, is to increase awareness of food production and promote sustainable operations.
"We're trying to give another avenue for horticulture and agriculture students to see sustainable food production and also give them access to fresh and local food in their community," said Erin Kruse, a Pitt State senior from Girard.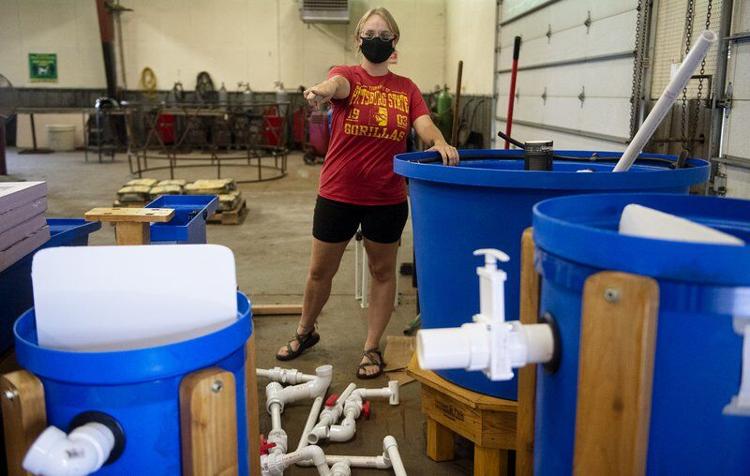 The students are part of a PSU group called Students for Sustainability, which last year built a similar aquaponics system in the greenhouse on the roof of Heckert-Wells Hall on campus. Their current project aims to construct a 12-by-20-foot greenhouse and 6-by-16-foot aquaponics system at the high school in Cherokee.
The aquaponics system is a way to grow food without soil, Kruse said. It's the integration of aquaculture, or raising fish, and hydroponics, a water-based way to grow plants.
It will work like this: Excretions from 50 tilapia to be housed in a 100-gallon tank will flow into a smaller tank called a clarifier, where solids will settle in the bottom and then flow into another small tank for aeration. Bacteria will convert it into ammonia nitrate, and then it will be aerated once again to force out carbon dioxide. Plants in floating sheets of foam in the water will convert the carbon dioxide to grow, and the water will be recirculated.
The project launched last summer after students met with Live Well Crawford County, an organization that helps create healthy lifestyle choices for residents. It is made possible by a $25,000 grant from the Kansas Health Foundation.
Construction of the greenhouse and aquaponics system got underway in July and has slowed somewhat now that the Pitt State students are back in class for the fall semester. The group hopes the structures will be operational within a few months.
"I'm enjoying the whole process" of building the structures, said Charlie Beetch, a senior from Hutchinson. "We had to research, and then once we had our dimensions, we did ground preparation, and now the construction phase. That's a lot of experience that we didn't have.
"I'm enjoying the process of building and then being able to have it function and being able to educate the people involved," he said.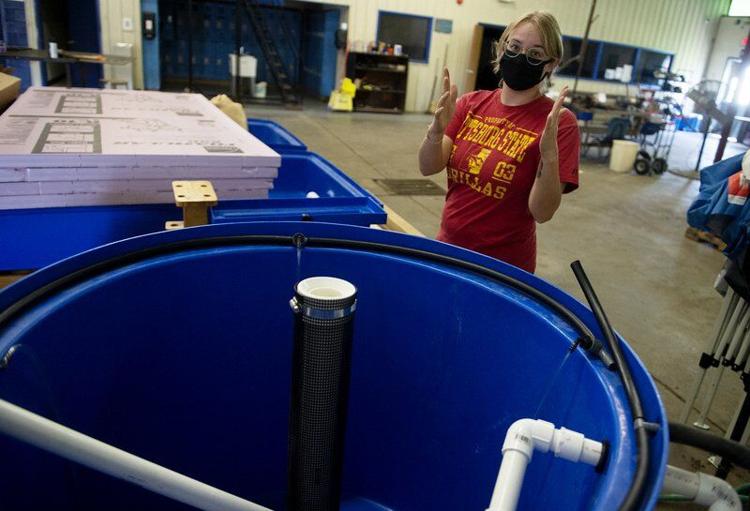 When the project is completed, the PSU students will turn over operations of the greenhouse and aquaponics system to horticulture and agriculture students at Southeast High School, giving them the opportunity to learn about sustainability and food production.
"We wanted to create a curriculum for children, for students, to learn about good nutrition in their food and how to produce food locally, and it all ties back to them being able to receive that benefit," Beetch said.
Caitlyn Brummett, who teaches the agriculture program at Southeast High School, said this is the first year the high school has a horticulture class — and it has attracted 17 pupils in a program where the maximum capacity is typically 18.
"There's definitely a lot of interest," she said in a statement from the university. "Before (the system is finished), we'll be learning in class what we will be doing once it's completely built and we can get out there. They'll learn what student roles will be each day, what we'll be checking for, and so on."