A new temporary exhibit on display at Rapha House International in Joplin seeks to share perspectives of and reflections on sexual assault.
The exhibit, titled "Safety in Numbers," was developed, researched and organized earlier this year as part of Jaclyn Kidd's honors thesis at Missouri Southern State University.
"My intention was to bring (the issue of sexual assault) to a local level," said Kidd, of Neosho. "I think the takeaway is this happens here, and Southwest Missouri isn't exempt from this crime."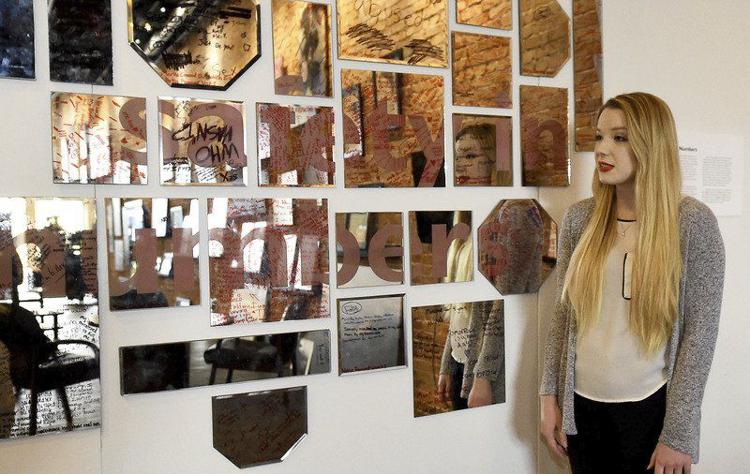 Kidd's research project began with mirrors placed in men's and women's restroom stalls on the MSSU campus during the spring semester. People were asked to leave a mark on the mirrors if they had ever experienced sexual assault, rape, threats or harassment.
Three of the 24 mirrors filled within the first four days of the four-week span — and not just with marks.
Many who came into contact with the mirrors used the safe, anonymous spaces to leave messages about what had happened to them: "Molested for four years." "Men can and do get raped. I know. I did." "My boyfriend didn't know the meaning of the word 'no.'" "I was 3 ... he made me think it was a game." "Got a ride from a random old guy while walking, got groped at the end. This happened yesterday."
Moreover, Kidd said, one mirror was broken, and some had their comments and notes wiped clean. A few responses, which she left intact, blamed victims for lying about sexual assault or for getting drunk at parties.
But there also was another type of response that emerged — one of compassion, of understanding, of love for those who had been victimized by sexual assault: "Tomorrow is a new day." "Love yourself!" "All of you are strong, beautiful women." "It does not define me, and it does not define who you are."
Kidd said she didn't expect the volume and the vulnerability of the responses. Some mirrors got so filled with comments that she had to add laminated paper to some of the restrooms, in some places multiple times, just to provide enough space for people to participate.
"They're heart-wrenching (comments) because they're real people's stories, but there's a lot of positivity there, too," she said.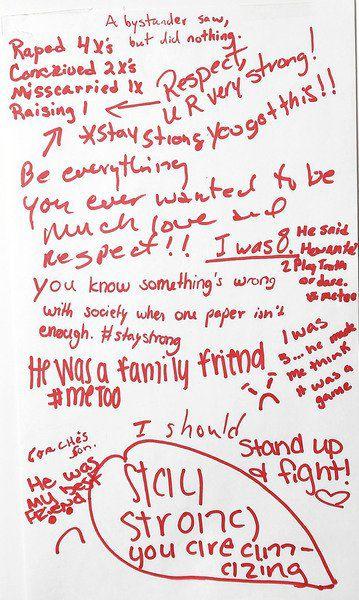 Kidd graduated from Missouri Southern in May with a bachelor's degree in graphic design. Her exhibit, a collection of the mirrors and related photographs, was first displayed at MSSU and then received an invitation for display at Rapha House, where she has volunteered for the past year.
Rapha House, founded in 2003 and headquartered at Seventh and Main streets in Joplin, is an international safe house program that works to end trafficking and sexual exploitation, particularly of children.
"A huge part of (Rapha House's mission) is raising awareness that this is happening at all," said Ashlee Walter, operations coordinator. "We love that she (Kidd) is able to showcase this here because we care about the community and want to continue reaching out and raising awareness."
The exhibit urges those who are interested in learning more about sexual assault to go to rainn.org, the website for the Rape, Abuse and Incest National Network.
If you have been the victim of sexual assault and need help, contact Ozark Center Crisis Services at 417-347-7720, Lafayette House at 417-782-1772 or the National Sexual Assault Hotline at 800-656-4673.