After seven years of hand-holding, scientists, acting like anxious parents, have decided to let go of the first federally endangered species ever restored to Missouri.
Since 2012, more than 2,800 American burying beetles have been released in the soil at Wah'Kon-Tah Prairie near El Dorado Springs in Southwest Missouri. They've also been given food and closely monitored to see how the population was doing.
"We are seeing some positive trends that indicate it is time to see how the beetles are doing on their own," Bob Merz said this week.
Merz is the zoological manager for invertebrates at the St. Louis Zoo and director of the Center for Conservation of the American Burying Beetle at the zoo's Wildcare Institute. The zoo, the U.S. Fish and Wildlife Service, the Missouri Department of Conservation and the Nature Conservancy have all worked together to restore the orange-and-black beetle, which is an inch or so long, to Missouri.
They will continue to monitor the beetles, but no new stocking is planned this summer, and the beetles — carrion eaters — will have to find their own dinner. Merz likened the moment to parents sending children off to college.
Scott Hamilton, a biologist with the U.S. Fish and Wildlife Service and species lead for the American burying beetle recovery effort in Missouri, has compared it to taking training wheels off a child's bicycle.
"We put in about 400 beetles every year," Hamilton said of the recovery effort. "Now we need to see what the Wah'Kon-Tah population is going to show us on its own."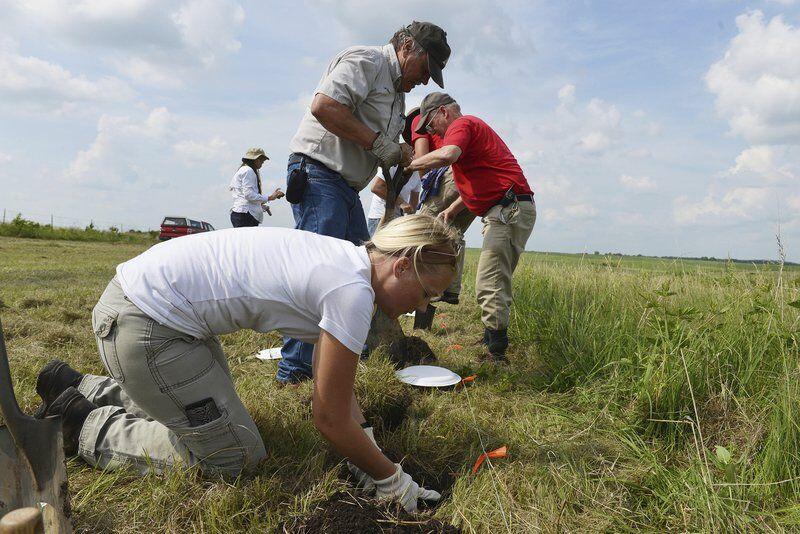 'Disastrous decline'
Historically, the American burying beetle was found in much of the eastern and central United States, including Missouri. Before the reintroduction at Wah'Kon-Tah, the last one on record in the state was collected in 1972 in Newton County.
By 1989, there were only two known populations of the beetle surviving in the wild, one in Rhode Island and the other in Oklahoma. At the time, it was thought that the beetle had experienced "one of the most disastrous declines of an insect's range ever to be recorded," according to federal records.
That year, the American burying beetle became one of the smallest creatures on the federal government's list of endangered species, joining the bald eagle, grizzly bear and California condor.
Since that listing, subsequent surveys for the American burying beetle have turned up populations in other states, including Kansas and Arkansas, but scientists say it is still missing across 90 percent of its former range, which once extended from Florida to Canada and from the Dakotas to Texas. Merz has said many of those remaining populations in the Midwest remain isolated from each other and small, making them vulnerable.
And with the exception of that lone population found on Block Island, off the coast of Rhode Island, no wild populations of the beetles have been seen east of the Kansas-Missouri line.
According to Merz, there are a lot of theories about the beetle's decline, including the widespread use of DDT and other pesticides, habitat loss and fragmentation, and possibly impacts to the beetle's primary food source, which is carrion.
Following designation as an endangered species, limited reintroductions were attempted elsewhere, including on islands off the coast of Massachusetts as well as in Ohio, but the largest reintroduction to date started in 2012 in Missouri, when 296 beetles were brought to Wah'Kon-Tah, a 3,000-acre remnant of original tallgrass prairie.
The beetles were bred in captivity at the St. Louis Zoo, and for each of the more than 2,800 beetles stocked from 2012 to 2018, scientists and volunteers dug a tiny hole at selected sites and placed in it the carcass of a quail and a pair of beetles before replacing the soil. To track the beetles that were stocked, scientists notched the elytra, which is the hard, modified forewings that encase the thin hind wings used by beetles in flight. The notch distinguishes captive-bred from wild beetles.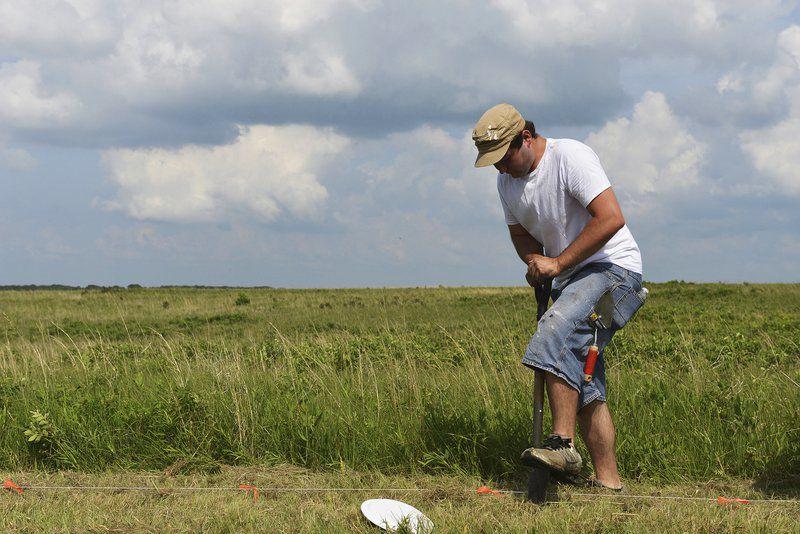 Political fighting
While the reintroduction progressed in Missouri, elsewhere in the country sometimes contentious debates began playing out among local, state and federal elected leaders who were concerned not only for the beetle, but also the impact that federal designation was having.
As new populations were found elsewhere in the Midwest, some argued that it was time for the beetle to be downlisted, from endangered to threatened, or even delisted. According to the Fish and Wildlife Service, "endangered species are at the brink of extinction now, threatened species are likely to be at the brink in the near future."
Chad Warmington, president of the OIPA-OKOGA, an oil and gas industry trade group, said downlisting the endangered beetle would provide "significant regulatory relief" to oil and gas producers, which have to get additional permits, take steps to mitigate their industry's impact, and sometimes work around remnant populations of the insect. It can be expensive and time consuming. He also noted that the industry also has implemented conservation and recovery efforts and that is a "key reason the beetle has and will continue to flourish" in Oklahoma.
"Even with listing it as threatened, there are still protections, just not as onerous," added Cody Bannister, vice president of communications for the association. "There are still protections in place for the beetle."
In 2015, Ottawa County, Oklahoma, commissioners also passed a resolution calling for removal of the American burying beetle from the list of federally protected endangered species. It was part of an initiative promoted by the Association of County Commissioners of Oklahoma. The action also followed legislation introduced a year before by U.S. Sen. Jim Inhofe, R-Okla., to remove federal protection for the beetle. He noted that following listing as an endangered species, it had subsequently been found in 45 of the state's 77 counties, mostly in eastern Oklahoma.
"The Endangered Species Act is designed to protect species that may go extinct, and the American burying beetle is showing increasing resiliency," Inhofe said in a statement issued at the time. His bill not only had support from the oil and gas industry, but also the Oklahoma State Home Builders Association.
"We want them to acknowledge that we have concerns here," John Clarke, Ottawa County commissioner, told the Globe at the time. "We aren't against conservation efforts. We don't want to hasten the demise of this species. We just want the environmental groups to look again at this region to understand that they aren't endangered here, or if they have at least recovered to a point that we don't have to continue these studies at a cost to taxpayers."
Clarke was referring to evaluations the county had to complete before it could begin any construction project. Those studies cost $5,000 to $7,500 each.
"The studies have to take place in the summer for this beetle since that is when they are active, and that study is only good for one year. If construction doesn't occur within that time frame, then we have to start the whole process over. It's so binding to anything we want to do. Every study we do costs money — money that is tight that we can use (for) new projects like bridges and roads, which is our primary focus as a commission."
Some conservation groups, however, including The Center for Biological Diversity, have argued that lawmakers are kowtowing to industries that contribute money and exert influence via lobbyists, and that decisions about endangered species were being driven by economic concerns, not science.
Noah Greenwald, endangered species program director for the Center, told the Globe: "The Species Status Assessment found the beetle is likely to go extinct in Oklahoma, which is where the most beetles and most solid wild populations remain. This means the beetle is more — not less — endangered than previously thought. This was all done to appease the oil and gas industry, which perceives the beetle to threaten their bottom line. This is Trump administration swamp politics at its worst."
He was referring to an announcement recently by the U.S. Fish and Wildlife Service, which is proposing downlisting the beetle from endangered to threatened, a process that will include public hearings and that could take several months.
Amy Leuders, southwest regional director of the U.S. Fish and Wildlife Service, noted in making the announcement that the American burying beetle is now found in Arkansas, Kansas, Missouri, Nebraska, South Dakota, Texas and on Nantucket Island off the coast of Massachusetts.
"We have made some positive steps forward and are now proposing to downlist the beetle," Leuders said.
Merz said changing the status of the beetle won't affect the recovery effort in Southwest Missouri, and he hopes any decisions are based on science, not political concerns.
He also noted that the Wah'Kon-Tah population is still the only known population in Missouri, and that it is premature to consider the recovery effort there a success yet. They'll know more after watching the Southwest Missouri population for a few years, to see what happens now that scientists are no longer providing food and supplemental stockings.
"We are not at the point where anyone can say it is a self-sustaining population," Merz added.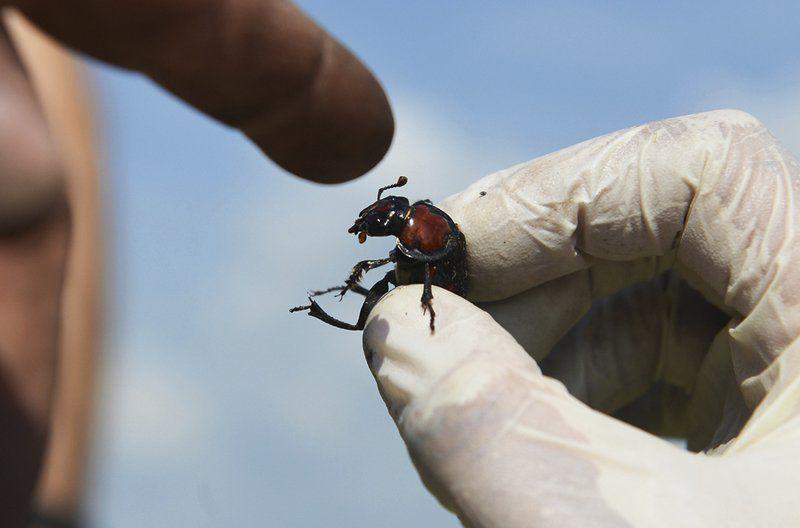 Signs of success
But if they can't count it as a success yet, they say they have reasons to be hopeful.
After that first stocking in 2012, scientists went back and checked on one-third of the beetle release sites later that year and found 395 grubs, or beetle larvae, which was the first of several positive indicators they would find in coming years.
Following the stockings each year, scientists also have returned to Wah'Kon-Tah to look for evidence of reproduction, and in the summer and fall of 2016, after the stocking that year, more than 850 beetles were trapped on the prairie, and 473 of those were unnotched, meaning they were offspring.
They also look each spring before stocking for what they call "overwintering beetles." That first year, they found just one. The second year it was two, the third year it was nine. The high was 110 overwintering beetles found in 2017. The numbers have been lower since then, but Merz and Hamilton said fluctuations are to be expected.
Hamilton added: "This is an animal that is surviving and reproducing."
The two men also acknowledged that measuring the population of a nocturnal insect that lives below ground and can fly several miles when above ground presents challenges, and weather, including heavy rains and flooding, can affect the population from year to year. Still, they think the numbers mean it is time for the population at Wah'Kon-Tah to fly solo.
"We felt we reached the level we are probably going to reach out there," Merz said.
And in another hopeful signal, American burying beetles have been collected at nearby public sites. The first was found at the nearby Monegaw Prairie Conservation Area, which is about a mile away from Wah'Kon-Tah, and last year single beetles were trapped at the Linscomb Wildlife Area and at Schell Osage Conservation Area, two other public tracts that are a few miles farther yet. The beetles also have been found on nearby private land up to several miles away.
Merz notes that all of those public lands are within a four-county area (Cedar, Vernon, Bates and St. Clair) that have been designated as the beetle's recovery area. As the population expands, both Hamilton and Merz said a special designation as a "nonessential experimental population" follows the beetle. According to Hamilton, that designation means that if a nearby landowner, in the course of otherwise legal business on his property, accidentally kills a beetle, there will be no legal fallout. That designation also allows landowners to continue haying and burning their prairies, for example, as well as clearing brush, putting in fences and other work without having to worry about hurting the beetle. It also allows road building and other development to continue in the four-county recovery area.
"We're setting up the beetle the best way we possibly can," Merz said. "I don't think there is a better way to set them up to succeed. There is nothing we could have done to set them up better than we have done."
While they wait to see what happens at Wah'Kon-Tah, they also plan to begin another stocking this summer at the nearby Taberville Prairie Conservation Area in St. Clair County, another remnant of native prairie.
Steven Buback, natural history biologist with the Missouri Department of Conservation, said in an email to the Globe last week: "We are hopeful that this population can survive and thrive on its own, and we can begin to focus on efforts on expanding inhabited range and providing additional population-level resiliency. Even if the species gets downlisted to threatened, we will continue to work to make the reintroduction ... a success. Hopefully, it will prove successfully integrated in the native fauna of Missouri and can continue to be a part of our fauna for future generations."
The Associated Press contributed to this report.