Joplin's parks and recreation director thinks if people knew more about the work of the department they might learn things they would find surprising.
For instance, a couple of years ago, department leaders decided to brand a new logo for the department and that logo has started showing up on signs at parks properties, Director Paul Bloomberg said.
One of the new signs was recently installed at Garvin Park on 28th Street, east of Main Street.
The new logo depicts the large letters "JP" followed by Joplin Parks and Recreation and the phrase "just play."
There are different colored logos for the various functions of the department. For instance, aquatics programs features blue logos, adults sports are signified with orange and yellow lettering, and events or programs are designated in purple.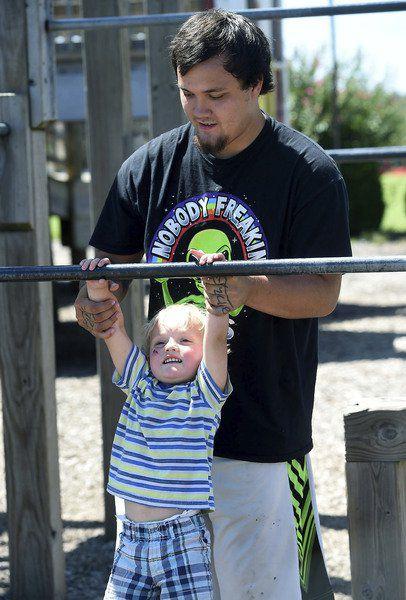 In addition to new signs, the department produced an annual report for 2018 that lists information about city parks, department divisions, and the activities and programs. That report was recently given to the Joplin City Council.
Those details provide a snapshot of the department "by the numbers," Bloomberg said in introducing the report to the council.
Overall, according to the report, the Joplin Parks and Recreation Department manages 1,070 acres of land that make up the city's 24 parks and green spaces and four city cemeteries.
In the parks, 20 playgrounds and 24 shelters with picnic tables can be reserved, and they were reserved 490 times in 2018. The high number for shelter rentals was in 2015, when there were more than 600 reservations.
Those parks contain a number of athletic and recreational locations. There are eight basketball courts, 14 tennis courts, 11 pickleball courts, six sand volleyball courts, five soccer fields, six softball and three baseball fields, a skate park, and a dog park with 250 members.
The department also manages Schifferdecker Golf Course, where 20,932 rounds of golf were played in 2018. That was slightly down from the two previous years.
The golf course clubhouse has one full-time employee and 10 part-time employees. The grounds division of the course is staffed with three full-time and six seasonal workers.
A number of maintenance projects were done on the course in 2018. Women's tee boxes were added to the fifth, sixth and 12th holes, and a senior tee was added to the 11th hole.
The course professional, Daryn Buholt, has added a program called Starting New at Golf to introduce young children to the sport.
Recreation programs
The athletic fields hosted 134 adult sports teams. There were 392 baseball games played on the baseball fields at Joe Becker and Wendell Redden stadiums.
An athletic maintenance division handles the maintenance of the Joplin Athletic Complex and Joe Becker Stadium, as well as the city's softball and practice fields, the Ewert Skate Park, the Carver Nursery building and the city of Joplin "Welcome" signs located on Range Line Road.
Five full-time and six seasonal employees are in charge of grooming those fields and maintaining the buildings.
Recreation programs attracted 5,627 participants last year.
Schifferdecker, Cunningham and Ewert parks have pools or aquatic centers, and a fourth park, Parr Hall, has a splash pad. There were 47,088 pool visitors in 2018. Additionally, 965 participated in aqua Zumba classes and 402 took swimming lessons. There were 77 rentals of Joplin pools for parties last year.
Additionally, the pools are home to the Joplin Swim Team and the Berzerker Swim Team.
There are 120 employees hired and trained annually to staff the pools. They include lifeguards, cashiers and managers.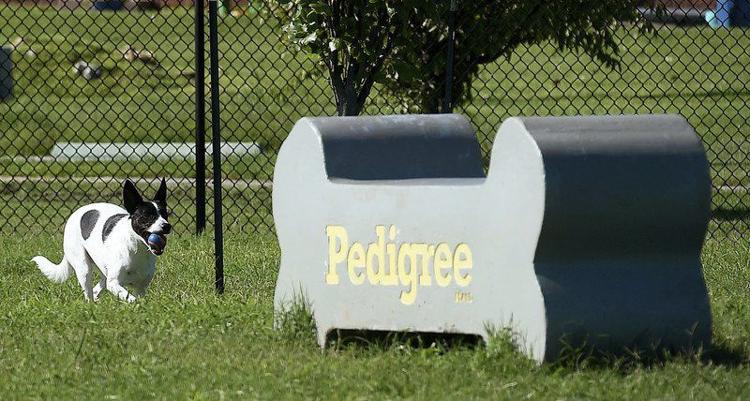 Mowing and repairs
"Like most park divisions in the country, our biggest challenge is retaining enough staff to properly maintain all 1,070 acres of grounds under our care," Bloomberg said. He said the staff mows each of the properties about every two weeks. There are 11 full-time and 13 seasonal employees to maintain and manage the parks lands.
In addition to the parks acreage, parks workers mow and maintain the medians on Junge Boulevard, the Joplin Museum Complex, the Joplin Senior Center, and the flower baskets and plants along Main Street.
There are 10 miles of recreational trails. Those are trails that are contained within parks, not point-to-point trails.
There were eight maintenance projects tackled during 2018, Bloomberg said.
The basketball court at Cunningham Park received a face lift with repairs and new paint.
Volunteers were assisted by parks staff with blazing a new trail at Dover Hill for mountain biking.
Two tennis courts at Landreth Park were renovated and painted so that they could also be used as eight pickleball courts.
A tennis court at Leonard Park was repaired and painted and playground equipment was replaced.
Two horseshoe pits were installed in McClelland Park. An old baseball park at Wildcat Park was removed.
Recreation division
A large number of seasonal employees, 150, assist four full-time staff members with a variety of sports and recreation programs in the recreation division of the department.
Those workers handle sports programs, aquatics, summer day camp, run the concession stands at city parks, oversee youth and adult recreation programs, put together special events, and handle the rental of Memorial Hall for events there.
Participation continues to climb in youth soccer, the parks director said. That program has grown from more than 250 participants in 2015 to more than 700 in 2018.
The series of programs that Bloomberg started when he was recreation supervisor for the department also is growing. It is called the "Lil" sports series and focuses on drills for children ages 3 and 4 to develop their skills for league game play when they are older. Youth sports include T-ball, basketball, soccer and football. A tennis program was added in 2018 for preschoolers.
Recreation division workers also conduct several special events through the year such as the annual Flashlight Easter Egg Hunt, which in 2018 attracted 343 egg hunters who scurried in the dark to find 10,000 eggs stuffed with candy, coupons and other prizes.
The department has added children's classes such as one that teaches healthy eating and safe cooking.
Cemetery division
Four city cemeteries are operated by the department: Fairview, Parkway, Osborne and Forest Park.
Five full-time and four seasonal employees maintain the city-owned cemeteries. One of the projects undertaken In 2018 was at Parkway Cemetery where 291 headstones were repaired, and workers refurbished fences, posts and the cemetery's rock wall.
Representatives of the parks department also worked with members of the Historic Preservation Commission on a project to obtain historical designations for the cemeteries.
This division also is assigned to do the watering and upkeep of the streetscape flowers on Joplin's Main Street.
Memorial Hall
There were 43 events at the hall in 2018, including nonprofit events, pro wrestling bouts, police and fire testing, entertainment and arts events, and veteran meetings and activities.