Following the mantra that it's better to give than receive, area restaurant owners are using their resources to help others in a time of need.
For Zachary Boggs, it includes the introduction of Pay What You Can Day and the Giving Tree, two initiatives designed to help people get a bite to eat at Carmen's Apples & More in Joplin.
Boggs and his wife, Alisha, purchased Carmen's Apples & More near the corner of Seventh Street and Maiden Lane in 2017. When Boggs found himself laid off from his job as a cook because of the COVID-19 pandemic, the couple expanded the candy business by adding breakfast and lunch offerings.
At the beginning of the year, Boggs said he desired to find a way the family could give to others.
"I just felt led to do something," Boggs said. "Both of us have been down and out many times in our lives. We wanted to teach our boys (ages 9, 7 and 5) that it's not always about what you have, but what you give to others."
Boggs hosts Pay What You Can Day on the first Saturday of the month with a limited menu. People can come for breakfast or lunch, with everything paid on a donation basis. Residents without funds can eat without worry, he said.
In January, 45 people took part. The number dropped to 25 in February, but Boggs said the effort is still in its infancy.
After costs are met for the day, remaining funds are used to purchase items that are then placed on "apples" on the Giving Tree. People can come into the restaurant and, with no questions asked, pick up an "apple" featuring items such as a full meal, a snack or a drink, and receive the item free.
Boggs said people as far away as Texas have learned about the effort and have purchased items to go on the Giving Tree. A few business owners have contacted the couple, offering to sponsor food on the first Saturday, allowing all donations to go to the Giving Tree.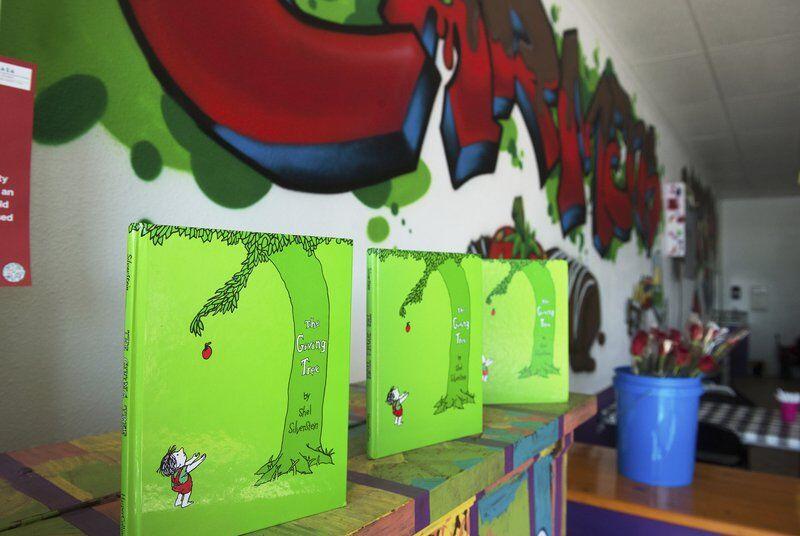 "We just want to be able to pay it forward as best we can," Boggs said. "We've had quite a few people put stuff on there. ... We're just a little mom-and-pop shop; we're born and raised here in the community. We want to give back to the community, which has helped us out so many times in the past."
Carmen's Apples & More is open from 8 a.m. to 3 p.m. Tuesday through Saturday.
'Let's do it'
Two weeks ago, Jennifer White learned about efforts by business owners like Boggs and knew she wanted to give it a try with her restaurant, the Dawg House in Miami, Oklahoma. So with a handwritten note stuck to the wall, White began encouraging people to purchase meals or drinks for people.
As meals are purchased in advance, White posts a ticket for people to see. People can come in to get a meal using one of the tickets, no questions asked.
"We've had a lot of people come in to use the meals," she said. "A lot of people get meals who truly need it."
White said one man came in on a Wednesday and took a meal ticket because he was between paychecks. The following Friday, he returned and bought two meal tickets to be tacked to the wall, she said.
"You never know what someone else is going through," White said. "Some people we see, we never know their needs. This creates an opportunity to better the situation because it's going to help others."
White said at the end of each month, she plans to clear the ticket wall, fixing the remaining meals for a nonprofit such as the Community Crisis Center or for first responders.
"I'm just so proud of this town," she said. "Within eight hours, I had the wall up and going. By the end of the day, we had 22 tickets. I didn't do anything but create an opportunity for people who want to give."
The Dawg House is open from 11 a.m. to 7 p.m. Monday through Friday.