Nasha Robinson got a head start on Thanksgiving last week by introducing a lesson on gratitude to her students at Royal Heights Elementary School.
With "Attitude of Gratitude" written prominently on an easel in her classroom, Robinson, the school counselor, asked pupils what made them feel thankful. From kindergartners to fifth graders, the answer was nearly unanimous — Bridget and Maple, the new school dogs.
"One of the things that every class mentioned was the dogs," she said.
Bridget the cockapoo and Maple the goldendoodle officially started as Royal Heights' school dogs in September. They've gone through obedience training with On Command Canine Training Academy in Joplin, and once they're both at least a year old, they'll be able to test to become therapy dogs.
Because they're still so young and in training, they each visit the school only a couple of times per week.
Robinson, who is Bridget's handler, works on social and emotional learning with students across the school. On days she's at Royal Heights, Bridget meets with students who need an incentive, a boost or a calming presence. Earlier this week, a group of kindergartners who were named Sound Hounds — that is, pupils who had successfully learned all of their letters and sounds — were rewarded with a visit to Robinson's classroom and a chance to sit with Bridget on their lap.
"I get a lot of one-on-one time with kids and Bridget," Robinson said. "At the start of the school year, we had some kindergartners and first graders who didn't want to be at school. Just Bridget's presence and letting them sit down and talk to her calms them down, and we can get them back to class quicker."
Maple belongs to second grade teacher Kate Tupper, who keeps the dog in her classroom but eventually hopes to offer her to other teachers for short periods of time during the day. When she comes to school two days per week, Maple visits with Tupper's students in the morning while they're working, sits with them when they gather on the carpet and attends recess duty with Tupper.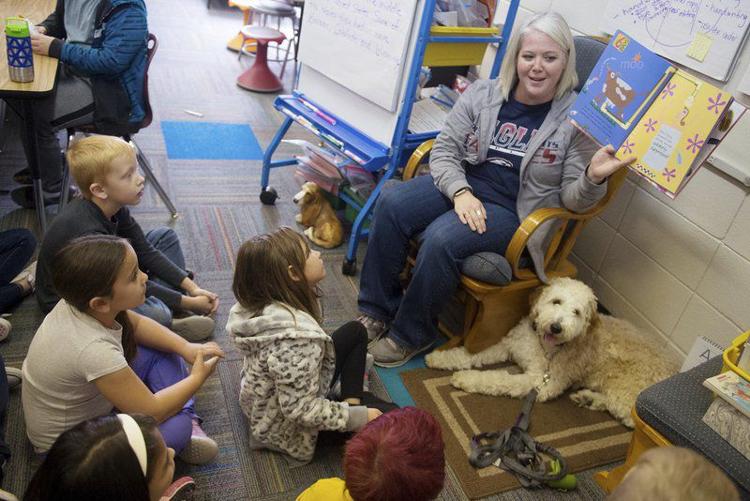 "I have a handful of kiddos in my classroom that have had some (bad) behaviors, and I have one boy who has said, 'Maple makes me want to behave better,'" she said.
The dogs also provide unexpected opportunities for personal growth and learning, Robinson said.
One day, for example, Bridget — whose fur is normally fluffy and poofy — came to school after having been shaved. Many of the schoolchildren, when they first saw her, began giggling at the small pup, saying that she looked weird.
Robinson seized on the moment. She asked the pupils what they would do if it had been their best friend or family member who had arrived at school with a new, different haircut. Would they still laugh and point? By that afternoon, she said, those behaviors had stopped altogether.
"I never even imagined that would be a teachable moment on how we treat others," she said.
'Calm and happy'
Seven-year-old Keagan Metzger is a pupil in Tupper's second grade classroom. He says it's "fun" to have Maple in the room a couple of times each week.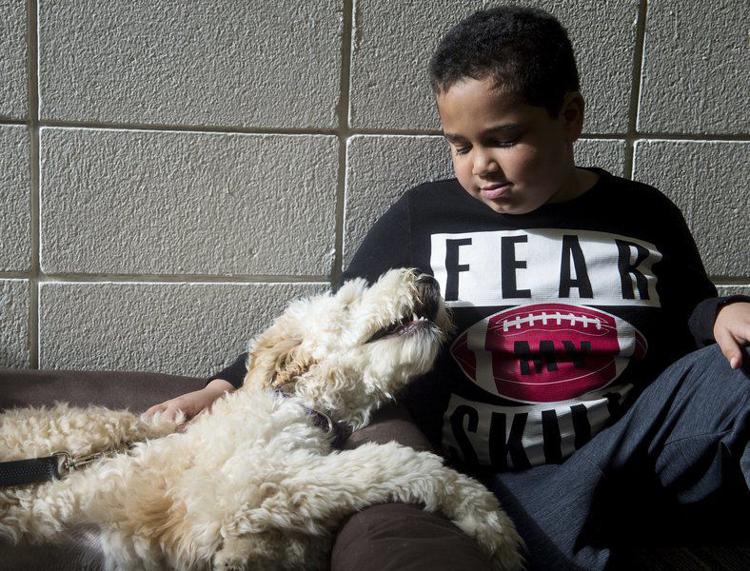 "She helps me with my behavior," he said. "When I'm mad sometimes, she's nice."
Another of Tupper's pupils, 8-year-old Jaylan Irvin, said of Maple: "She makes me laugh, and she's very funny."
Fifth grader Lilah North, 10, often has an opportunity to see Bridget.
"She makes me feel calm and happy," she said.
Both Robinson and Tupper say the transition to being a dog-friendly school has been easy, in large part because of the rules they established for both dogs and pupils from the start.
Students aren't allowed to pet the dogs unless they have permission from a teacher, and when they pass Bridget or Maple in the hallway, they're only allowed to give them "air pets" or flash them the hand gesture for "I love you." The dogs, meanwhile, aren't allowed to play with one another at school — it's a place of work only.
"We wanted to make sure our students knew our expectations and the dogs' expectations," Robinson said.
Tupper believes the Royal Heights dogs could be a model for other schools in the Joplin School District.
"I think it's a good thing for our kiddos, I really do," she said. "It's worked really well in our building, and I would hope that (it could work) for other buildings."