Katelynn Rutledge, a junior at Joplin High School, knows exactly what she wants to do after graduation: get a teaching degree and become a teacher.
She also knows what she'd like to teach: English. and she knows exactly where she'd like to work: Joplin High School.
"It's home," she said of her school. "I know how things work around here with students and teachers. I think it would be a cool opportunity."
Rutledge is an unintentional example of future "homegrown" teachers, educators who return to work at the school they attended.
School districts across the country, including several in Southwest Missouri, are beginning to implement "grow your own" programs that encourage and incentivize middle or high school students to become teachers and return home to work. Such programs are typically an effort to recruit and retain quality teachers, to help fill shortages of teachers, and to boost diversity among teaching staffs.
Missouri education officials last year told the State Board of Education that grow-your-own campaigns should be expanded statewide to recruit and retain teachers, even as current trends show that fewer people are studying to become teachers and teachers already in the workforce are leaving the profession.
Rutledge's interest in education began at a young age, as she comes from a long line of educators. Her paternal grandmother, Becky Rutledge, is a retired first grade teacher from Mount Vernon. Her paternal grandfather, John Rutledge, is a retired auto technology instructor at Franklin Technology Center in Joplin. and her maternal grandmother, Deonna Anderson, is currently the engineering graphics instructor at Franklin Tech.
That Rutledge hopes to return to her alma mater to teach is rewarding to Anderson, who was 30 when she returned to school as a nontraditional student and has been teaching at Franklin Tech for 25 years.
"Kate and I have had many discussions about her future," Anderson said. "This decision has been a process. She has considered several different avenues over her high school experience, but the one that has remained unchanged is to teach English. Just recently she has embraced the idea of teaching specifically at JHS. This is exciting for me to see her want to invest in the school that she grew up in."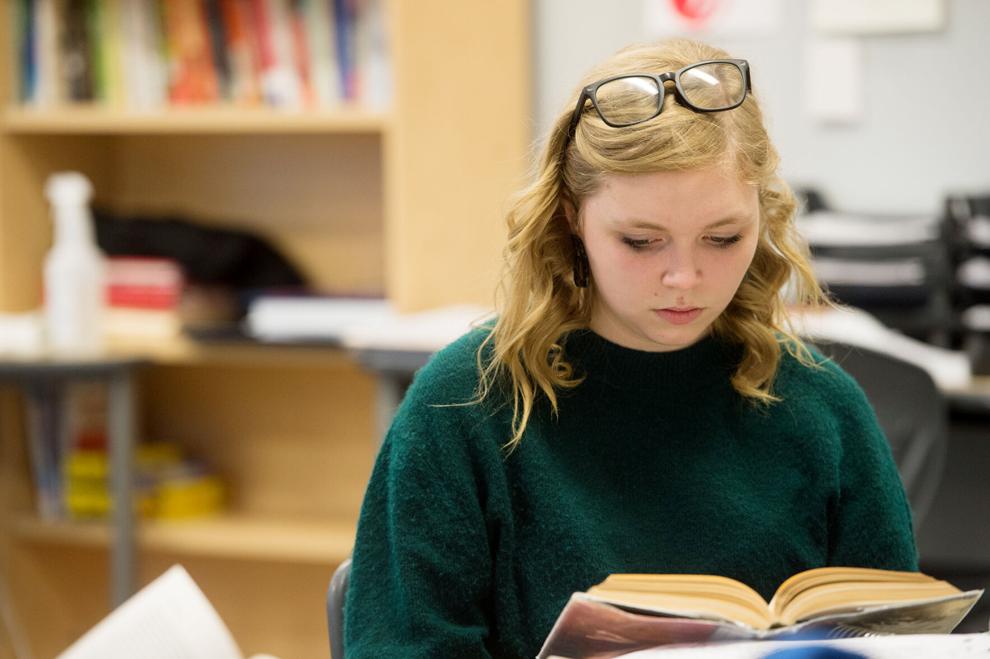 Anderson might have had more of an impact on Rutledge's career plans that she realized at the time. Rutledge has fond memories of visiting Anderson's classroom after school as she grew up. She would visit with her grandmother, share stories about the week, get a behind-the-scenes peek at an educator's life. The young girl also was, perhaps subconsciously, falling in love with education as a profession.
That was a completely organic development, Anderson said.
"I think the passion for education was caught rather than taught," she said of her granddaughter. "Three grandparents who have spent a significant portion of their lives teaching are bound to influence those closest to them. She grew up at Franklin Tech; she and her mama would come and visit once a week after school. She saw us in our environment, has witnessed interaction between teacher and student, and knows our hearts for 'our kids.'"
Rutledge knows that being a teacher isn't easy. It's a lot of work to plan lessons and maintain a classroom, but she believes it will be worth it. She's already noticed the worth in her grandparents' careers, as former students return to thank them for the impact they had on their life.
"I think that's what makes a teacher's job worthwhile," she said.
Anderson said future Joplin High School students also would benefit from having a "homegrown" teacher.
"The positive relationships between student and teacher will be the primary benefit of a graduate-turned-teacher," she said. "(Joplin High School) is her home. She knows and has built relationships with the staff and administrators. She will always work towards excellence for what she is a member of, and she will want to include her students into that 'family.'"