Middle school students in Joplin moved beyond the textbook to learn about local history this week via an outdoor scavenger hunt on the architectural styles exhibited throughout the Murphysburg Historic Residential District.
Students enrolled in summer courses at North, East and South Middle schools took a field trip to explore the classical architectural elements in Murphysburg, a residential area west of downtown Joplin that features century-old homes built by some of the city's founding fathers.
Murphysburg was incorporated in 1871 before merging with Joplin two years later. Placed on the National Register of Historic Places in 2015, the neighborhood district spans approximately 53 acres between Byers and Jackson avenues and between Second and Seventh streets. This year marks its sesquicentennial, or 150th year.
A variety of architectural styles are featured in the district from the late 19th and early 20th centuries.
The scavenger hunt asks participants to uncover certain classical elements that can be found on a number of houses. The game also includes pictures of architectural features and a glossary of terms.
It was launched a decade ago by Historic Murphysburg Preservation Inc., a nonprofit organization that implements charitable and educational activities that promote and stimulate historic preservation throughout the city.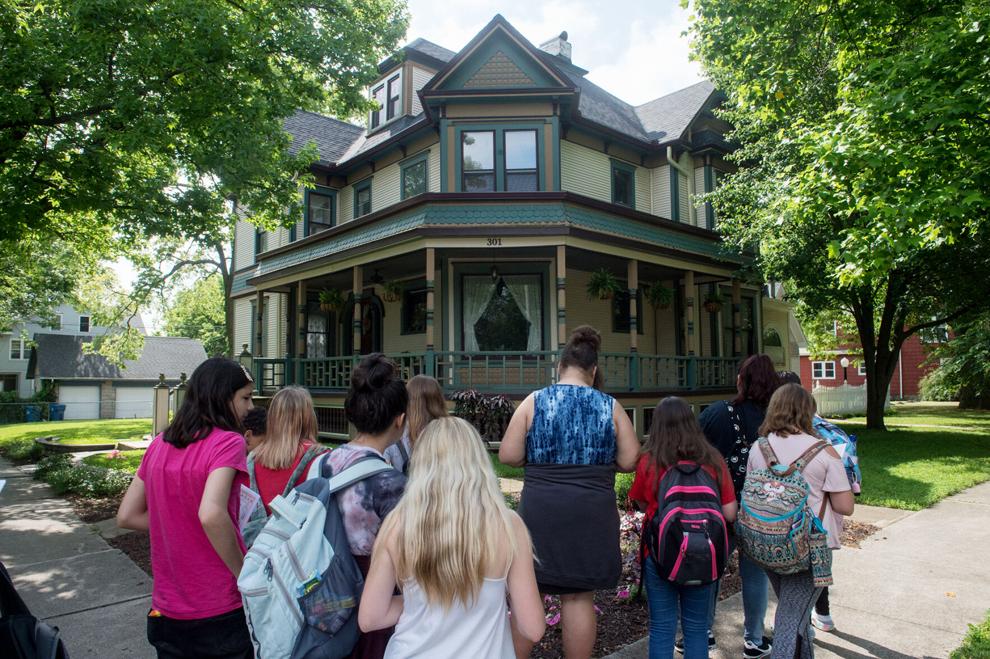 "We're trying to teach them about the history of Joplin and Murphysburg but also to look for architectural elements of the houses," said Mary Anne Phillips, secretary of the Historic Murphysburg Preservation Board. "I think they'll realize that new construction doesn't have all of these fancy things and each house is different. We want them to appreciate it, preserve it, but also have fun."
Ari Matters, an incoming seventh grader at East Middle School, said the scavenger hunt was a fun experience, and she learned the architectural terms incorporated in the designs.
"Most of the architecture on the houses, I didn't know what it was called," the 12-year-old said. "We never really noticed any elements until today. It was super fun to find the clues."
Kaydence Haalandsapp, also 12 and an incoming seventh grader at East Middle School, said this was her first time walking around Murphysburg.
"I think it's really cool," she said. "I like this a lot better than other assignments. It's better going outside and seeing it rather than reading it in a book."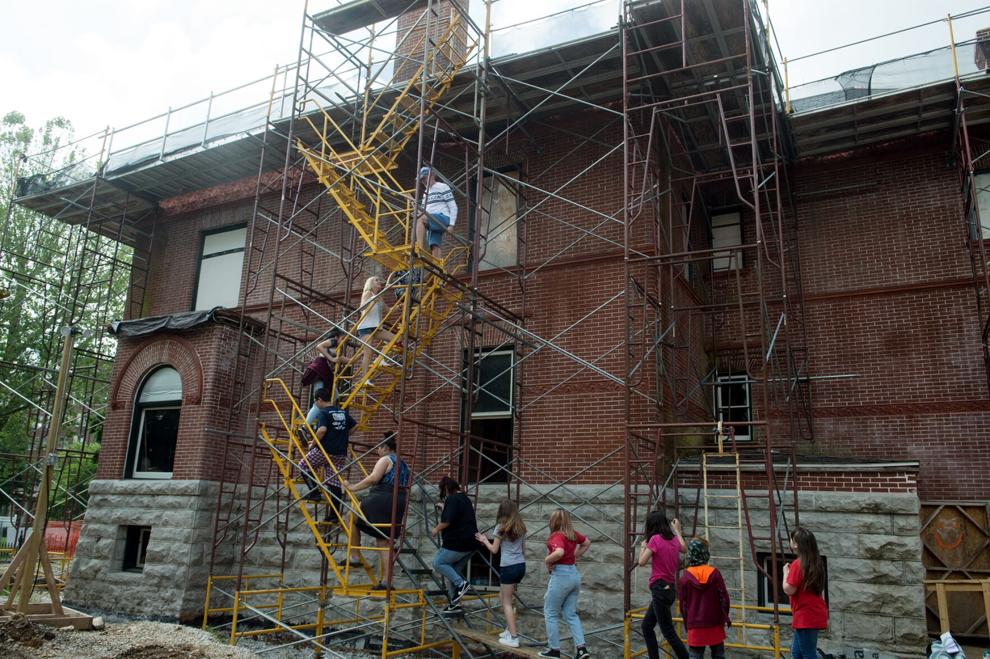 Paula Callihan, treasurer of the organization's board, said the scavenger hunt was initially developed for gifted programs at area schools, but it has grown toward including all students. Participants search for clues on houses from First Street to Seventh Street on Sergeant Avenue. This is the first public scavenger hunt since the onset of the pandemic.
"We hope to teach them something about architecture in a fun way," Callihan said. "Many people walk down this street and see something pretty, but they don't know the name of it."
Darren Morgan, eighth grade American history teacher at South Middle School, toured the district Tuesday morning with 14 summer school students who are entering seventh grade next year in the Joplin School District.
Approximately 100 students were to complete the scavenger hunt over the course of Tuesday and Wednesday. Morgan said the game goes hand in hand with the history curriculum in which the students are learning about the early 20th century.
"It fits really well with the context of the time period we're looking at," he said. "I'm hoping the students get a feel for 20th century Joplin. Of course, this is going to have more of an upper-class feel because those were the houses mainly preserved, but at least they'll get a general idea of some of the founding members of the Joplin community."
Students also learned about the ongoing construction and architecture elements at the Charles Schifferdecker house, 422 S. Sergeant Ave. Callihan said the home, built circa 1890, was damaged in a fire in 1991 and destined for demolition until it was bought and restored by a new owner.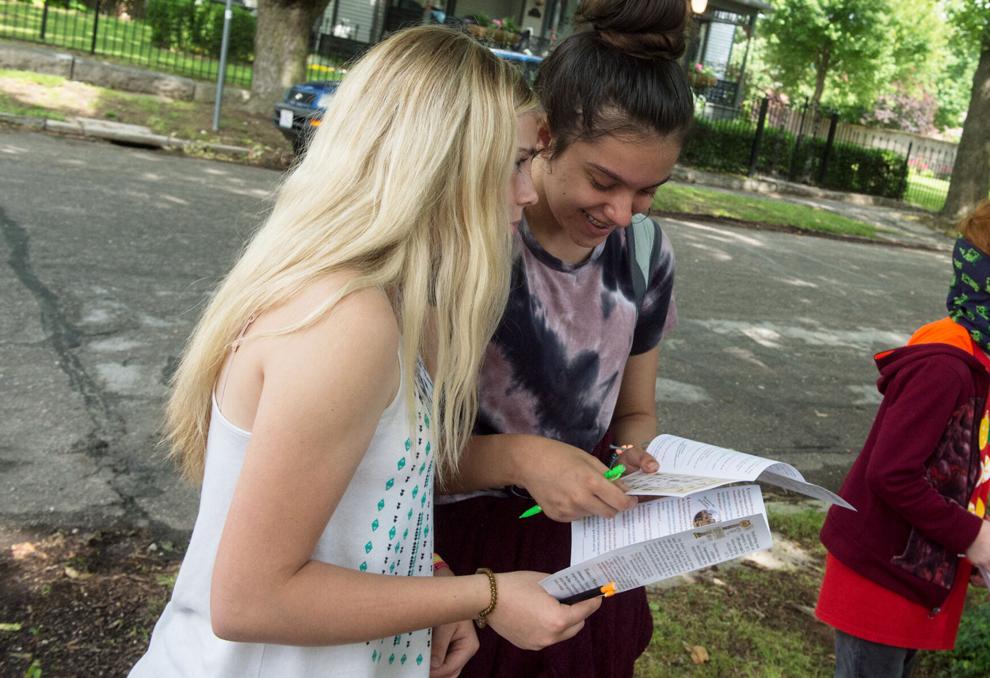 The 2 1/2-story Schifferdecker home depicts Richardsonian Romanesque architecture with a limestone foundation, brick cladding and an asphalt shingle hip roof. It's one of the three houses being restored as part of the Joplin Historical Neighborhoods Inc. project. The houses will become living history museums to depict the life of affluent Joplin families of the era.
Michael Englebert Griffin, conservation architect, said architecture and design can help improve quality of life and seeing how people lived at any scale is significant.
"It doesn't have to be at this grand scale, but you can live at any scale and be happy," he said. "But you need to have the measure."