Three-quarters of a century ago, the stroke of a pen marked the launch of a Joplin business that has since spread across the country.
On March 9, 1944, E.L. Craig and his wife, Mary Ethel Craig, became two of the owners of Lehrack Asphalt Roofs Inc., which had plans to convert a former Joplin street car barn at 601 N. High St. into a production site for roofing materials and other products.
Lehrack had never really gotten off the ground in Joplin, but ten days after Craig, his wife and their partners took over, the new company began production in that old street car barn with 35 people.
It was Mary Ethel who soon suggested naming it after the five states that originally comprised the company's service territory — Texas, Arkansas, Missouri, Kansas and Oklahoma — and in September of that same year, the company became known as TAMKO Asphalt Products.
In the 75 years since, TAMKO has expanded to multiple communities with operations from Florida to Utah and a nationwide workforce of more than 1,400.
But it remains a local company, with corporate offices in downtown Joplin, two Joplin plants (including that former street car barn on High Street), another in Lamar, another in Columbus, Kansas, and an engineering division in Webb City. In all, TAMKO employs about 800 people in the immediate area, said Kim Eckerman, director of communications. More recently, TAMKO took over the former Commerce Bank Corporate Center at 211 S. Main St. in downtown Joplin, which it is using for office space and as an event center. It's where the company will mark its 75th anniversary later this year with employees.
"We have a great concentration of employees who not only work in this area, but we live here and we're part of these communities as well," she said. "We have a lot of employees who have been with us 20-plus years, 30-plus years even. We've run those numbers because we came to realize, 'Wow, this is impressive; we have employees who are happy and they want to stay here, they want to continue to be part of the TAMKO culture.' You know, the way we all work together as a team."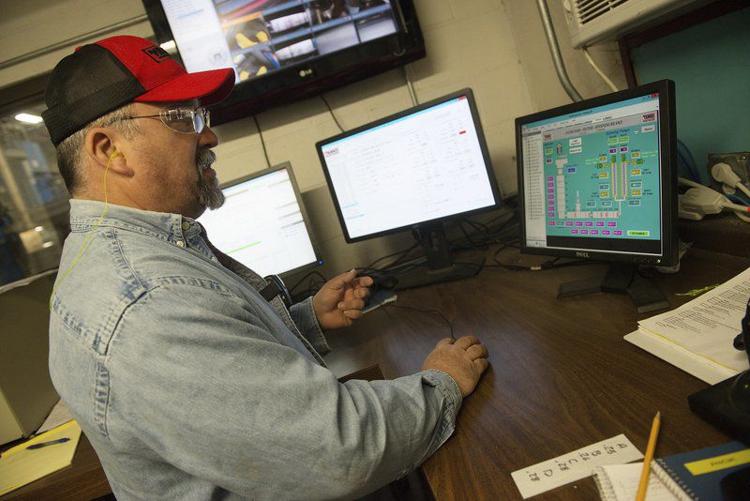 New products
Today, TAMKO Asphalt Products has grown into TAMKO Building Products, and while it still is one of the largest asphalt roofing companies in the United States, it also offers a number of other products, including metal roofing, composite decking and railing, waterproofing products, commercial cements and coatings, and more.
Last month, TAMKO unveiled two new products — Heritage IR shingles and Flash-N-Wrap Pro, a window and door sealant.
The Heritage IR shingle is an advancement on the company's flagship product, the Heritage shingle, said Jonathan Marta, new product development manager. The difference, he said, is a reinforcing strip of fabric that allows the product to reach the highest possible level of certification in a test performed by Underwriters Laboratories, an independent safety and security company.
"Sort of the process that we go through, broadly speaking, is we try to collect the voice of the customer," Marta said. "What is the customer wanting? And then we convert that into, 'OK, so if that's what they're saying they want, what's the job that the product actually has to do?' And that allows us to establish, basically, functional requirements for the product. What are the capabilities, characteristics of this product that would allow it to do that job?"
The Flash-N-Wrap product is an adhesive strip that can be placed along any exterior exposure to prevent moisture or air from penetrating. Both the sealing product and the fabric strip used on the Heritage IR shingles are made at TAMKO's plant in Columbus, Kansas.
"The process for making this is called spunbond, which is short for spinning fibers," Greg Powell, general manager of the Columbus operation, said during a recent tour. "So one of the steps is to create fibers, then we take these fibers and deposit them in a 13-foot wide stream or web, and from there, the loose fibers are bonded together and go through a process treatment so that they come out looking more like a thin panel."
That panel, he said, becomes the basis for the rubber-like Flash-N-Wrap product.
Powell also said the new line has added roughly five jobs at the plant, and more are expected.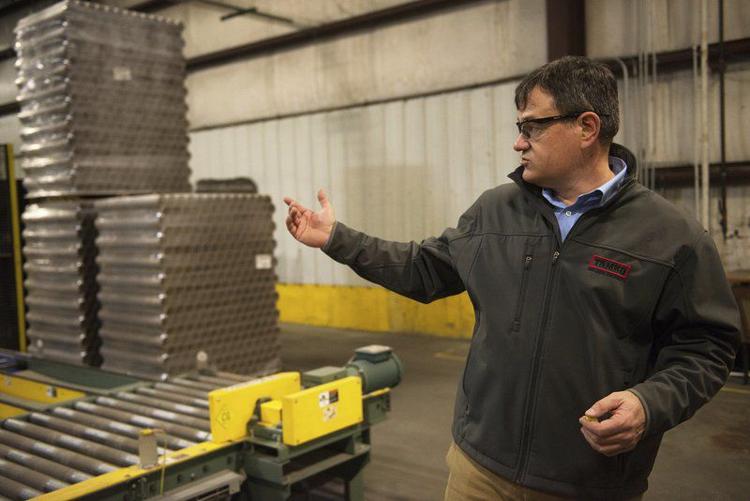 Economic impact
Late last year, TAMKO also released the results of an economic impact study that projected $4 billion in economic impact throughout the state over the next 25 years, with $3.2 billion of that generated in the Joplin area alone.
Joe Haslag, one of the report's authors and Lay Chair in Economics at the University of Missouri-Columbia, said in a statement: "TAMKO has a strong track record of growth and has consistently outperformed its peers. ... Based on our calculations, over a generation, TAMKO is responsible for adding more than $10 million in revenues to Newton and Jasper Counties and adding over $100 million to state of Missouri general revenues. TAMKO is clearly one of the key cogs in the regional and state economies."
The company also noted that it pays its hourly production workers more than $65,000 per year, and has generated tens of millions of dollars in tax revenues for county and state governments.
The report also concluded that TAMKO has created about 200 new jobs in Joplin and the surrounding area "while injecting nearly $400 million in wages and investments since 2010."
"We are grateful for everyone's support of our company and our products," David Humphreys, president and CEO, said in a statement when the company's economic impact study was released. "TAMKO's employees are wonderful people who reflect our core values of honesty and integrity, and that's led to quality products, quality relationships and mutual success."