On Thursday, Cassandra Mueller wanted to give back, so she volunteered at Joplin's Salvation Army, joining others to serve a traditional Thanksgiving dinner to around 200 people.
Twelve years ago, Mueller said she needed the help. She was homeless when she moved into temporary Salvation Army housing. She lived there for six months.
Last year, Mueller was able to buy her first home in Joplin but said she hasn't forgotten how the Salvation Army helped her get on her feet.
"It opened my eyes to show that people who are homeless are people just like us," she said. "I love them, and I love to give back."
Mueller and her children also plan to join the organization's annual red kettle campaign.
"It's so awesome to see my kids love it, too," she said. "They could have stayed at home today, but they wanted to come and help serve."
According to Maj. Beckie Stearns, the Joplin Salvation Army also delivered about 265 Thanksgiving meals to those who don't have transportation or are homebound.
"We have probably close to 80 volunteers today, and we could never do it without them," Stearns said Thursday. "We are very thankful for them."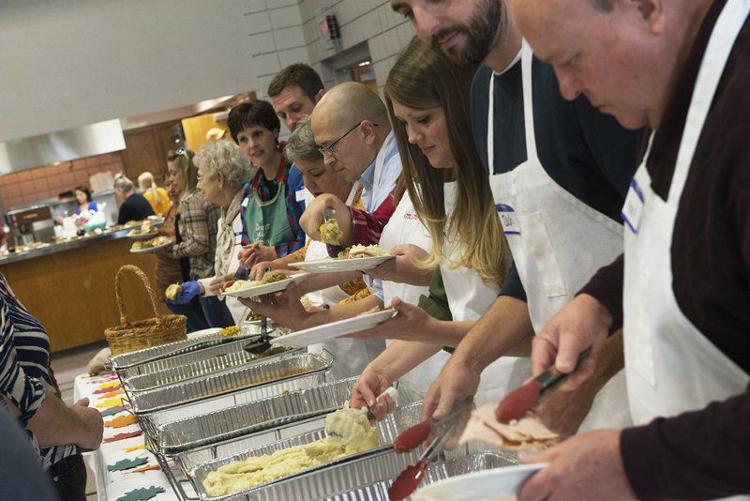 First United Methodist
At the First United Methodist Church in Joplin, around 100 volunteers helped produce their 21st annual Thanksgiving dinner. Last year, about 600 meals were served, with similar numbers expected again this year.
"We do it because we feel like this is what God calls us to do," said Marsha West Eichler, the pastor.
The tradition began 21 years ago when a Bible study group decided that it wanted to find a way to give back to the community, said Melissa Belk, connection coordinator. The first dinner served around 50 people, and it has steadily grown every year since.
"It's always so friendly, it's a great event," Belk said. "We get to serve people from all walks of life, and we all get together and give thanks."
The 600 meals include those served to people who dine in, take their food to go or have their meal delivered, Eichler said.
George Salzman, of Joplin, said he tries to make it to the church's Thanksgiving meal every year because of the great food and helpful volunteers.
"If I ever need anything, I know that someone here will help me," he said.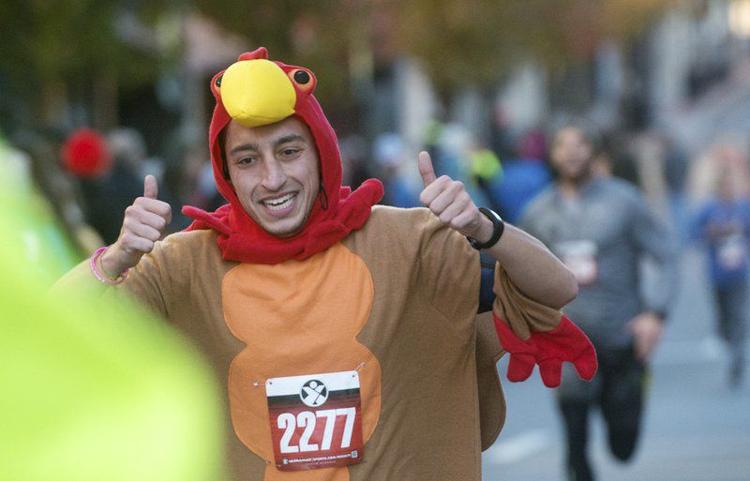 Turkey Trot
While many people began Thanksgiving day in the kitchen, preparing meals, around 1,700 others gathered in the streets of downtown Joplin to participate in the seventh annual Turkey Trot 5K and one-mile races. Colorful tutus, turkey costumes, Thanksgiving-themed T-shirts and even decorative turkey glasses were part of the fun.
Brooke Whitcomb, who is stationed with her family at Fort Sill, near Lawton, Oklahoma, said that for them, running Turkey Trot races is a fun family tradition. Whitcomb's husband, Dustin Whitcomb, and their children, Evan Whitcomb and Paige Scott, all ran.
"Joplin has a really nice looking downtown with some beautiful buildings," Brooke said.
Dustin Whitcomb agreed, and said that doing 5K races allows the family to get an in-depth look at communities and areas they have never visited before.
"When you stop and run the race rather than just driving through, you have a better chance to see some new places," he said.
Evan Whitcomb, 6, said that his favorite part of the race was running really fast "when we had all those downhills."
Ty Cox, of Tulsa, Oklahoma, wore a homemade turkey suit complete with a turkey-head stocking cap to run the race with his family.
Cox said this is the third year in a row that he and his family have traveled to Joplin for the Turkey Trot while visiting relatives in Pittsburg, Kansas, for the holiday.
"I like the chance to dress up and have fun," he said. "The family gets together, runs in a race and then eats a lot of food."
Cox's mother-in-law, Sondra Hurford, of Pittsburg, Kansas, turns material she finds in thrift stores into costumes so that everyone can match.
Hurford said that every year, she enjoys the family getting together, running in the race and then going home to eat a lot of food.
"It's perfect for a family," she said.