After falling short of its 2018 campaign goal, the United Way of Southwest Missouri and Southeast Kansas has set a slightly lower fundraising target for its 2019-20 campaign, which kicked off Wednesday.
The campaign goal for this year is $825,000, United Way officials announced during a breakfast kickoff event in Joplin. The 2018 campaign had sought $1 million but brought in about $780,000, leading the United Way board to narrow its funding focus for approximately two dozen partner agencies that receive a portion of their budgets from the organization.
Funding from United Way focuses on local agencies that work in one of three categories: education, health and financial stability. Specific strategies undertaken by those agencies and supported by United Way include ensuring that children enter school ready to succeed, promoting a healthy lifestyle and avoiding substance abuse, creating access to physical and dental health care, increasing employment skills and offering resources for financial literacy and affordable housing.
"United Way is not a standalone organization," said Jeffrey Zimmerman, who is chairing the 2019 campaign and is dean of the School of Business at Missouri Southern State University. "It partners with many of these fantastic agencies in our community, and it acts holistically and strategically to address the issues in the place we call home."
Among the partner agencies receiving United Way funding every year is the Boys & Girls Club of Southwest Missouri, 317 Comingo Ave.
United Way funding is a "very important" part of what the club is able to do in the Joplin area, said Rhonda Gorham, its executive director. The nonprofit offers after-school and summer programs to approximately 1,100 children per year, with a current waiting list of additional families seeking services, she said.
"We ensure that all of our programs have a fun, educational element to them," she said. "We believe that everything should have a purpose, and we are intentional how we implement programs. The funding helps us with supplies, field trip transportation, snacks, staffing and other educational needs of the club."
Although United Way funding represents a small part of the Boys & Girls Club's budget, Gorham said all funding is critical to the agency's ability to fulfill its mission.
"We try to keep our cost down so families can afford to have safe programs after school and in the summer," she said. "With United Way's partnership, we are able to accomplish this, and we work together to make a stronger community."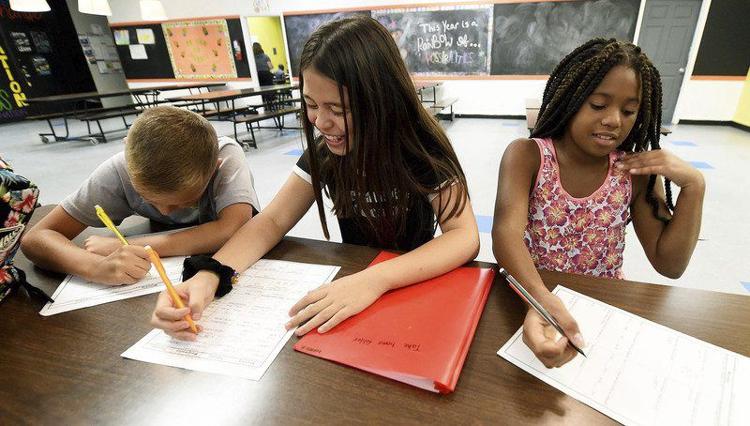 Increasing local support
This year's United Way campaign theme is "Faces of Change," representing the people who face issues of poverty, unemployment and poor health, as well as the people of the agencies working to combat those issues, said Duane Dreiling, executive director.
Dreiling said the $825,000 campaign goal is important to local agencies that are facing declining state and federal funding sources as well as an increased demand for their services.
"We need to come together and increase that local support," he said. "We want to make sure as a United Way that we can adequately fund those agencies."
As part of fundraising efforts, United Way will continue Dine United, which partners with local restaurants. Eat at a participating restaurant this month to have a portion of the night's proceeds donated to United Way.
Participating restaurants are:
• Thursday: Mazzio's, 818 S. Broadway, Pittsburg; Panda Express, 1531 S. Range Line Road, Joplin; 1201, 1201 E. 32nd St., Joplin.
• Monday: Fuzzy's Taco Shop, 3607 S. Range Line Road, Joplin.
• Tuesday: Club 609, 609 S. Main St., Joplin.
• Wednesday, Sept. 18: Freddy's Frozen Custard & Steakburgers, 1314 S. Broadway in Pittsburg and 3118 S. Range Line Road in Joplin.
• Thursday, Sept. 19: On The Border, 3030 S. Range Line Road, Joplin; Rib Crib, 2909 N. Broadway, Pittsburg.
• Wednesday, Sept. 25: Buffalo Wild Wings, 101 W. 29th St., Pittsburg; McAlister's Deli, 2330 S. Range Line Road, Joplin.
• Thursday, Sept. 26: Colton's Steakhouse & Grill, 4001 Parkview Drive, Pittsburg.