Many of those who gathered Saturday at demonstrations on Range Line Road and then in front of Joplin City Hall said the death of George Floyd in Minneapolis last week had awakened them to the depth of racism and injustice they said still exists throughout the country.
Alisha Boyd, originally of Kansas City but now living in Joplin, said Saturday, "I tried really hard to act like it wasn't an issue for a long time ... police brutality in regard to minorities. ... This is a big problem, and I can't turn a blind eye to it anymore."
The rally began at 2 p.m. at Seventh Street and Range Line Road, where as many as 150 people eventually gathered. It grew after moving downtown at 4 p.m., with as many as 200 demonstrators lining both sides of Main Street.
"I'm pleasantly surprised at the support I see here today. ... Isn't this awesome?" Boyd said.
Johnny Glover, of Joplin, said he learned about the demonstration on Facebook.
"Floyd's death was uncalled for, and I feel like there has been a lot of that going on," he said.
One of the organizers, Geralyn Russell of Joplin, said, "I have been wanting to do a protest for a long time, considering all the lives that have been lost to police brutality.
"It has been a long time coming," she added. "The reason we are here today is to shed light on our justice system."
At both locations, the crowd chanted, "Black lives matter," "No justice, no peace," and "I can't breathe," as they waved posters with the names of Floyd and others they said have been victims of excessive force and police brutality.
Kaitlin Walker of Joplin joined the group downtown, carrying a sign that read, "All lives can't matter until black lives do."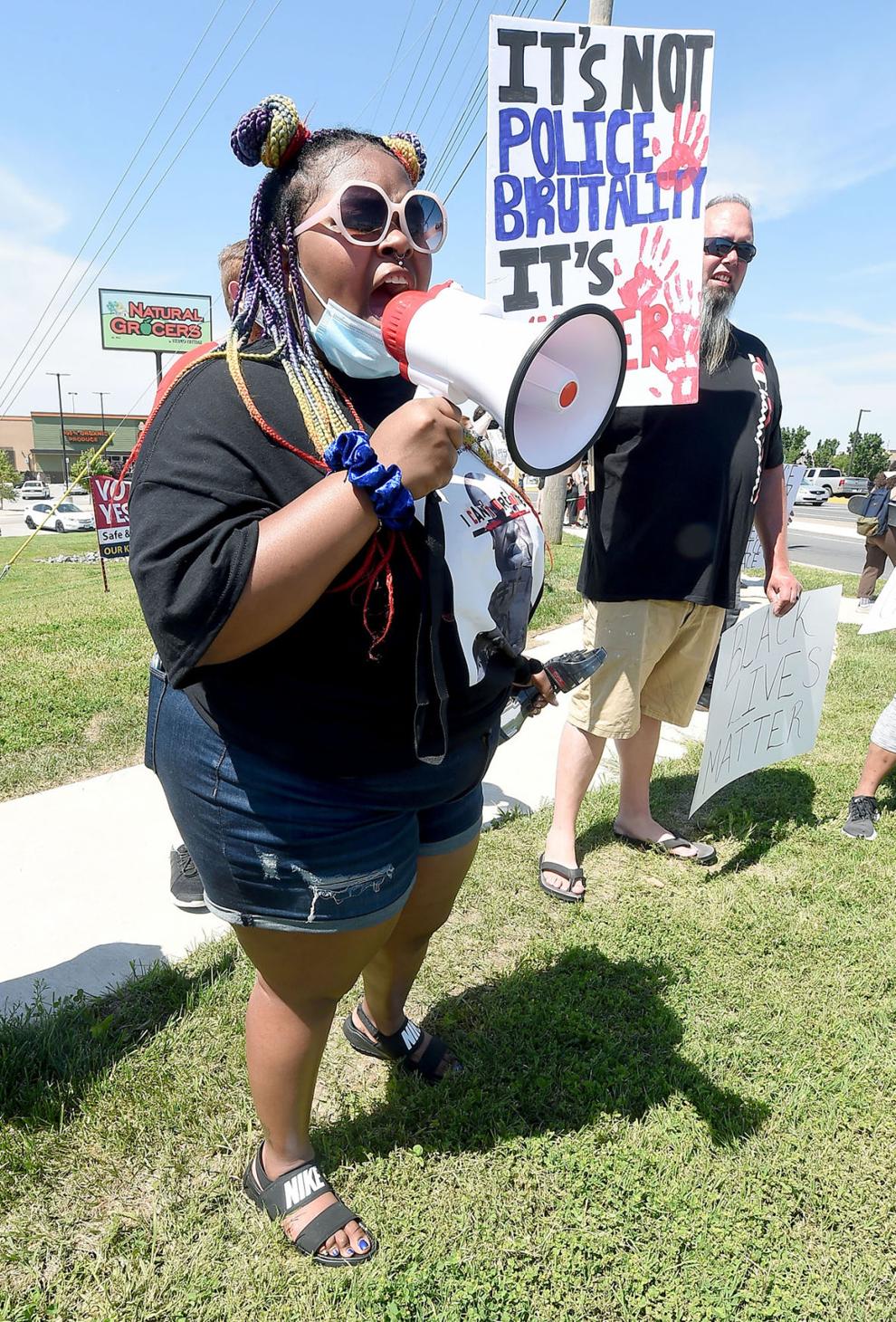 "I want to speak. ... I feel silence anymore is just as bad as hate crimes," she said. "If you are a bystander and not doing anything, you are just as bad as the bully."
Many people who passed by one of Joplin's busiest intersections and then through the crowd downtown shouted support through their car windows and honked horns in solidarity.
"Something has to be done about police brutality," said Jamie Johnson of Carthage. "He (Floyd) was already handcuffed and on the ground. There is no reason why he had to have them kneel on his neck. ... Something has to happen."
Quentin Cooper of Joplin said, "This is obviously an issue for everyone in the country."
Demonstrations across the country
The demonstration in Joplin was one of many that took place around the country in the wake of Floyd's death last week. Floyd, a black man, died after a white Minneapolis police officer knelt on his neck, despite his being handcuffed and pleading that he couldn't breathe.
In some cities, the demonstrations devolved into violence and property damage, resulting in arrests, curfews and multiple deaths. In Minnesota, the governor activated that state's National Guard.
Elsewhere in Missouri, protesters blocked a downtown St. Louis interstate for three hours on Friday, set a fire in the road and broke into trucks. A protester who died had climbed between two trailers of a Fed Ex truck and was killed when it drove away, according to reports. Police said they were investigating. The crowd there dispersed after gunshots were fired. Police did not report any arrests.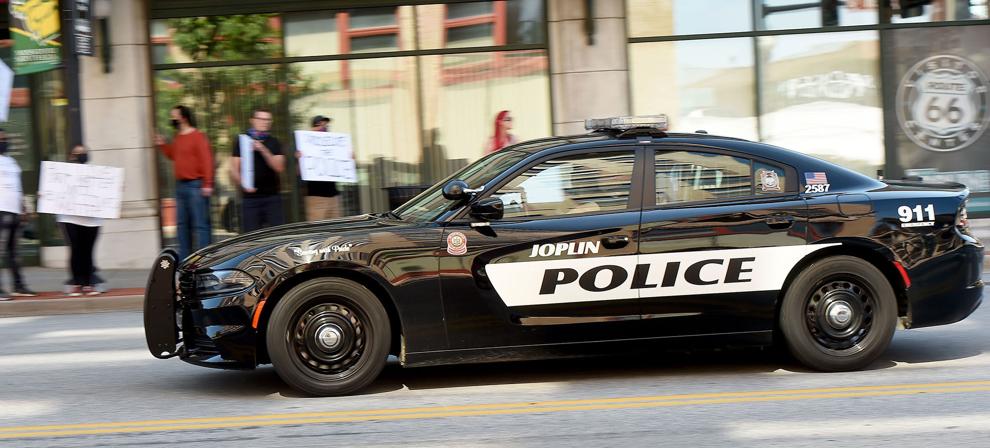 Tensions between police and minority residents have lingered in the St. Louis area since the 2014 death of Michael Brown in Ferguson.
In Kansas City, police used pepper spray on people marching through its Westport bar-and-entertainment district Friday night. Police say a window was broken and protesters appeared ready to use a police barricade to do more damage.
Late Saturday night, Missouri Gov. Mike Parson signed an executive order declaring a state of emergency exists in Missouri due to civil unrest. 
A statement from the governor's office said, "There are other events occurring throughout Missouri that have created conditions of distress and hazards to the safety, welfare and property of residents and visitors in our communities that are beyond the capacities of local authorities."
No specific incident was cited and no city mentioned.
"Violence and destruction are not the answers," Parson said in the announcement. "I support those who are calling for justice and peace. However, a small element has seized on these peaceful demonstrations to commit violent acts that endanger the lives of citizens and bring destruction to our communities. This violence not only threatens public safety and destroys economic opportunity; it drowns out the voices of the peaceful demonstrators calling for justice and working to improve our nation."
Police were present at both locations in Joplin, as were some city officials.
"This is making my heart happy, all the young people," said Melodee Colbert-Kean, a former Joplin mayor who is ending her latest term on the Joplin City Council with Tuesday's election. She was at both locations.
"They get it," she said of the crowd. "This isn't a protest, this is a demonstration ... a peaceful demonstration."
Keenan Cortez, who also serves on the Joplin City Council, was likewise present at both locations.
"I cried when they first started chanting (Floyd's) name over and over," he said. "It was an emotional moment."
'Can no longer be silent'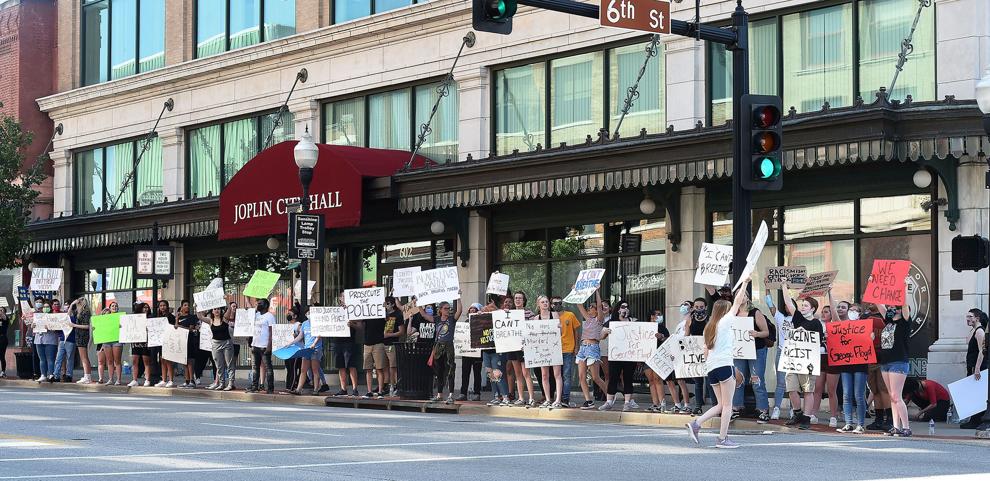 Jamie Lindsey of Joplin, another of the organizers, said, "After the death of George Floyd ... we felt it was important to spend our voice and give a voice to those who can't."
"They need to be held accountable in the justice system," she added. "A lot of people have been feeling the same way for a long time. We can no longer be silent. ... It's a lot more prevalent than we realize, the killing of black, unarmed citizens."
Melinda Simmons of Carthage also joined the rally on Range Line.
"I just realized as the mother of four young kids that I don't think my eyes are open to racism as much as I thought," she said. "There are things we don't know as white Americans."
Simmons was joined by her friend Elizabeth Carter, also of Carthage.
"I have two young black children," said Carter, a foster parent who has adopted two children, now ages 7 and 9. "I'm just realizing their future is dangerous. It's something growing up in Carthage that I hadn't realized ... what it is to grow up as a person of color."
The Associated Press contributed to this report.