A graduate of Missouri Southern State University who grew up in Joplin will be the next city manager.
Mayor Gary Shaw and the City Council announced the selection of Nick Edwards, of Lee's Summit, during a news conference Wednesday at City Hall.
Edwards will take on his job March 16.
He had worked nine years in Lee's Summit, where he was assistant city manager the last two years, but his position was eliminated last year because of budget cuts.
The council last year hired a recruiter, Strategic Government Resources of Keller, Texas, to conduct the search. The council conducted two searches after the first one ended in November because a couple of the finalists dropped out of the running. A new search started in early January, resulting in Wednesday's announcement. 
"I think after a lot of searches, a lot of efforts, a lot of time spent, the City Council found the right one, the right fit, for our city, and we're excited," the mayor said in introducing Edwards as the council's selection.
"I want to thank the mayor and City Council for this opportunity to serve," Edwards said. "Joplin is a very special place to me. What I feel is that people are what makes Joplin great, and I'm grateful to have this opportunity."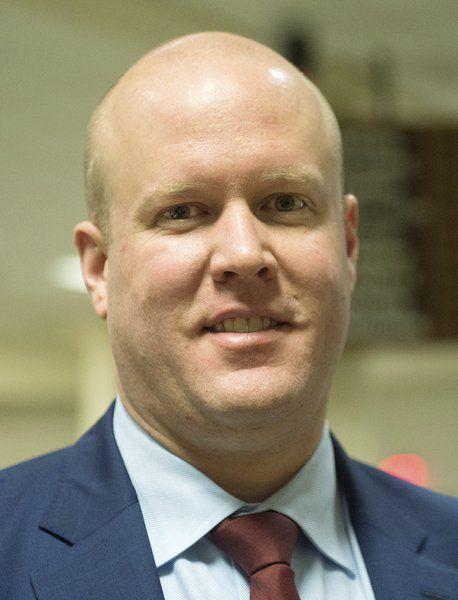 A compensation package and a contract between Edwards and the city are being worked on and will be released once the details are decided and the contract is finished, the mayor said.
Edwards said he wanted the job because "the emotional part is this is what I consider my hometown, so it would be a great honor to serve people I know and care about."
The mayor said the council will meet with Edwards in the future and talk about the initial tasks and priorities they would ask him to work on.
"The direction that the city is going right now and some of the projects we have ongoing, and the experience and skills Nick brings to us, fits right in perfectly with our economic development and some of the industry we're bringing to town. He's got experience in those areas already," council member Keenan Cortez said.
Edwards was one of four finalists for the Joplin job. Those candidates visited Joplin on Sunday and Monday for discussions with council members, city administrators and officials with the Joplin Area Chamber of Commerce, as well as at a public meet and greet session.
The other candidates were Darin Chappell, city administrator of Chillicothe; Shawn Henessee, county administrator for Clark County, Washington; and Leonard Sossamon, former county administrator of Hernando County, Florida.
Edwards grew up in Joplin and attended Webb City High School.
After serving in the U.S. Marine Corps, he returned to Joplin and attended Missouri Southern State University, where he earned a bachelor's degree in political science. He then attended Missouri State University, where he obtained a master's degree in public administration and local government.
Edwards then went to work for the city of Lee's Summit, first as a management analyst in the public works department. He worked his way up through several positions to become the assistant city manager. His position at Lee's Summit was eliminated last year through budget cuts.
During interviews Monday with the finalists for the job, Edwards told the Globe that Joplin has changed and grown since his childhood and appears ready for another expansion.
"I think Joplin is on the verge of a lot of growth right now," he said. "It seems like it is exploding. It seems like the community is very passionate about improving quality of life, improving opportunity, and that's something I have background in and I think that's something I can help the city with."
His experience in Lee's Summit, a larger community, has prepared him to lead Joplin, he said.
Currently, the city's health department director, Dan Pekarek, has been working as the interim city manager since the former manager, Sam Anselm, left the job nearly a year ago.
The mayor commended Pekarek's willingness to step into the job and the work he has done.
Since he took over, Pekarek "has done an amazing job, not only taking care of business but has positioned us for growth in the days ahead."
Pekarek's role after Edwards is in place will be determined in future talks of between the interim manager and the council, the mayor said.