A small group of people told the Joplin School District on Tuesday that its members recognize issues exist for the two oldest schools, Columbia and West Central, but they offered mixed opinions on which solution is best for the long term.
Six public forums have been scheduled to gauge input on the options for the schools, which are more than 90 years old. The district's long-term facilities committee recently presented four options to the Board of Education to address issues such as inadequate classroom space, structural problems and modular units in use:
• Combining the two schools at the current West Central location for an estimated $18.5 million.
• Renovating Columbia and building a new addition at its current site for an estimated $15.2 million.
• Razing Columbia and building a new school at its current site for an estimated $15.3 million.
• Combining the two schools at a new site for an estimated $19.6 million.
The committee has recommended the final option.
Those in attendance at the first sessions, held Tuesday at West Central, seemingly rejected the options that would involve repairing Columbia or rebuilding the school on its current site. Handwritten sticky notes left on large posters describing those options noted that "it does not make sense" to build on property that has mining and soil issues, and that "throwing money into a site that will not work" isn't a good idea.
But they were divided on the remaining options, both of which suggest combining West Central and Columbia into one school.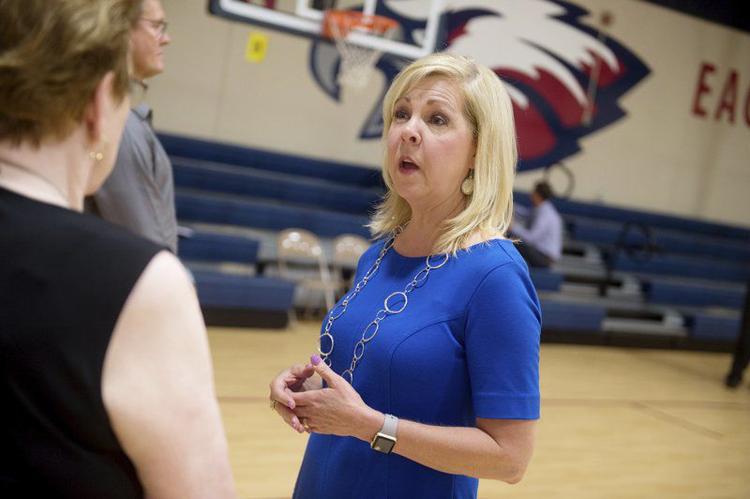 'Keep schools small'
Cathy Jo Loy, one of a handful of community members in attendance, said that although her family lived on the south side of town, she opted to send her child to West Central for its small size and community feel.
"I still have strong feelings that we need to keep schools small," she said. "We want families to be involved in the schools, and they can't if they're far away."
After hearing the school district's presentation, Loy said she is concerned about the reports of structural issues at Columbia. But the ideal solution for her would keep both West Central and Columbia as separate neighborhood schools, she said.
Melissa McCullough, a resident of the West Central neighborhood, also likes the concept of neighborhood schools.
"I grew up here and left and came back when Murphysburg became a historic district," said McCullough, who now has a home in that area. "I just feel like (for) the people who move to this neighborhood, it's because of the location."
Virginia Hogan and her husband, Howard, live in the West Central attendance zone. Howard Hogan attended West Central as a child, and the couple's four children also attended the school in the 1970s and 1980s.
"We had a great time," Virginia Hogan said. "The teachers were very good. There really wasn't any concern about the things that are concerning folks now."
Hogan said she appreciates that the long-term facilities committee is "looking to the future," but she acknowledged that she doesn't have a good solution for the district.
"I know something has to be done, and I don't know exactly what is the way to do it," she said. "I understand something has to be done with Columbia, and I understand that combining the two schools might be appropriate for the district."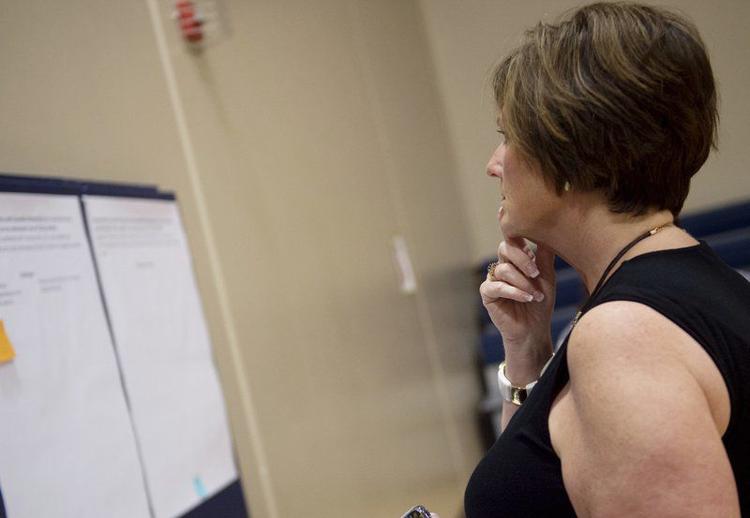 Combining the schools
Hayley Gordon has a daughter who will be a kindergartner at West Central in the fall as well as two other children in her household who attend school there. She said she loves West Central for its teachers, but there are issues with the building itself.
"There is no handicapped access at all; that's definitely an issue," she said. "And it's pretty small."
Gordon said she would support combining the two schools at a new site if the location would serve both the West Central and Columbia neighborhoods. She referenced Irving Elementary School, which is a combination of the former Irving and Emerson schools, and Soaring Heights Elementary School, a combination of the former Duquesne and Duenweg schools.
"I agree with the fact that they should combine them," she said. "They did that with Irving and Soaring Heights, and that seems OK."
Mike Pence, a retired Joplin businessman who has served as a West Central volunteer for the past eight years, said combining the two schools into one new structure is his choice because it's the most financially responsible option. Proposals that would repair or rebuild at the troubled Columbia site are "not a good use of district resources," he said.
"(West Central) needs to combine with Columbia at a new site," he said. "I'm 100% with that. It makes dollars-and-cents sense."