Two area utilities are adding solar power to their portfolios of electrical generation to meet the needs of Southwest Missouri and Southeast Kansas.
The first of the two solar operations will come online in the next two weeks when Liberty completes its first 2.2-megawatt solar farm near Prosperity, east of Webb City and south of Carterville in Jasper County.
In Kansas, Heartland Rural Electric Cooperative is building two 1-megawatt solar arrays in two locations in Crawford and Neosho counties, including one next to the Greenbush Education Service Center on Highway 47 between Girard and St. Paul.
Heartland CEO Mark Scheibe said that solar installation can serve as an educational resource for students who travel to Greenbush for programs.
"We are co-developing some educational resources with Greenbush in order to make sure that the local students from kindergarten to high school have the ability to understand about renewable resources, solar and construction trades," Scheibe said. "They're all really important to not only the vitality of Southeast Kansas but in our local region."
Solar flexibility
The $3.5 million solar project at Prosperity is part of an investment in renewable energy by Liberty in Southwest Missouri and Southeast Kansas.
Liberty is also completing three massive wind farms in Neosho County, Kansas, western Barton County, and around Golden City in northeast Jasper County, northwest Lawrence and southwest Dade counties in Missouri.
Liberty officials say the solar project is on a smaller scale and is the pilot for what could be a number of flexible power stations that can be placed where demand is increasing without having to expand power lines or build expensive new natural gas generators.
"As we go around and put them on our distribution system, we can alleviate some pockets of overloading of our system that could potentially offset some larger construction costs," said Drew Landoll, director of strategic projects at Liberty. "The area this one went in, the Webb City area, is one of those substations getting close to its peak capacity at times. What this can do is provide 2 or 2 1/2 megawatts of offset capacity. If we put these around in desired locations on our system, we can remove some constraints and improve our system performance without building a new transmission line through the middle of Joplin.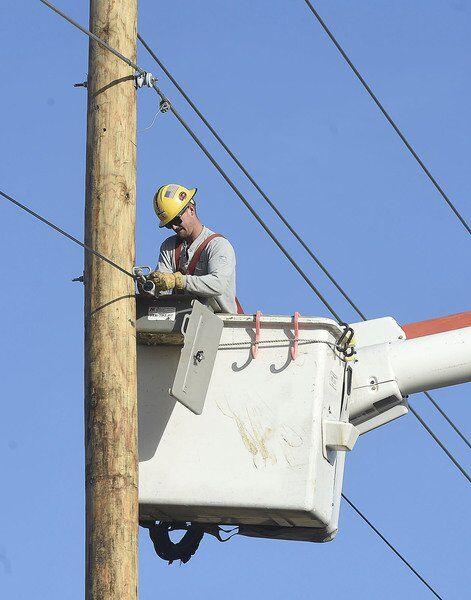 "When you do these smaller, 2- to 10-megawatt solar-and-battery constructions, you're able to postpone some other investments or fix problems with these types of build-outs that traditionally you couldn't have fixed without putting in new transmission lines or putting in a new gas turbine at the other end of your system."
Landoll said the first solar array covers about 13 acres of a 60-acre tract the company has leased in the Superfund cleanup area near Prosperity.
Solar subscriptions
Jillian Curtis, a spokeswoman for Liberty, said the energy generated by the solar farm will be used for customers interested in signing on to the company's new solar subscription program.
Under the program, customers can subscribe for blocks of energy from the solar station to have up to half the electricity they use at home come from that power source instead of from the standard sources, including natural gas-fired electricity generating plants.
Liberty officials said the all-in cost for customers who sign up for the program could be around 14 cents per kilowatt-hour, compared with about 13 cents per kilowatt-hour currently.
A typical Liberty customer, defined as someone using 1,000 kilowatt-hours per month, would be eligible to sign up for five blocks. The usage cost would be $132.29, compared with a monthly electric bill of $131.84 without solar, according to Liberty, although neither of those totals includes taxes or other charges that also are part of the regular monthly bills.
Greg Tillman, senior manager of rates and regulatory affairs for Liberty, said the cost for this energy is slightly higher than the cost for energy from the standard grid now, but the benefit will come to the customer in the future.
"We expect two things to happen," he said. "One, the solar price can go down, and two, the standard price, especially if gas prices start going up, other pieces of our business start costing more and just general inflation, the other side of the bill is going to creep up," Tillman said. "Over time it gets to be a savings for them if customers lock that solar rate in now."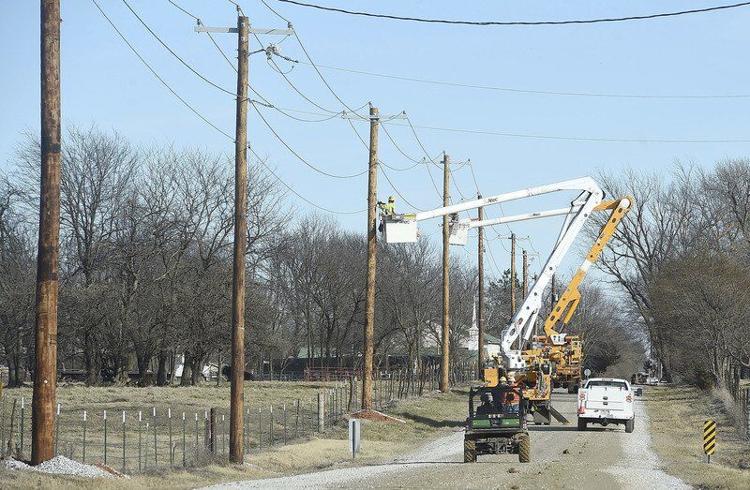 Tillman said he expects the cost for solar generation to go down as technology gets better and the utility starts adding battery storage options to its solar projects.
Southeast Kansas
In Kansas, Heartland Rural Electric Cooperative is building its first two solar arrays, which will produce 1 megawatt each of electricity. One will be near Greenbush in Crawford County while the other will be in Neosho County between Erie and Chanute.
Heartland's Scheibe said his cooperative is joining 11 other Kansas rural electric cooperatives to add 20 megawatts of power in 20 arrays across the state.
Scheibe said workers have begun installing the pilings on which the solar panels will be installed. Completion is expected by June.
"This is helping us to reduce the peak demands we have, which helps us provide more stable electric rates throughout the year for our consumer members," Scheibe said. "Really, this is just a way to provide more stable electric rates."
The arrays will be owned by Today's Power Inc., a North Little Rock-based company established by rural electric cooperatives in Arkansas.
Today's Power Inc. has installed more than 25 solar projects totaling more than 40 megawatts over the last five years in Arkansas, Oklahoma and Tennessee. Heartland has signed a purchased-power-agreement with Today's Power Inc. to buy the solar energy produced by the two arrays for the next 25 years.