CARTHAGE, Mo. — Hundreds of tents and RVs fill the grounds of the Congregation of the Mother of the Redeemer campus this week as crowds of Vietnamese Catholics gather for the 42nd annual Marian Days event in Carthage.
Marian Days marks the annual pilgrimage in honor of Mary, the mother of Jesus, and this year's celebration begins Thursday and runs through Sunday.
The religious tradition was established after a group of Vietnamese priests escaped from Vietnam after the fall of Saigon in 1975 and settled in Carthage in the late 1970s with several refugees. The groups then traveled to a reunification point in Fort Chaffee, Arkansas, and the Catholic Church began looking for a place for them to congregate, said Carthage police Chief Greg Dagnan.
The Congregation of the Mother of the Redeemer building had originally been a former Catholic High School that merged with McAuley in Joplin and was left vacant. The building was sold to the order for $1, which is how the Vietnamese priests ended up in Carthage, according to Dagnan. In 1978, the religious community organized the first Marian Days in Carthage, and the tradition has been going strong for over four decades.
"Now that they were in Carthage, they thought, 'Wouldn't it be cool for the Catholics that were able to escape the regime in Vietnam and make it to the United States to get together to thank God and Mary for her providence in helping us get out of Vietnam.' They did one of those about 42 years ago, and I wasn't here then, but I was told about 1,000 people showed up," Dagnan said.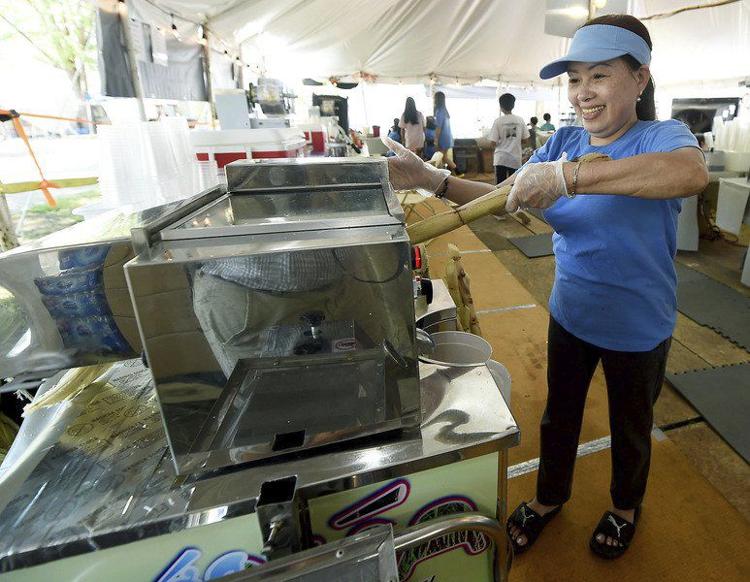 Last year's festival drew an estimated 100,000 people over four days, and the organizers are expecting that many, if not more, this year. At least 700 cars and 100 RVs had already been checked in by Tuesday morning, according to Dagnan.
Tho Nguyen has been attending the event for the past seven years and set up camp Saturday with his parents after a 12-hour drive from Denver. He said the festival is a great way to make new friends and meet up with old ones, but it is also a religious experience.
"Faith brings me back every year," he said. "There's going to be obstacles in the road, and this is a way for you to strengthen your faith to see that God is real. And for you to believe in him and to never give up on him because he would never give up on you."
On Tuesday afternoon, he walked around the grounds of the campus, which boasts a collection of marble statues, fountains and a koi pond. Vietnamese Catholics really believe in the blessed Virgin Mary, he said, and this event gives them the opportunity to demonstrate their love for her.
Dagnan said a variety of statues and landmarks on the property depict the Stations of the Cross, the traditional path through Jerusalem that Christ followed leading up to his crucifixion.
"Traditionally, there are about 14 spots," he said. "The fathers continue to add statues, so there are more than 14 here. The different statues describe what happened at that station. You can go up and push the button and hear it in Vietnamese or English what that station is supposed to depict. You'll almost always see, as a church or a family unit, people going to each station and praying and listening to the narrative."
Tracy Nguyen, of Houston, arrived in Carthage with her family on Monday in hopes of beating the crowds. Originally from Saigon, she said her family members love to visit the area during Marian Days, and it gives them the opportunity to pray.
"The most important thing is believing and praying," she said. "This is a tradition for our family."