CARTHAGE, Mo. — Kyndall Dickey has lived on the western edge of Carthage on Central between Baker Boulevard and Interstate 49 for a year, but she never really considered the importance of her neighborhood until Abi Almandinger, director of Vision Carthage, approached her about participating in a work day to help beautify her neighborhood.
"I never really thought about it until Abi mentioned it, but it really is the entrance to Carthage," Dickey said. "You drive up, you don't think anything about it. We've got these cute little houses on either side of the road. It's where a lot of people come into town."
And that's one of the reasons Almandinger and Vision Carthage shifted their focus on the eight homes on the south side of Central after three years working block by block on Grant Street south of the Carthage square.
"It is the front door to Carthage," Almandinger said. "We knew that after we got done working on Grant Street that we wanted to focus on Central as a main entrance point to the city. We wanted to try to beautify that area and partner with those property owners there. It's obviously very heavily trafficked so we thought that would be a very visually impactful thing we could do to collaborate with those property owners."
A helping hand
Dickey, a single mom of two 15-year-old boys, jumped at the chance to get some help doing a bit of beautification around her home when Almandinger told her she was bringing volunteers to help residents of the eight homes on the south side of that busy road.
Dickey said the traffic that flows past her house makes her anxious about working in the front yard, so volunteers helped her install a small privacy fence she had previously purchased.
The volunteers, including Bryan Stringer, who helped with landscaping also planted flowers and shrubs to improve the landscaping around Dickey's home and the other homes in the neighborhood.
"It really is a huge help," Dickey said. "Going out front, traffic, anxiety, it's cool to have a bunch of people out here with me to get these things done. They helped clean up the front of the house and they're planting flower beds because Bryan Stringer is really good at that. We painted the little lamp post in front and Bryan is making the landscaping up and down the street look great. I would have never thought about a lot of this stuff they're doing."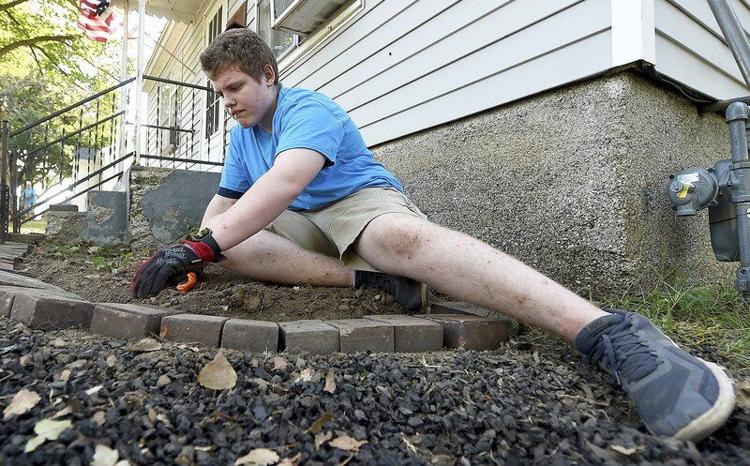 Almandinger said at least 50 volunteers came to help between 7 a.m. and 2 p.m. on Saturday, working alongside homeowners and rental property owners to do light maintenance and help with chores that the homeowners on their own might have had trouble fitting into their busy schedules.
"These workers have killed it today," Almandinger said. "So many people have put in a lot of sweat and been so willing to help out, it's been amazing. All of the homeowners have been out working alongside with us. A couple of the rental owners have gotten out as well and they're doing things to fix up their properties as well, so it's been a wonderful collaboration."
Almandinger said the group used grant money from the Kent D. And Mary L. Steadley Memorial Trust and other sources to help homeowners with costs of some materials and to hire a tree trimming service to trim back all the trees and some of the fence rows in the neighborhood.
Brush With Kindness
The Joplin Area Habitat for Humanity, one of the partners who worked with Vision Carthage, had several other projects going on Saturday in other parts of Jasper County.
Habitat Director Scott Clayton said Saturday was Brush With Kindness day for their volunteers, a day in which they helped work on homes in Carthage, Webb City and Carl Junction.
Clayton said Habitat's partners include Hearts and Hammers, which has volunteers working throughout the area; Vision Carthage, that is doing block by block work in Carthage; God's Resort, providing volunteers to work on homes in their neighborhood around 15th Street and Pearl Street in Joplin; and St. Paul's United Methodist Church, working on homes in Joplin and Carl Junction.
Habitat brought along grant money from the W.R. Corley Memorial Trust to help pay for materials and any professional labor needed.
Clayton said it hasn't been hard for the groups to come up with volunteers.
"I think there are a lot of people who really want to get out there and serve others, it's kind of innate in our area to have people with giving hearts, and we're really blessed," Clayton said. "We just provide the opportunities. We haven't been able to do too many of them this year but we're glad to have this day on Saturday."
Clayton said Habitat has been working with Vision Carthage on its Grant Street initiative for almost five years, and it was glad to be able to continue to help on Central Avenue.