Work groups had no problem getting their hands dirty and their paintbrushes wet on Thursday to help beautify the trails and surrounding areas of the Shoal Creek Conservation Education Center.
Volunteers with the Joplin Area Chamber of Commerce worked alongside members of the Wildcat Glades Friends Group and master naturalists to spruce up the park to bring back its natural glow. Chamber Gives Back is a volunteer program in which chamber members organize the business community through work groups to improve livability. The group aims to accomplish one or two projects per month.
Robin Standridge, executive director of Wildcat Glades Friends Group, said the Chamber Gives Back volunteers treat the park as if it's their own. The friends group is a volunteer-based nonprofit organization working to preserve the park and provide education.
"Many volunteers financially support Wildcat Glades as well," Standridge said. "We don't receive any type of funding outside of private donations and grants. We wouldn't be able to function without the volunteers. It's just not possible."
Several civic organizations were scheduled to volunteer in March, April and May, but their workdays were canceled due to coronavirus concerns.
"Even though the chamber group numbers are a little lower than normal because of COVID-19, we were very happy to hear that they still wanted to come out and help," Standridge said. "We work with the city of Joplin, and we want this park to be the best park there is in the Four-State Area."
The friends group has seen an increase in graffiti, litter and overall foot traffic in the park since the COVID-19 outbreak began earlier this year. Regular volunteer groups help maintain the park and provide trail maintenance and trash removal weekly, but Standridge said it's been difficult lately to stay on top of the work.
'Purpose in life'
Jillian Curtis, media coordinator for Liberty Utilities-Empire District, has been a volunteer with Chamber Gives Back for more than a year and said all individuals, even those not involved with the chamber, can be part of the effort to assist local nonprofit organizations in need. On Thursday, volunteers repainted sidewalk art and picnic tables, raised flower beds and cleaned spots that had been defaced with graffiti.
"I really enjoy meeting new people, especially in the Joplin community because that's where I work," Curtis said. "It's really given me a lot of opportunities to meet new people and to learn more about nonprofit organizations throughout the community. I also really like to get my hands dirty and get out, so volunteering is a passion of mine."
Jessica Carr, a volunteer with Chamber Gives Back who works at BKD in Joplin, helped repaint the park's paved Born Learning Trail for younger children. Carr said she's been volunteering with the group for five years, and she wanted to contribute to this cause because she likes to be outside and loves to paint.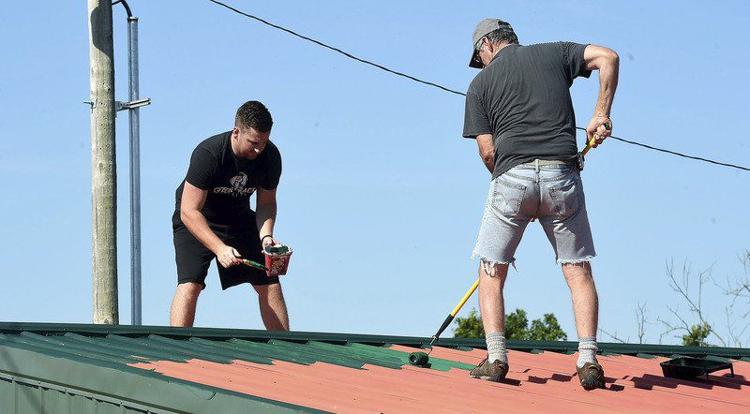 "I'm from a farm family, so we didn't do very many community events, except for going to church," she said. "Being a part of this community, I feel like it's welcoming, and there's a lot that you can do. Volunteering gives me another purpose in life."
Andrew Parker, a chamber volunteer who works as a State Farm agent, repainted the rooftop of the Wildcat Glades Friends Group storage building in The Village, formerly a baseball field. Parker said he joined the program about two years ago to give back to a community that's given much to him and his family.
"We enjoy coming out here and using it, so if we can leave it better than we found it before, that's the main goal," he said. "It's not much to spare a few hours and contribute."