I have always suspected that in barns, storage buildings and garages across this area, there are classic cars that are being sheltered like the works of art that they are. Every once in a while, the owners of these vehicles break out the car shine in preparation for a night out on the town. This only happens for special occasions.
One such night was Saturday, Aug. 1, on South Main Street in Joplin. It was the city's first legally permitted Main Street cruise in several years. The goal was to bring people together and have a little fun. That's exactly what happened. The car culture that exists in our area got out and strutted its stuff, creating a night that I will not soon forget.
When I heard that a cruise night was in the works, I called a couple of friends to see if they wanted to go. Before I knew it, I had three passengers. Here I am at the wheel of a topless 1993 Jeep Wrangler surrounded by beautiful women. It was like I was 17 again. Of course, that would be 50 years ago. So what was I listening to in 1970? That would be the Rolling Stones. So I plugged that disc in my CD player, and off we went.
As we approached 26th and Main streets, it was becoming quite evident that this was no ordinary cruise night. There were hot rods, muscle cars, pickups, low-riders and classic cars everywhere. All I said over and over again for the next 20 minutes as we headed north on Main Street was: "Would you look at that!" This was a cruise like no other.
With a car show, it's mostly a static thing. You look at one car and move on to the next one. With a classic car cruise, you get to see the vehicle move, and you get to hear it. It adds a whole other dimension to the experience.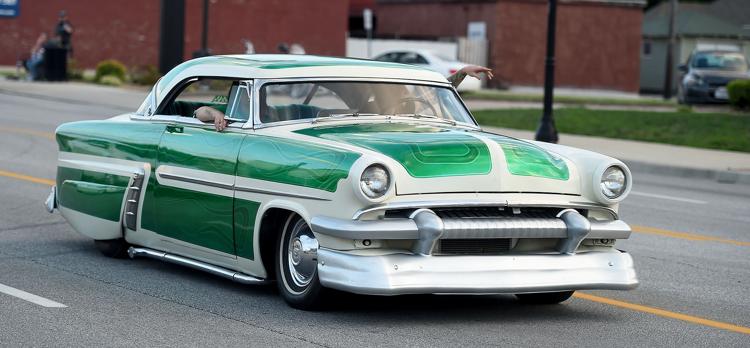 What we got to see that night was extraordinary. Someone brought out a black 1955 or 1956 Chevrolet Bel Air Nomad. I gasped when I saw it. What a beautiful example of form and function. This car is probably worth $100,000. There was a 1957 Ford Thunderbird, a Lamborghini, "The Judge" version of the 1969 Pontiac GTO, and too many Corvettes, Mustangs, Camaros and Challengers to count. There were lifted trucks with big wheels and tricked-out Cadillacs. Let me tell you, Main Street was rumbling.
For some reason, the Volkswagen people had gathered in a parking lot at Parker Mortuary. They're kind of cliquish, you know. That's understandable. I once owned a Volkswagen. They're fun to drive. I did see some people in that group wearing face masks. We had our masks with us in case we needed them. There were only a handful of places along the cruise route where it looked like too many people might have gathered together. In most cases, it was two or three people sitting together in lawn chairs along the cruise route.
Cruising in the Jeep
There were quite a few Jeeps in the cruise, including three like mine. My Wrangler model made its debut in the movie "Jurassic Park.'' Remember that scene where the Jeep is being chased through the jungle at night by a T. rex? My Jeep, like that one, gets up and goes. It's a blast to drive.
While in the cruise, we were handed a yellow rubber duck from another Jeeper that had a business card taped to it. It said: "Nice rig! This duck is a token of appreciation, and we hope it brings a smile to your face.'' How cool is that? I saved my Jeep from the salvage yard. It's nice that someone appreciates the effort. Of course, the duck poses a problem. Did the person who gave it to us have COVID-19? You have to be on your guard with this virus at all times.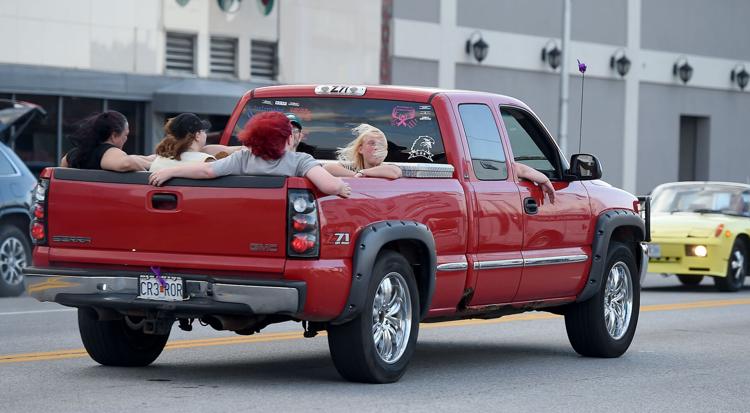 After two trips up and down the cruise route, I got to thinking about the history of cruising in Joplin. It probably began in the years after World War II, probably in the mid-1950s. During the cruise, I noticed three or four 1954 Chevrolet Bel Airs in various states of repair. So what happened on July 5 of that year? A young man named Elvis Presley dared to rock, recording "That's All Right." It would change everything. You now had fast music for fast cars. It was only fitting that we listen to "All Shook Up" and "Heartbreak Hotel" for the last leg of our cruise.
I would personally like to thank the organizers of the cruise, Michael Hendrix and David Clevenger, for persuading the city to relax the restrictions that were placed on South Main cruising in 1992. What you have done is create an outlet where Joplin's car culture can express itself for all to enjoy during a time when something like this is most needed. Bravo.
It is my hope that another permit will be granted. In the meantime, I plan to get some of those lights that you can put under a vehicle so that it glows in the dark. I also want to get a new center console for my Jeep so I can sip a soda during the cruise.
If you have news about something that's happening on Range Line Road or Main Street, call 417-623-3480, ext. 7250; or send an email to wkennedy@joplinglobe.com; or send a fax to Wally Kennedy at 417-623-8598.