NEOSHO, Mo. — Jennifer Lallemand appreciates not having to do her work in a closet anymore.
The certified athletic trainer with Freeman Health System helps Crowder College athletes condition and recover from injuries. A few months ago, she was doing that job in an expanded maintenance closet in the gymnasium.
Not anymore: On Tuesday after a ribbon-cutting ceremony for a new indoor athletic training area, she saw two members of the soccer team. Both were on their own separate examination tables. Lallemand had plenty of space to move between them, as well as storage for supplies.
Before that, almost 200 student athletes, Crowder representatives and community members celebrated donors who made construction of the new Freeman Roughrider Field House possible. The $1.6 million structure was paid for with money raised from the community, without any capital spending from the college.
During the open house and ribbon-cutting inside its covered, cavernous artificial turf-lined surface, Crowder officials thanked donors for all the extra space it provides.
"We didn't have a locker room for our soccer team," said Athletic Director John Sisemore. "There was also no facility that a visiting team could use, so we had to share."
The 15,600-square-foot building includes the indoor practice area, the therapy room, offices and two new locker rooms. An unfinished space on the second floor is currently planned for use as storage, but could be converted into a mezzanine at a later time.
Shandria Jackson, a sophomore and catcher for the softball team, first got a chance to use the building last summer; she helped run a summer softball camp. Now, she's in the building every day for 8 a.m. workouts.
"This has helped tremendously," Jackson said. "We needed space, and now that we've been able to get out of our smaller space, we can work out even harder. We can push out the sleds and ropes and do more, now that we all have space."
Indoor space is even more important for dealing with the region's fickle weather, Jackson said. During rainy or snowy days, each of the four teams would have to limit their workout time in existing spaces, or use the nearby Family Y.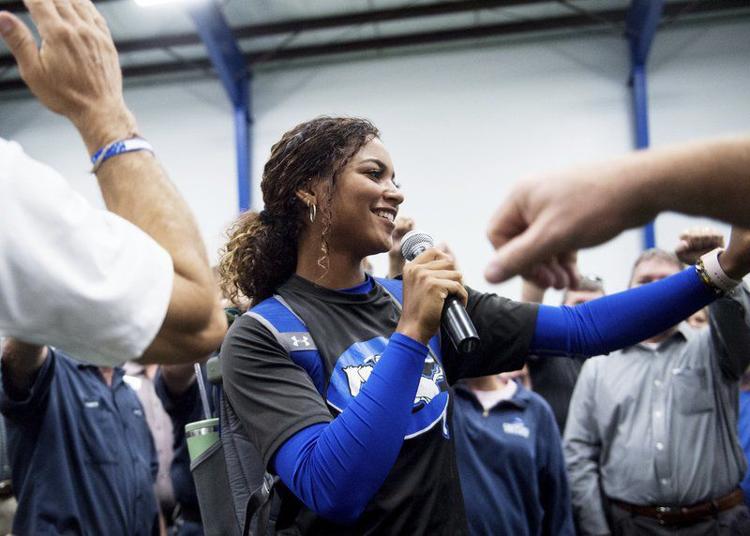 As part of the ceremony, donors and workers were asked to form into a group. Student athletes surrounded the group and applauded for what Sisemore called "the biggest standing ovation." Afterward, Jackson "broke the huddle" by leading a Roughrider chant.
Freeman was honored for an anchor donation of $350,000, made in 2015, that kicked off the funding campaign, and a $150,000 donation from La-Z-Boy in December of 2015 pushed a $1.4 million fundraising goal over the top. Combined with other donations, that campaign raised more than $1.5 million. An additional $300,000 fundraising campaign held earlier this year helped pay for rising steel costs and building furnishings.
None of that money came from the college's general or capital funds, said President Glenn Coltharp.
"We've had to prioritize our needs," Coltharp said. "We have tried to keep tuition low for our students. So whether they are pursuing a technical degree or working toward a bachelor's, our goal is to keep that two years affordable for them."
Now that the training center is completed, it catches up the college with other two-year institutions nearby, such as Northeastern Oklahoma A&M and Labette Community College, Sisemore said, and is also expected to assist the school's recruiting efforts.