LIBERAL, Mo. — On a Fourth of July weekend, the father-son duo of Mark and Christopher Peterson took off for Colorado on their Harley-Davidson motorcycles. On the way home, they rose early to drive through southwest Kansas. A fog rose over the plains as the sun illuminated hundreds of spinning blades.
"It was really neat to see tower after tower, wind turbines a-spinning," said Mark, recalling his first glimpse of a wind farm near Dodge City, Kansas.
He didn't know it then, but he may have seen his own future.
Joplin-based Empire District Electric Co. recently announced plans to develop an additional 800 megawatts of wind power and to generate that power as close to its Missouri service area as possible. That $1.5 billion investment could change the face of a rural area north of Joplin, where Empire is looking at its options, including the farm where Mark and his son raise corn, soybeans and wheat.
The development brings with it a new harvest for more than 100 other landowners who have signed leases with Empire since the spring, paving the way for the company to possibly build several hundred turbines in parts of Jasper, Barton, Dade and Lawrence counties. Empire has more than 50,000 acres under lease, but only part of that might actually see turbines, although the utility hasn't ruled out the possibility of looking elsewhere if Southwest Missouri doesn't have the wind to support the project.
Peterson wrestled with the decision to alter the horizon line of his family's 4,000-acre farm outside Liberal. His great-grandfather built a homestead here more than a century ago; Christopher, 19, is studying to become a fifth-generation farmer on the same land.
After Empire knocked on his door, Mark traveled to visit wind farms as far away as Canada, asking farmers how their land was impacted.
He came away convinced that the economic benefits outweighed his concerns, such as noise, environmental damage and the flickering shadows cast by rotating blades.
He says he can farm around the turbines, and the extra income will provide a buffer against price fluctuations. Empire will pay roughly $7,500 for the electricity generated annually by each turbine, according to several farmers interviewed for this story, plus compensation for the land needed for a turbine.
"I guess it boils down to income," Peterson said. "If farm prices get lower, I'm sure it'll help out on the bottom line."
Catching up
For now, the only tower on Peterson's land is one testing the feasibility of a full-scale turbine. And there is no guarantee he will ever see the real thing. While landowners have signed leases with Empire giving the company the option of building turbines, the utility says it has not yet decided where the turbines will go.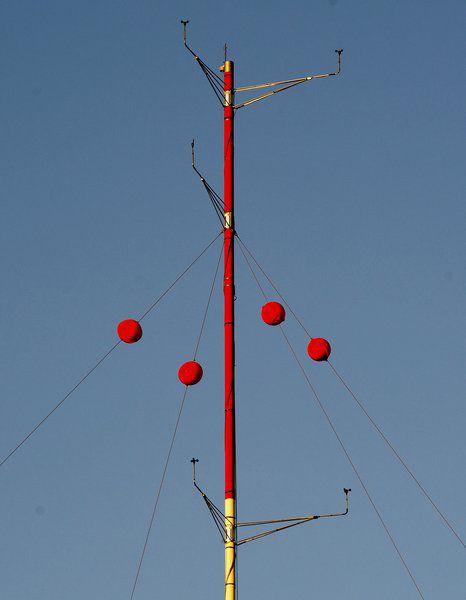 Some unknowns remain. A study of the development's likely impact on migratory birds and bats also is underway, and a Republican tax bill unveiled recently could jeopardize tax credits that Empire is proposing to help finance the project.
Empire is reviewing the proposed tax changes, and says it will follow wind farm guidelines recommended by the U.S. Fish and Wildlife service as they relate to bats and birds, according to Julie Maus, director of communications for Empire.
The company's public stance is optimistic. It said it plans to close its Asbury coal-fired power plant by 2019, with wind production beginning by the end of 2020. Construction of the turbines is set to start next year; Empire has already asked turbine manufacturers for quotes.
Empire's deepening commitment to wind is part of an apparent watershed moment for wind in Missouri.
The state has traditionally lagged behind its western neighbors in the Great Plains for wind production, but new technology is allowing turbines in areas that were once considered marginal. Empire says the new turbines will produce electricity at a cost of $24 per megawatt; a megawatt at the Asbury plant costs $38.
Currently, a 300-megawatt wind farm is under construction in Atchison County in Northwest Missouri, to go on line later this year. When that happens, it will be the biggest operation in the state. However, a 700-megawatt wind development announced last month by Ameren Missouri, the St. Louis utility, as well as Empire's project will dwarf that.
In Tarkio, in Atchison County, the wind farm is already having a dramatic impact on the economy, even before coming on line.
Mary Ann Hull is co-owner of Quality Auto Repair, which sell parts and repairs vehicles in the town of 1,500 people.
"For our business, it has been very good," she said, noting that the company contracted to build the towers has a fleet of 150 vehicles that need regular service and parts. She said they recently hired an extra worker so they could keep up with the work.
"We have done well with them being here. The convenience stores, restaurants, hotels, just about everybody, really," she said.
"They rent houses," she said of the workers. "They brought campers and camped in campgrounds. They are probably in towns up to 60 miles away."
She said the wind farm will be a big boost for the local economy.
"If farmers are making more, they are spending more," Hull said.
'It's giant'
Curt Livengood, presiding Atchison County commissioner, and Monica Bailey, executive director of the Atchison County Development Corp., both said the Rock Creek wind farm, which is a $500 million investment, is the kind of thing that fits well with the county. They said the county doesn't have the infrastructure, the labor pool or the housing pool to support a large employer that might have a lot of jobs.
"This is an economic development tool for us when we are not as likely to secure some manufacturing," said Livengood.
Bailey said that during construction, lasting 14 months, the average daily workforce is 150 to 200 per day, with a peak of 421.
The company that is building the wind farm, Enel S.p.A., through its renewable energy subsidiary Enel Green Power North America, also bought the town's empty ShopKo store, which it will use as a base for maintenance and operations and 70 or so workers.
They also said the project is expected to generate $2 million in taxes, most of which will go to schools.
"It's giant," said Livengood.
Gary McFee, associate commissioner in nearby Dekalb County, which has two wind farms, also said both have been an investment the county otherwise might not have been able to support. The wind farms generate about $4 million a year in taxes.
"We would be hard pressed, as a county of 8,000 or 9,000 people, to (provide) a workforce to meet that need," he said, referring to a manufacturer making a similar-size investment in the county. "It's tax dollars that otherwise we would probably not have access to. ... We feel good about it."
Peterson, near Liberal, said the promise of tax revenue for Barton County helped convince him to sign up for a turbine.
"We just don't have hardly any money for schools and roads," he said.
'I don't know ...'
Not every farmer approached by Empire was ready to sign on.
Wayne Snelly, a Jasper-based farmer, praised wind power but balked at the idea of giving a utility access to his land. Empire plans to build roads across the farms to access its turbines.
"I don't know; do I want that big road built up?" Snelly asked. "And they can access it any time they want to. It just didn't fit my situation."
Eula Mae Thomas, whose family signed on for an Empire turbine on its Lawrence County farm, says she wants to be part of a technological advance she compared to the arrival of electricity.
Thomas, 83, remembers studying by the light of a kerosene lamp.
"Like electricity years ago, we didn't expect it to happen," she said of wind-powered electricity. "But if they're working on it, we're willing to go along with it."
David Carrier, 70, has raised corn, beans, wheat and cattle in Dade and Lawrence counties since he was 14 years old. He considers it a duty to allow the construction of a turbine on his land, though he will also be compensated.
"If they can harness the air to make electricity, shouldn't we do that?" he said. "The air blows over my land. Why can't I share it with people?"
Evan Vaughan, spokesman for the American Wind Energy Association, said Missouri is poised for more wind development in the future.
Advances in technology have resulted in longer blades and taller towers providing access to winds at higher elevation, and making wind farms feasible in many other places beside the Great Plains.
"Ninety percent of the land under a wind farm can still be used for other purposes. Turbines work well with rural pursuits, whether it's ranching or farming," he said. "Wind power is turning into a real economic success story in the rural communities where it has been developed."
Missouri in 2016 generated about 656 megawatts from wind, he said, or about 1.5 percent of the power produced in the state, compared with its northern neighbor, Iowa, which produces nearly 7,000 megawatts and 37 percent of its power from wind.
"There's a lot of room to grow in Missouri," Vaughan said.