Winners have been selected in The Joplin Globe's inaugural chalk art contest.
Contestants of all ages in the Globe's readership area took to their driveways and sidewalks with chalk in hand for a chance to win cash prizes provided by contest sponsor Arvest Bank.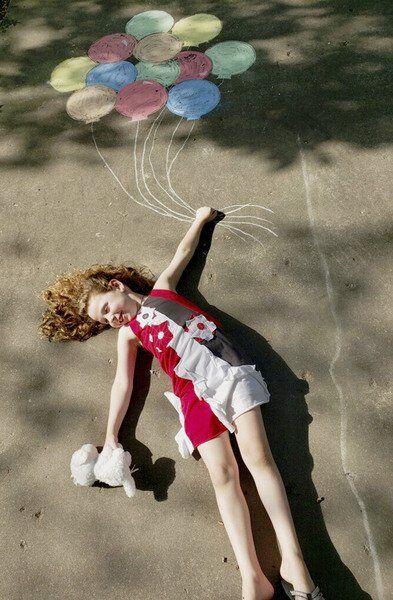 First-place winner Leighton Scofield, 5, got into her drawing by becoming part of the art. She drew a cluster of balloons and was photographed lying on the ground holding the "strings" as if she were floating.
"I draw all the time. I like markers, but I just like every kind of art," she said.
Second-place winners Kellan Pfeffer and Kinsley Pfeffer, both 4, also went horizontal to make their art come alive. The twins' mother, Adrianne Pfeffer, drew a cannon, while the children filled it in and created the stars inside it.

"The whole thing took several days. There were lots of breaks to cool off. In between popsicles and swimming, we'd come out and work on it," Pfeffer said. "We covered it with tarps at night hoping it wouldn't rain, and my husband had to get up on a ladder to get the pictures."
The twins plan to spend some of their winnings, donate some to their church and save the rest. Kellan has his sights set on a robot Buzz Lightyear toy, while Kinsley said she would put hers in her elephant piggy bank.
Madison Bowman, 16, took her summer of social distancing to a patriotic place by drawing a waving flag surrounded by wildflowers. She was awarded third place.
"I was pretty bored, so I just started drawing, and that's what happened," she said.
The winners received their cash prizes — $100 for first place, $75 for second place and $50 for third place — on Wednesday from Lacie Waggoner, marketing manager with Arvest Bank. In addition to sponsoring the contest, Arvest also provided employees who served as judges.
"It was so much fun to hear the stories behind their drawings and how they worked together as families," Waggoner said. "We were inspired to partner with the Globe for this because we wanted to bring the community together during this time of social distancing when we can't be out and about. We just thought (it was) a way to showcase the creativity and talent in our area. We at Arvest Bank are just thrilled to have been part of it."