Missouri, Kansas work to secure Mother Road as a national bicycle route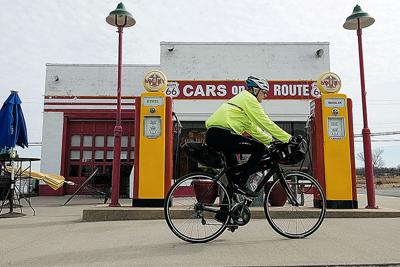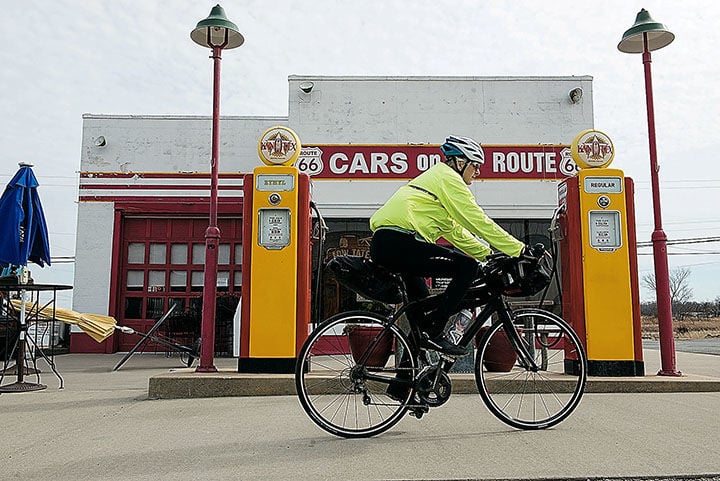 Missouri and Kansas are working to designate sections of Route 66 as a U.S. bicycle route, and one of the states could receive approval for its route as early as this year.
The U.S. Bicycle Route System is the national cycling route network that's serviced by state and local governments. Its goal is to connect bicycle routes across the entire country for safer, long-distance cycling. With this designation, it allows each state's Department of Transportation to map and post signs for cyclists along their portions of the Mother Road.
Missouri is closest to reaching its designation, said Patrick Tuttle, Joplin Convention and Visitors Bureau director. He said the state agencies must make the April submission deadline in order to be approved by this year.
"The feedback has been very good and very positive," Tuttle said. "They all understand the value of Route 66 and the value of tourism coming through."
Tuttle has been working closely with the Missouri Department of Transportation, the agency that must complete and submit the necessary paperwork to the American Association of State Highway and Transportation Officials. That organization established the U.S. Bicycle Route System in 1978 and is also the governing body that's in charge of numbering interstate highways and U.S. routes.
The agency will make the final determination, and each state must provide its own application and letters of support. The transportation departments must also receive approval from the communities and municipalities on the Mother Road before moving forward.
If approved, Missouri would become the first of eight states that Route 66 travels through to receive the designation. The route would be called USBR 66, and state transportation departments have the option of posting signs for cyclists along the trail.
If designated this spring, Missouri hopes to make an official announcement on June 17 in Joplin, Tuttle said.
Several tourism groups and cycling advocates, like the Missouri Bicycle and Pedestrian Federation, have also been working with MoDOT and are willing to help raise the funds for the state, Tuttle said.
Several attempts to contact MoDOT for comment were unsuccessful.
TransAmerica Trail
An example of a designated U.S. bicycle route is USBR 76, or the TransAmerica Trail, a 4,228-mile designated bicycle route that follows highways from the East Coast to the West Coast. It crosses the southern third of Missouri. In the Joplin area, it has sections in Barton, Jasper and Dade counties, and it also passes through Crawford County in Kansas.
USBR 76 was the first national bicycle route designated and signed in Missouri, according to Brent Hugh, the executive director of the Missouri Bicycle and Pedestrian Federation. The federation works to make the state a safer and more accessible place for nonmotorized trail users.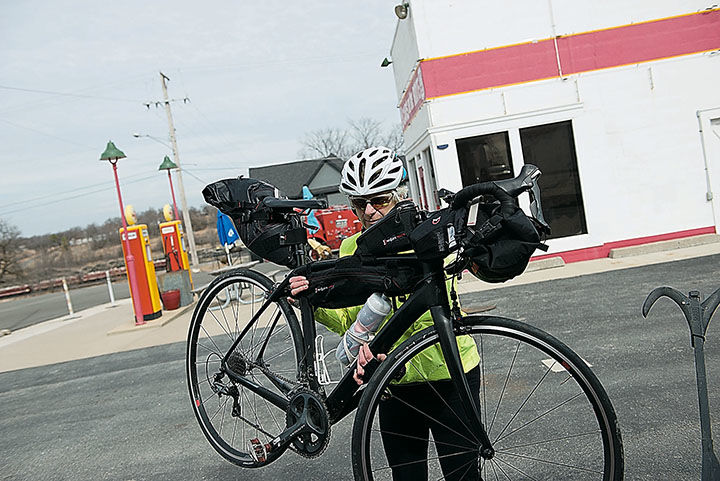 "USBR 76 is the oldest cross-country bike trail in the U.S., the most famous and the most used," Hugh said. "If you look at the usage data, Route 66 gets almost the same amount of bicycle tourists as 76. I was pleasantly surprised."
The signs posted along USBR 76, which gives cyclists directions nearly turn by turn, would be similar to the ones posted to Route 66 once it becomes a designated bicycle route.
Economic impact
Not only could the designation make it safer for motorists and cyclists traveling along the route, the municipalities along the Mother Road could benefit economically.
"It will increase (cyclists) over several years because there would be more awareness for the multiday, multistate cyclists who come through," Tuttle said. "The more they have the visibility to where they're going, the more apt they are to come this direction."
Each state has its own popular cycling event, and Missouri's is the Big BAM Ride. It is a five-day ride in June that this year will begin in Joplin and end in Eureka. The ride draws 600 to 800 cyclists, Tuttle said.
Missouri data shows that touring cyclists spend 40 percent more money per trip than other tourists. Cyclists spend more time traveling through communities, which in turn means more economic growth for the municipalities, according to data compiled by the state bicycle federation and the Adventure Cycling Association. Touring cyclists spend an average of three days longer and spend more than $200 more per trip than the average tourist, according to the data.
The Adventure Cycling Association is a nonprofit organization that encourages individuals to travel the country by bicycle, and it works with the federal highway system in laying out bike routes. In 2015, the association created a six-panel map for cyclists who wish to travel on Route 66.
Carl Junction cyclist Debra Johnson, an owner of Bicycle Specialists in Joplin, has expressed support of the designation. She said international cyclists have visited her store and that she has served as a host to a few who travel the Mother Road.
"I think it's an awesome idea because it's used all year by people who travel from Chicago to L.A.," Johnson said. "It would make us a designation spot, which is what Joplin needs very desperately, because these people eat, stay in hotels here and use our services. It would be a good thing for Joplin to have the cyclists come through because then they go back, tell others what a nice time they had and that brings them here."
Kansas
Efforts have also been underway in Kansas to designate its 13 miles of the route, and area organizations support the idea. Kansas has the shortest length of Route 66 of all of its states, and Kansas Department of Transportation isn't trailing too far behind Missouri in the application process.
"I believe April is when we need to submit the application," said Matt Messina, Kansas state bicycle and pedestrian coordinator. "We're getting letters of support to and from the local jurisdictions because a portion of it runs through locally managed areas. We're in the process of organizing that and sending them to councils. It takes time for them to get on the agenda, so we're waiting for all of that to go through."
In June, Kansas holds its own big cycling event called the Dirty Kanza, which draws hundreds of cyclists from around the country. The Dirty Kanza is a 200-mile ride that goes through the Flint Hills region and is based in Emporia. The state also puts on Biking Across Kansas from June 9-16. The 100-mile event grew so popular that this year, its maximum number of participants is capped at 850.
Renee Charles, president of the Kansas Historic Route 66 Association, also believes that the designation would draw more tourism and economic development to the region.
"They don't only bike through our city," Charles said. "Of course, they're going to stop at our gas stations, restaurants, parks. This will help the economy here and also promote this section of Kansas or Route 66. They're going to see that we're not just a fly-by state. We do have some beautiful country through here."
Rising numbers
An increase in cycling around the nation has been occurring over the past several years. Even Missouri has seen a rising trend, especially over the past 18 years, according to the Missouri Bicycle and Pedestrian Federation. Federation Executive Director Brent Hugh said the number of cyclists in Missouri has tripled since 2000.