A roomful of church members gathered Tuesday night to do something about what they described as dark times.
On the agenda: the legalities of carrying firearms in a house of worship, best practices in the event of an active shooter, and the politics of introducing parishioners to a newly established security detail.
"I think we're going to lock the doors here in just a minute," said Jude Champagne, worship minister, by way of opening.
His congregation, First Christian Church in Carthage, has gone far beyond locks and keys. Nine cameras cover the campus, which covers two blocks near downtown — "it's still not enough," Champagne said. An armed group of law enforcement officers, all church members, keep watch over the parking lot and church sanctuary on Sunday mornings. To pick up their children after services, parents must first thumb a fingerprint reader.
"Like you, we believe it's our responsibility to protect all those people — by all, I mean all — who come seeking the love and grace of Jesus," he said. "Amen?"
"Amen," said the roughly 50 church representatives — all but two were men — who met in Carthage to talk about beefed-up safety plans for their congregations.
"But we're not so naive," Champagne continued, "to believe that we don't have bad things that happen in our towns and communities, and even in our churches. They can be dangerous at times."
The feature presentation, offered by the Jasper County Sheriff's Office — Sheriff Randee Kaiser, an elder at First Christian, helps staff its Sunday security detail — left attendees with little doubt about the possible dangers.
Deputy Rob Job offered a laundry list of crimes committed in houses of worship. Just recently, there was a slaying in Georgia, a kidnapping in Texas, and serial thefts in Indiana, he said. Closer to home, he mentioned a 2007 shooting at a Neosho church and the 2012 arson of the Islamic Society Mosque in Joplin.
And, of course, the slaying of 26 people in November at a church in Sutherland Springs, Texas, by a single gunman.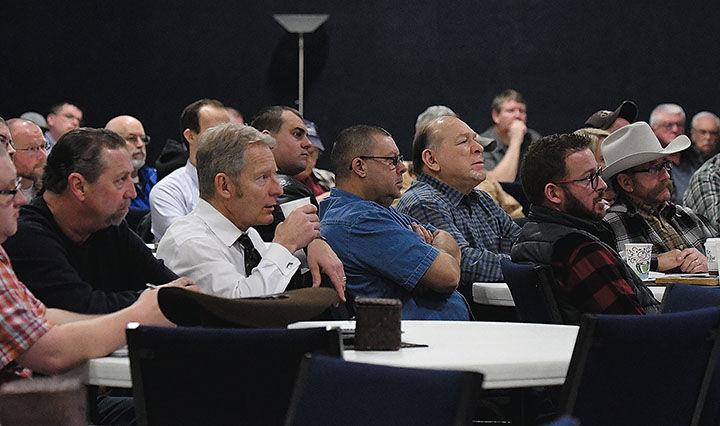 "If you haven't heard of this one (the Texas shooting), you've been living under a rock, and I'm not sure why you're here," Job said.
Everyone present had read the news. Attendance was lower than the sheriff's officials had anticipated, but the training's reach was broad. Robert Brenneman drove down from Lamar because "it's just become problematic in our society."
The ambulance driver-turned-roofer is already a leader of the security team at his church, Lamar Family Ministries. The team has never resolved an actual security threat, Brenneman said, but he still wanted some fresh ideas.
Job and another deputy, Mike Schuster, had plenty on offer. They were tapped to lead the presentation after assembling a security plan for their own church, so they had plenty of time to think about everything from legal issues to equipment.
When a gunman is attempting to kill congregants, it is useful to have a fluorescent sash that differentiates church-appointed armed security guards from the invader, Schuster said.
Powerful radios are a boon for crews patrolling the church campus. Security cameras and doors that lock automatically are a plus. Champagne said cameras had already helped local police solve two thefts and an apparent drug deal that occurred outside First Christian.
That kind of security doesn't come cheap.
"We don't have a budget for that kind of stuff," said Steve Reed, an elder at Central City Christian Church, west of Joplin.
Armed security staff is a simpler option, he said, especially because numerous people already bring their guns to church.
It's the small stuff that worries him most — car break-ins and domestic disputes that spill into violence. The church has already installed heavy-duty locks on some doors, and Reed came out to see if there were any other quick security fixes.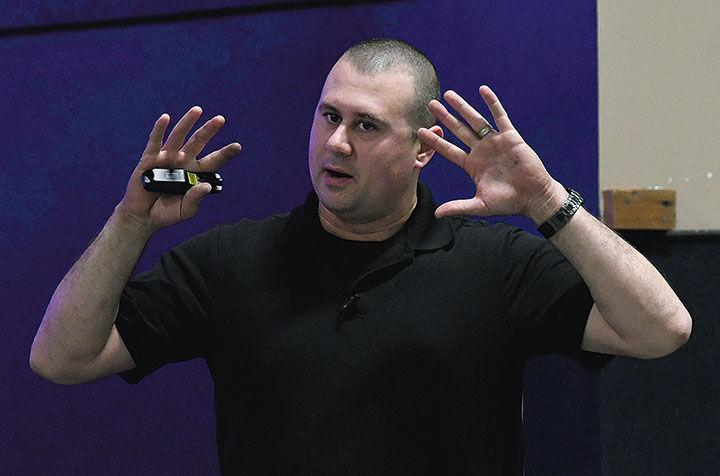 "We just want to be open to ideas and conversation," he said. "We want to provide a place for people to come and safely worship."
The deputies touched on basic safety measures, from fire evacuation plans to double-checking the batteries on wall-mounted defibrillators. Those baseline preparations would have come in handy when a woman fainted during services at The Light at Joplin, said David Luxton, a band teacher in the Carthage School District who attended the training on behalf of the church.
"The everyday stuff was the big thing," he said.
But it wasn't the only thing. Luxton was united with others in the room by a shared sense that things are going downhill, that the world is more dangerous today than it once was.
"We need to be ahead of these times," Luxton said.
"This day and age, it's better to be safe," Reed said.
Not long ago, a stranger walked late into the 8 a.m. service at First Christian Church. He was dressed more casually than most at the morning service, said David Cook, the pastor. No one recognized him, and no one stopped him. This was before a security detail was established.
But Cook, still in the middle of his sermon, faltered. He was scared, and so were people in the congregation.
When the man sat down in a second-row pew, they took a breath of relief.
Cook has been pastor here for 25 years.
"Twenty years ago, I wouldn't have been scared," he said, recounting the incident.
Recently, he and his wife have started locking the doors of their home next door to the church, something they never used to do. Twice in 2017 he was accosted and physically threatened, he said, including by one person who had previously prayed with him but now appeared drug-addled.
In the present environment, he said, it is just responsible to tighten security at his church.
He paused to imagine what would have happened if a gunman decided to enter his church before the cameras, the locks and the security guards were there.
"I would hate that we could have done something but didn't," he said. "It would be hard to live with."