A classroom teacher, an athletic director, a kindergarten center kitchen manager and a cook were just some of the 120 area school workers who took advantage of a special vaccination clinic sponsored Monday afternoon by Freeman Health System.
The next eligibility tier opened this week — Phase 1B, Tier 3, which includes classroom teachers and essential workers employed by school districts.
"I've been waiting for these shots to become available for a long time now," said Robin Taylor, the first clinic patient in line to receive her Pfizer vaccination shot. "I've been really excited for this."
Taylor, 37, came down with COVID-19 before Thanksgiving break in November.
"I was really surprised because I'm supposed to be in the less vulnerable category," she said, "but it hit me hard."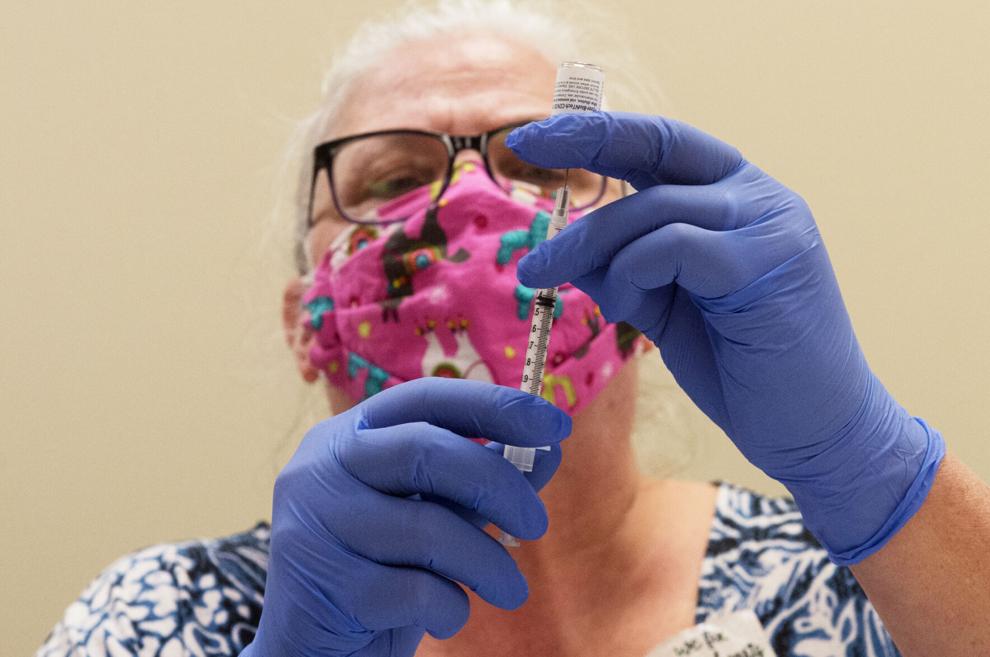 Taylor was out sick for nearly 10 days. She works as a kitchen manager at the K-1 Building for the Carl Junction School District and feeds hundreds of children each day.
"COVID ran through our nutritional service pretty heavily," she said. "There was a lot of exposure."
She wanted to get the vaccine to prevent the novel coronavirus from sickening her a second time.
"I'm very happy to have gotten" the shot, she said. She'll be back for her second shot in April.
A few rows behind Taylor sat Chris Myers, who was the second clinic patient in line.
The Thomas Jefferson Independent Day School athletic director said he initially had reservations about getting vaccinated.
"Just the fact that (the vaccines) are relatively new, that they just came out and (we) really don't know a lot about them," he said. "It's not like the flu vaccine that's been out for years."
He still has antibodies in his system from a bout with COVID-19 in December. The virus had him laid up at home for nearly 12 days, and his senses still suffer from "iron taste and smell." Plus, every time he comes up short of breath, his thoughts immediately go to COVID-19.
"It was the right thing to do," the 41-year-old said about the vaccine and why he was standing in line when the clinic opened at 3 p.m. "I have some travel planned over the summer and … it's important to have it not only to protect myself but to protect loved ones also."
While some of those who got vaccinated Monday worried about possible side effects from either the first or second shots, Peggy Jensen wasn't thinking along those lines when she received the needle poke to the upper right shoulder.
"I am so happy," said the elementary school teacher for the Jasper School District. She'd spent nearly 40 minutes driving from Jasper to Joplin to get her shot. "I've been waiting the whole time for this."
The vaccine "will make me feel safer, and I'm real excited that by summer we can go on a little trip and not have to worry about" the pandemic, she said.
When asked if teachers should have been given a higher placement or tier due to the nature of their work, Jensen shook her head.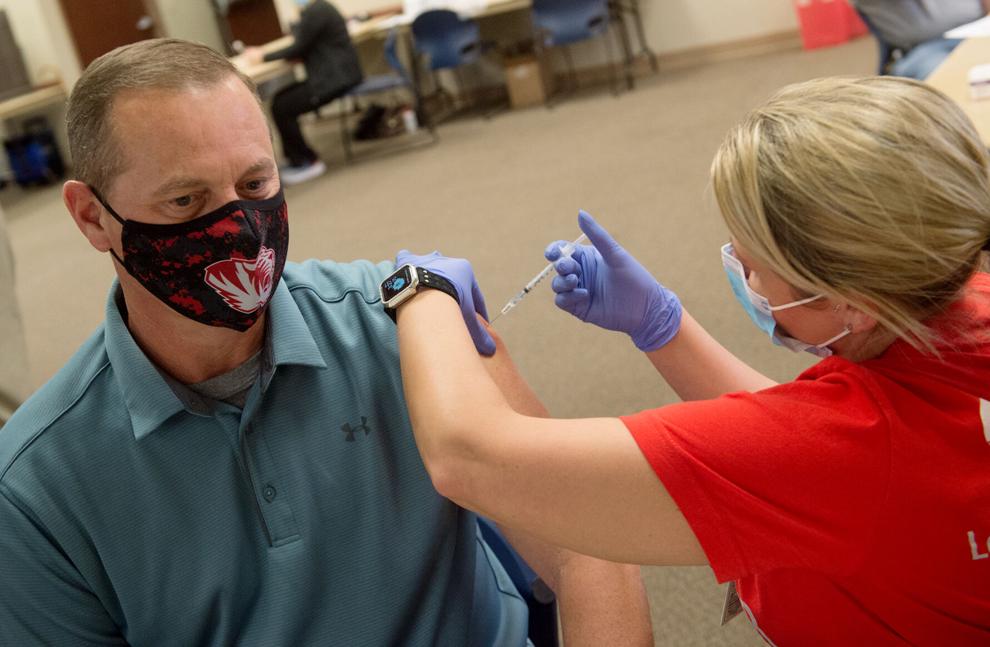 "We do have a lot of exposure" on a daily basis, she said, "but I have an elderly mom, so I understand why they placed the people who were older first."
According to Freeman officials, 120 people preregistered for Monday's shots. There were 180 additional doses available. The extra doses will be used during regular, scheduled vaccinations over the next few days.
For Carol Fartash, it was a fairly short drive to the Freeman Business Center from Cecil Floyd Elementary School, where she works as a cook.
There was little waiting or debating as to whether she was going to get vaccinated.
"I just wanted to get it done," she said. "I'd rather have the shots than COVID."
The virus has killed nearly 550,000 Americans to date.