The Kansas City University of Medicine and Biosciences will build an $80 million College of Dental Medicine on its Joplin campus, university officials announced Tuesday.
The new college, which aims to seat its first class of 80 students in 2022 after a planned groundbreaking next year, will help address the oral health needs of the region, KCU President Marc B. Hahn said. Nearly all counties within a 125-mile radius of Joplin qualify as a dental health professional shortage area by the U.S. Health Resources and Services Administration, and more than 750 dentists would be needed within that area to remove that designation, he said.
"Poor oral health leads to poor overall health, and this shortage of dentists in this region is nothing short of a public health emergency," Hahn said. "That's why Kansas City University will build a College of Dental Medicine on the Joplin campus. This will be a dental school that builds upon the holistic foundation of our College of Osteopathic Medicine as well as the community-based philosophy for training our students."
The anticipated $80 million cost is twice what it cost to open the osteopathic medical school campus in Joplin in 2017. KCU has committed $40 million toward the project, and the rest will come from philanthropic efforts.
Approximately $20 million of the remaining amount has already been secured from donors including Harry Cornell, the Sunderland Foundation of Kansas City, Rudy Farber, the Farber Foundation and Larry McIntire.
Based on an economic impact study conducted by KCU, the dental school will generate a financial impact of an estimated $45 million annually and at least $1.7 million in state and local taxes, officials said. It will create or support more than 200 jobs.
There's a secondary economic impact as well, said Toby Teeter, president of the Joplin Area Chamber of Commerce — the ability to attract and retain young talent.
"We've reached a tipping point the last couple of years in this community where, as we are attracting more and more 20- and 30-somethings, we're changing the livability of this community," he said. "That's important to all of us. ... We're really shifting in becoming a center of urban life (and) we're adding diversity into our community. The pivot point has happened because of the medical school and now the dental school."
'How exciting'
KCU announced last year that it was pursuing a feasibility study on the possibility of bringing a dental school to the Joplin area. In the past 12 months, the university has completed that study to assess regional needs, identified funding sources and begun designs for the school.
The school also earlier this year hired James Koelbl as its vice provost for oral health initiatives. Koelbl has started to pursue accreditation for the program and is working to identify strategic partnerships.
"KCU has been successful in not only establishing a College of Osteopathic Medicine in Joplin, but continues to develop other programs that contribute to the overall health of the communities we serve," Hahn said in a statement. "Our track record, combined with significant population health data and strong support from our Joplin community, gives us the confidence to move forward with this transformative project."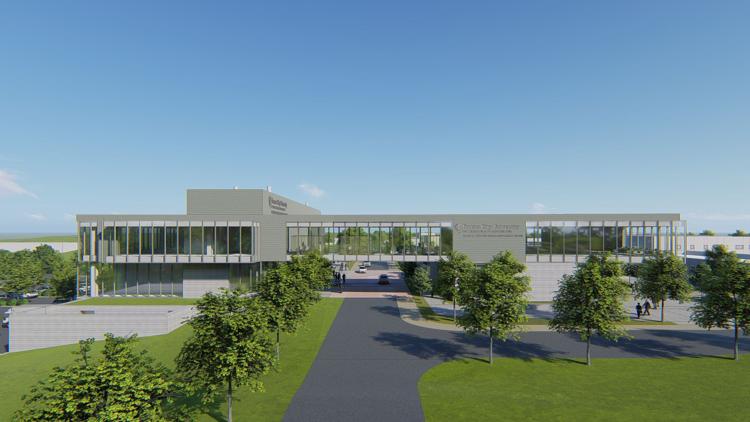 McIntire, a Joplin physician who was instrumental in the effort to bring a medical school to Joplin, said a dental school will "add stature" to the medical school, fit well into the Joplin community and attract a variety of new students to the region.
"A dental school — how exciting is it?" he said.
Farber, the chairman of Community Bank and Trust who helped spearhead the fundraising initiative for the medical school, said the opportunity to invest in a dental school will be "great" for Joplin.
"This is not just for today; this is for tomorrow, for our children, grandchildren, great-grandchildren," he said. "We will be doing something here that will last well beyond us."