LIBERAL, Mo. — ESPN came to Liberal High School on Thursday morning with gifts for Brooke Bearden.
SportsCenter anchor John Anderson first gave her a softball, then a jersey.
But there was no way Bearden could have been prepared for what happened next.
Shown live on SportsCenter, Bearden received membership into the Home of SC Top 10 club, a nationwide project honoring the accomplishments of 10 amateur athletes during 2019.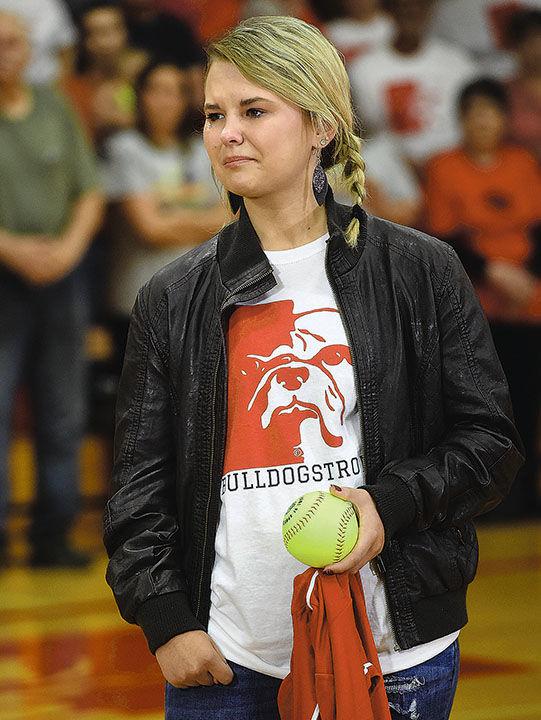 Also, ESPN refurbished the high school softball field, including a new scoreboard that bears Bearden's name and painting on the walls along the backstop with Liberal Bulldogs, her name and SC Top 10 on them.
"Seeing the scoreboard, I could tell by looking at her face that was the thing that shocked her the most," said Kendra Buzzard, Brooke's mother. "She knew ESPN was coming and it was going to be live. She had no idea what they had done to the field. What you saw was pure, raw emotion."
As Bearden walked into the gymnasium at 11 a.m., the enthusiasm, excitement and, minutes later, tears were everywhere as the Liberal community's support was once again in full display.
"I love it because even though SportsCenter is highlighted by stars and professionals, this is where most of us are in sports," Anderson said. "Everybody has a high school story. This is the grass roots, where we learned to love sports. This is where it makes its biggest impact because we're in that 98 percentile that is not going anywhere (to play in college or professional sports). I grew up in Green Bay where even though we had the Packers, (high school sports) were a community deal. If you weren't on the team, you were in the band. If you weren't in the band, you cheered. If you didn't cheer, you were on the chain gang. If you weren't on the chain gang, you ran the booster club. And I just love that. I love the purity of it. This to me is where I learned to love sports and has propelled me to what I do now.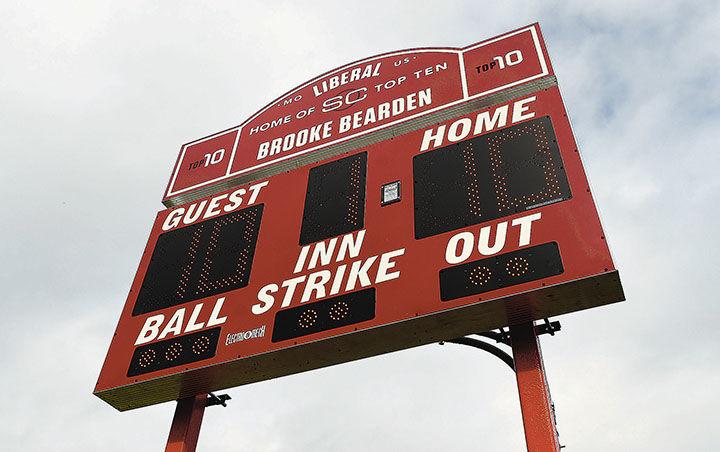 "And then the story here on top of that, of this kind of perseverance, this kind of courage, this kind of resiliency ... should be applauded and honored and celebrated just as much as the guy who makes a million dollars and scores in the Super Bowl — which is great as well. But this is the foundation. It's not the pinnacle, but my dad poured foundations, and the foundation is as important as anything."
Almost a year ago to the day — Oct. 9, 2018, Bearden's senior year at Liberal was abruptly interrupted when she suffered a stroke at home. Doctors feared she wouldn't be able to walk or talk again, but after months of rehab at the Craig Hospital in Englewood, Colorado, she returned home. And on Senior Night during softball season, Bearden caught the ceremonial first pitch and later scored a run as a pinch-runner.
"No child at 17 should have to deal with anything like that," Anderson said. "But this is what communities do, what neighborhoods do. We get behind our own. They stand on our shoulders, and we're happy to lift them up."
The turnout didn't surprise Anderson.
"There's 759 people on the (city limit) sign, and I thought there might be four people who have really important duties that they can't get away — a doctor who has to do surgery," he said. "I'm not surprised that this is the turnout. What I got was what I expected."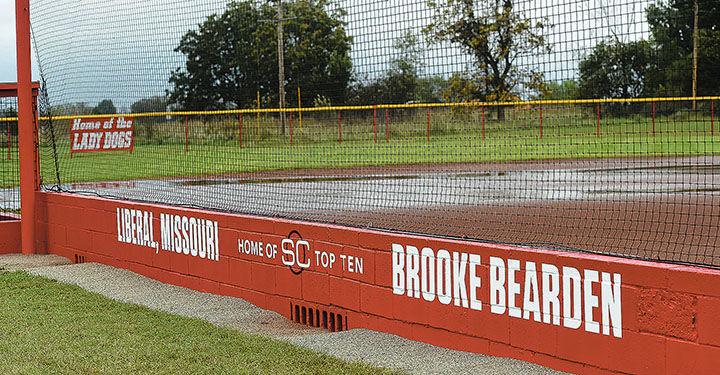 "Very overwhelming, it's surreal," Buzzard said. "I knew it was going to be a big deal. I knew it was going to be a big surprise, but there's no way to prepare yourself for this. I could tell by the look on Brooke's face that there was no way she could prepare herself for this.
"When Brooke had her stroke, with the way our community, our church, everybody came together and supported us and prayed for us, I kept thinking how on earth can I repay everybody for what they did. ESPN gave us our opportunity today to be able to let the community know how much they mean and let the whole world know that when a community gets together and gets on their knees and pray along beside us, miracles happen. I'm just overwhelmed by everything."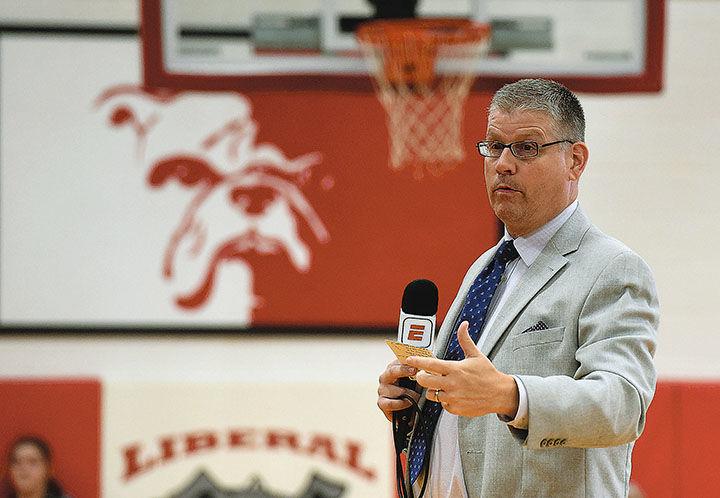 UPDATES
A few days after softball's Senior Night, Bearden walked across the stage during graduation ceremonies.
"When she had her stroke, I thought her senior year was over," Buzzard said. "There was no way she was going to graduate. But she worked hard before her stroke to where she had only two credits left to graduate. She was able to obtain those when we were out in Craig for therapy. To be able to see her walk across that stage with her classmates was just overwhelming. We felt so blessed that she had the opportunity, and she did, too."
Bearden's rehab continues at Cox Barton County Hospital in Lamar.
"I was fearful when we came back home ... are we going to find the quality therapy she needs close to home," Buzzard said. "Cox Barton County's therapy department, which is here today, has been absolutely amazing. They are family now. That's just what we do, everywhere we go, every hospital, every rehab, they become family. They have speech and physical therapy and occupational therapy all in Lamar close to home. We can't ask for anything better than that."
Bearden's speech remains limited but is improving.
"We are looking for a specialized aphasia program," Buzzard said. "She has one of the most severe cases. We have different options, but none of them are close to here. We're weighing our options. ... That's our next step. We think if we can get her through that program, she will improve by leaps and bounds."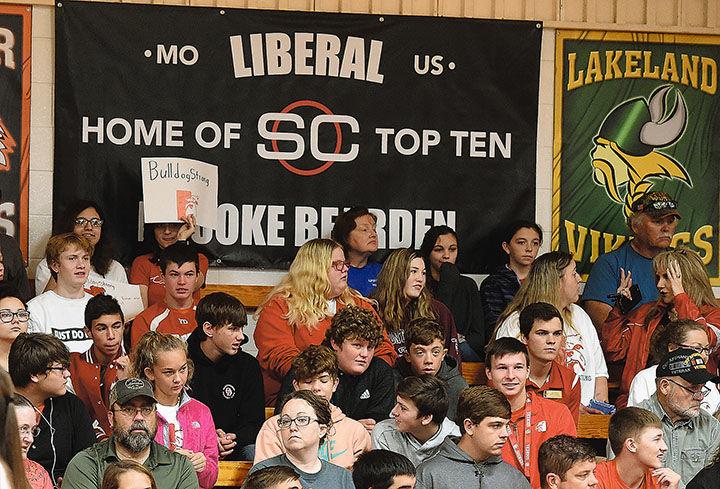 MORE CELEBRATIONS
Before going live on ESPN, there were two more acts of celebration.
Barton Mutual Insurance of Liberal donated a flagpole to the school that will be placed at the softball field.
"We dedicate the flagpole to all the heroes in our community who have done so much," CEO Brian King said.
King also presented a flag to Dennis Wilson and Truman Gazaway "as veterans of our community for everyone who fought for the freedoms that we have."
Then the Liberal school paid tribute to the Liberal Volunteer Fire Department and representatives from the Pittsburg, Lamar and Nevada fire departments for their work on Sept. 22 battling a fire at the old high school and the old gymnasium that is still used for the elementary gym.
Missouri Rep. Ann Kelley and Sen. Ed Emery read resolutions from the 100th General Assembly honoring the firefighters, and Kelley read a letter from Missouri Gov. Mike Parson.
"From the flagpole on, it was just amazing," Liberal coach B.J. Goodell said. "The way everybody rallied together to help everyone the last couple of weeks, the donations we've received. It was a phenomenal day but a day we needed here just to kind of enjoy life for a while and realize that things are pretty good and we have a great community. And they way they come together is amazing.
"It was a great, great day."